RACING THIS WEEK
FEATURES
SERVICES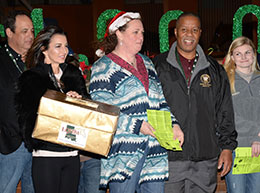 © Coady Photography

LQHBA to Offer Scholarship Drawings On July 7 at Delta Downs, Two $1,500 Scholarships to be Awarded
ALEXANDRIA, LA—JUNE 19, 2018—
The Louisiana Quarter Horse Breeders Association (LQHBA) will award two $1,500 scholarships to further the education of Louisiana students on Saturday, July 7 at Delta Downs. The final night of the 2018 Quarter Horse racing season will feature several quality stakes, including the $700,000 Lee Berwick Futurity (RG1) and the $268,655 Delta Downs Louisiana Bred Derby (RG3).
Through the generous support of sponsors Jet Black Patriot and Robicheaux Ranch, Inc., two $1,500 scholarship drawings will be awarded as part of the very special evening saluting accredited Louisiana-bred racehorses.
Scholarship entrants must be a Louisiana High School graduate or a Louisiana High School student graduating in 20 .. Read More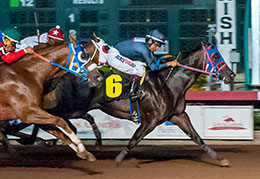 © Scott Martinez

Tarzanito, Bh Lisas Boy Shine In Trials To Grade 1 Vessels Maturity
LOS ALAMITOS, CA—JUNE 17, 2018—
A1A Racing LLC's Tarzanito posted the fastest qualifying time to the Grade 1, $170,500 Vessel Maturity following a victory over 2017
First Down Dash
Handicap winner Katies Easy Moves on Sunday at Los Alamitos, while Bill Hoburg's BH Lisas Boy also won his trial and will have a chance to defend his Vessels title on Sunday, July 8.
A total of 20 horses competed in the Vessels Maturity trials at 400 yards with the horses with the 10 fastest times returning for the stakes' richest final since 2012. The winner of the Vessels Maturity final will earn a berth to the Grade 1, $600,000 Champion of Champions on December 15.
Ridden by Eddie Garcia, the all-ti .. Read More
Latest Video Features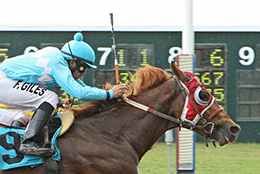 © Coady Photography

Bh Lisas Boy And Zoomin For Spuds Head Trials To Grade 1 Vessels Maturity
LOS ALAMITOS, CA—JUNE 15, 2018—
Led by 2017 Vessels Maturity winner BH Lisas Boy, the top aged runners on the grounds will be in action in the trials to the Grade 1 $170,500 Vessels Maturity, which headline the nine-race Father's Day program on Sunday at Los Alamitos.
Three 400-yard trials will be contested with the horses with the 10 fastest times advancing to the richest running of the Vessels Maturity since 2012.
Owned, trained, and bred by Bill Hoburg, BH Lisas Boy has already successfully defended one of his stakes titles this year. The son of Mighty Invictus won the Brad McKinzie Los Alamitos Winter Championship on February 11, the second straight year h .. Read More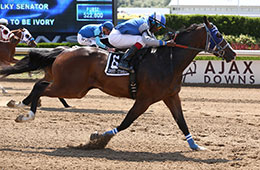 © Clive Cohen

Had To Be Ivory Scores Bonus Challenge Derby Win On Father's Day Card at Ajax Downs
AJAX, ONT—JUNE 17, 2018—
Had To Be Ivory ran his perfect record to 6-for-6 on Sunday when he defeated Carneros by half-a-length in the $17,285(US) Bonus Challenge Derby at Ajax Downs. Silky Senator finished another length back in third.
Making his 2018 debut, under a hand ride by jockey Tony Phillips, Had To Be Ivory completed the 300 .. Read More