RACING THIS WEEK
FEATURES
SERVICES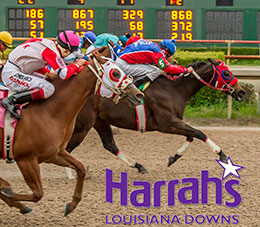 BOSSIER CITY, LA—MARCH 22, 2019—The 2019 Quarter Horse racing season at Harrah's Louisiana Downs concluded on Wednesday. The 46-day meet, which got underway on January 5, wrapped with many positives from a racing perspective as well as increases in gains in both on-track and off-track handle. Officials have reported the following numbers and comparison to 2018.
On-track handle
Average per day of $15,936.
Total of $733,038
7.2% increase over 2018
Off-track handle
Average per day of $223,945
Total of $10,301,490
4.4% ...
---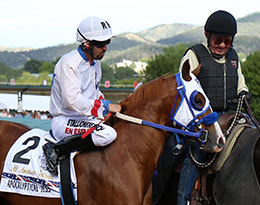 OKLAHOMA CITY, OK—MARCH 21, 2019—Trainer Trey Wood sent out a pair of 3-year-olds for their first official gate works at Remington Park today (Thursday). Both horses were grade 1 winning 2-year-olds at Ruidoso Downs last summer. Bill T. Robbins' All American Futurity(G1) winner Apocalyptical Jess posted a :13.39 clocking for 250 yards, the second fastest from 44 works from the gate at that distance Thursday. The son of last year's leading sire of money earners
Apollitical Jess
won three of six starts last year and banked over $1.5 million. Following a three-race win streak, that included the $3 million All American Futurity(G1), he finished his 2-year-old season last November with a sixth-place effort in the $1 million Texas ...
---
ADVERTISEMENT
---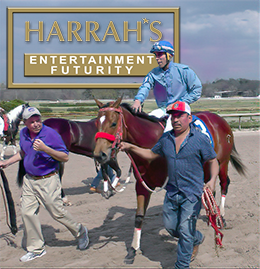 BOSSIER CITY, LA—MARCH 21, 2019—StallioneSearch.com releases its webcast coverage of the 2019 Harrah's Entertainment Futurity(G3), the open graded for American Quarter Horse Association 2-year-olds in 2019. Trainer Arturo Davila, III saddled Trump My Record, by first crop sire
Apollitical Blood
, to ...
---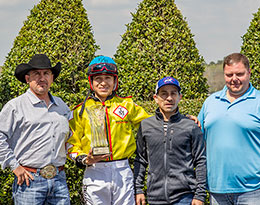 BOSSIER CITY, LA—MARCH 12, 2019—The final day of the 2019 Quarter Horse racing season today (Wednesday) also included presentations for the meet's leading jockey, trainer and owner. Everardo Rodriguez won his second Louisiana Downs leading rider title. The 29-year-old was born in San Luis Potosí, a city in central Mexico and began riding ...
---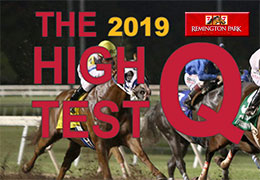 OKLAHOMA CITY, OK—MARCH 20, 2019—Remington Park's popular and free online racing contest, The RP High Q Test, is back again for 2019. The game begins on Saturday and continues through the final day of the season on June 1. Returning for an eighth season, the 2019 High Q Test features a total prize pool of $7,000 with the Grand Prize winner ...
---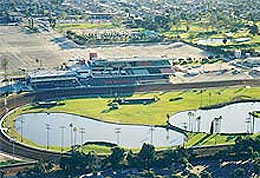 LOS ALAMITOS, CA—MARCH 26, 2019—Los Alamitos Race Course will not race on Friday, March 22nd thru Sunday, March 24th to conduct moderate rehabilitation of the track surface. The track will remain open for morning training at the regularly scheduled hours with the rehabilitation work beginning after the end of training. Saturday's gate works ...
---
INDIANAPOLIS, IN—MARCH 20, 2019—At the March 12 meeting of the Indiana Horse Racing Commission, the commission voted unanimously to prohibit the use of albuterol in American Quarter Horses. The new rule, 71 IAC 8.5-1-2.2 states:
No Quarter Horse participating in a race shall carry in its body albuterol in excess of the threshold ...
---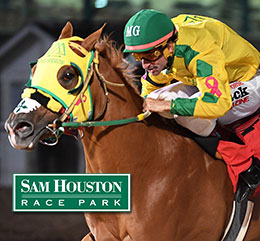 HOUSTON, TX—MARCH 20, 2019—Nominations for the 1st running of the Space City Maiden Futurity at Sam Houston Race Park are due Friday, March 29th. A $200 nomination fee must be paid on or before Friday, March 29th to enter the $25,000-added Space City Maiden Futurity. For Quarter Horse foals of 2017 that are maidens at time of entry (March ...
---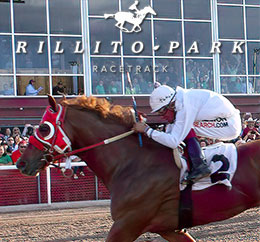 TUCSON, AZ—MARCH 20, 2019—One of the first programs of its kind in the country, Rillito Race Track implemented an Equine Wellness Program during the 2019 Winter Meet. The program was a resounding success, as there were no horse breakdowns during 96 races at the meet this year. "A couple of years ago, as Rillito was opening for the season ...
---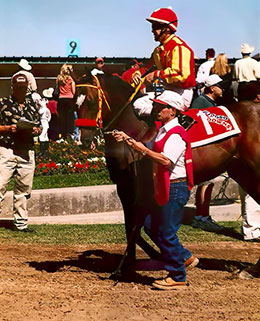 WAYNE, OK—MARCH 17, 2019—All American Juvenile(RG3) winner and champion producer A Delightful Legacy died Saturday. She was 18-year-old old. "A Delightful Legacy. . .her name says it all," Meridith Copeland, granddaughter of the mare's breeder Gwendolyn Eaves, said in a Facebook post Saturday night. "I love this girl and all she ...
---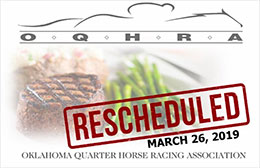 OKLAHOMA CITY, OK—MARCH 18, 2019—The Annual OQHRA Legislative Dinner, canceled last month due to inclement weather, has been rescheduled for Tuesday, March 26. The dinner provides the opportunity for horsemen to meet with legislators one-on-one in a relaxed setting to tell them about how the issues they vote on affect our livelihood. ...
---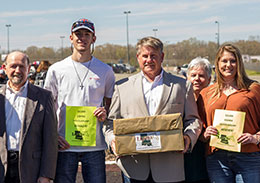 BOSSIER CITY, LA—MARCH 18, 2019—A thrilling day of Quarter Horse racing took place Saturday, March 16 at Harrah's Louisiana Downs in Bossier City, Louisiana. Hh Gailforce won the prestigious $305,296 Mardi Gras Futurity (RG2), the first official test for 2-year-olds in the country and Tdz Louisiana Toast was an impressive champion in the ...
---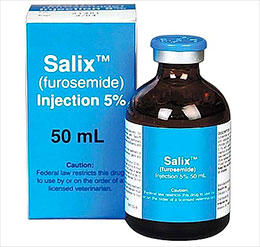 Q-RACING—MARCH 18, 2019—On March 14, a press release from The Stronach Group announced that its California tracks, Santa Anita Park and Golden Gate Fields, would implement a zero tolerance for race-day medication. The sole race-day medication permitted in California is Salix, also commonly called Lasix. These are the first Thoroughbred ...
---