Thursday, December 12, 2013
Member Stallion Search
Tis The Season For Big Races, Follow Along Major Quarter Horse Racing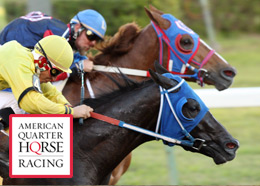 Q-RACING—DECEMBER 12, 2013—
Tis the season for great racing and big purses in American Quarter Horse races around the country. In the next few weeks, more than $5 million in purses will be handed out during major stakes races, many of which will determine year-end champion honors. If you're unable to attend the races in person, you can watch ...
Read more
---


A Star Loaded Field To Race In Saturday's $750,000 Champion Of Champions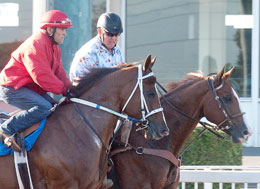 Photo Courtesy Los Alamitos Race Course
LOS ALAMITOS, CA—DECEMBER 12, 2013—
One of the greatest fields in the 42-year history of the prestigious Grade 1 Champion of Champions will enter the gate in Saturday's ninth race at Los Alamitos.
At stake will be $375,000 for the winner of the race and for just about every single horse running a win would also clinch an AQHA champio ... Read more
---

Native Tea Rose Delivers In The Las Damas Handicap
Scott Martinez
LOS ALAMITOS, CA—DECEMBER 8, 2013—
Abigail Kawananakoa's Native Tea Rose finished powerfully while edging Dean Frey's ultra consistent stakes winner Shez Jess Toxic by a neck to win the $35,000 Las Damas Handicap on Sunday at Los Alamitos.
Ridden by Ramon Sanchez for trainer Paul Jones, Native Tea Rose was picking up her second stakes vi ... Read more
---

Vodka With Ice Shakes Up Bank of America Challenge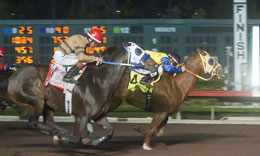 Scott Martinez Photo
LOS ALAMITOS, CA—NOVEMBER 9, 2013—
The $350,000 Bank of America Challenge Championship (G1) at Los Alamitos on Saturday ended with 2011 world champion Cold Cash 123 chasing 17-1 longshot Vodka With Ice, and a night of many surprises ended with one more.
Vodka With Ice, an 8-year-old gelding with earnings of less than $180,000 entering ... Read more
---

Jr Dynasty Mountain Joins Maknmoves and First Prize Stone in Utah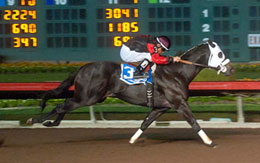 Scott Martinez Photo
LINDO, UT—DECEMBER 11, 2013—
Recent Adequan Derby Challenge Championship(2) winner
Jr Dynasty Mountain
SI 114 will begin his stallion career in 2014 at Ron and Laurie Moosman's
R/M Stables
near Lindon, Utah. His fee has been set at $1,500.
Owned by ... Read more
---

---
Posted: 12/9/2013 4:01:00 PM
The Tulsa County fair board on December 3 gave its approval for another year of live racing at
Fair Meadows
. The board, formally known as the Tulsa County Public Facilities Authority, voted 4-0 to hold the races for the 26th consecutive year. The meet will be held June 5-July 26. The ...
Read More
---

Quick Stakes Results
---
Sponsored By: Corona Cartel Syndicate

AQHA Current Year Leading Sires
November 2013
October 2013
September 2013
---