Saturday, December 07, 2013
Member Stallion Search
Evangeline Downs Report: Episode 5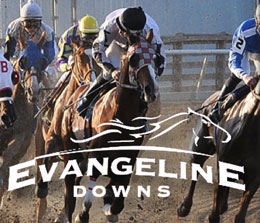 Evangeline Downs Photo
OPELOUSAS, LA–DECEMBER 6, 2013–
Stallionesearch releases Episode 5 of the
The Evangeline Downs Report
today, highlighting the Quarter Horse racing action of the 2013 Quarter Horse meet at the Opelousas, Louisiana racecourse.
Episode 5 focuses on analysis of the top five qualifiers for the December 14 Evangeline Downs Futurity. ... Read more
---


Fifth Running Of Bienvenido De Nuevo, Five Hialeah Derby Trials Featured On Sunday Program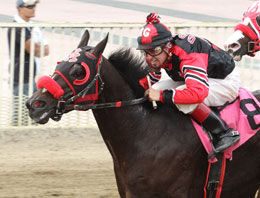 © Coady Photography
HIALEAH, FL—DECEMBER 6, 2013—
The top 10 qualifiers for the $200,000-est. Hialeah Derby on December 29 will come out of five trial heats at Hialeah Park on Sunday December 8.
A total of 43 three-year-olds, headed by past Hialeah Park stakes winners Ms Southern Dynasty, Habits Secret, Rawhide Creek, Ahs Ironsmash, I See Visions, and Jo ... Read more
---

Rae Of Fire Sets Top Qualifying Mark From Six Trials to Sunland Park Winter QH Futurity on Friday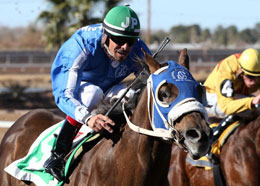 © Coady Photography
SUNLAND PARK, NM—DECEMBER 6, 2013—
Sunland Park Racetrack & Casino kicked off their 2013/2014 live racing season with six trials Friday afternoon for the $140,125 Grade 2 Sunland Park Winter Quarter Horse Futurity. The lightly raced Rae Of Fire defeated All American Futurity(G1) finalist Fatal Policy by three-quarters to post the top qualifyi ...
Read more
---

Vodka With Ice Shakes Up Bank of America Challenge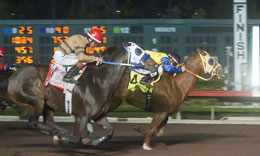 Scott Martinez Photo
LOS ALAMITOS, CA—NOVEMBER 9, 2013—
The $350,000 Bank of America Challenge Championship (G1) at Los Alamitos on Saturday ended with 2011 world champion Cold Cash 123 chasing 17-1 longshot Vodka With Ice, and a night of many surprises ended with one more.
Vodka With Ice, an 8-year-old gelding with earnings of less than $180,000 entering ... Read more
---

Graded Stakes Winner Van Zant to Stand in Oklahoma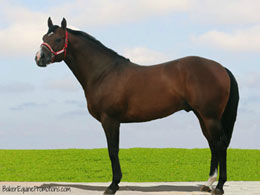 Courtesy Winter Creek Farms
ALEX, OK—DECEMBER 5, 2013—
Grade 3 stakes winner
Van Zant
SI 109 has retried from racing and will stand the 2014 season at
Winter Creek Farms
, near Alex, Oklahoma. His fee has been set at $1,200 with special consideration to approved mares.
Owned an ... Read more
---

---
Posted: 12/6/2013 1:27:00 AM
A full field of 10 New Mexico-bred sprinters will go face off in Saturday's
400-yard, $85,000 Jess Burner Memorial Handicap (RG1)
at Sunland Park. The Jess Burner became a fixture on Sunland's Quarter Horse stakes schedule beginning in 1997, when Jose E. Meraz's A Cutting Edge earned ...
Read More
---

Quick Stakes Results
---
Sponsored By: Corona Cartel Syndicate

AQHA Current Year Leading Sires
November 2013
October 2013
September 2013
---