RACING THIS WEEK
FEATURES
SERVICES
Reigning champion aged gelding Danjer will head a strong field in Saturday's Grade 1 $200,000 Refrigerator Invitational Championship at Lone Star Park.

© Coady Photography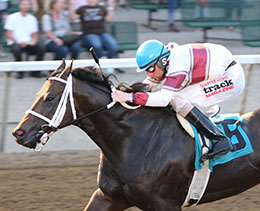 Danjer Leads Stellar Field in Saturday's Refrigerator Invitational Championship (G1) at Lone Star
By Martha Claussen
GRAND PRAIRIE, TEXAS—NOVEMBER 23, 2021—The lion's share of attention on Saturday's Texas Classic card at Lone Star Park may be on the $1.1 million Texas Classic Futurity (G1). But star power will also be on display in the Texas Classic Derby (see related story) as well as the $200,000 Refrigerator Invitational Championship (G1).
The stakes is named in honor of the late AQHA Racing World Champion Refrigerator, who earned $2.1 million in his exceptional career, winning the 1990 All American Futurity (G1) as well as three editions of the Grade 1, Champion of Champions.
Lone Star Park inaugurated the Refrigerator Handicap in 1997 and the exceptional roster of past champions includes Kool Kue Baby (1998); Tailor Fit (1999); Vals Fortune (2005); Spit Curl Diva (2010); and Zoomin Effortlessly (2015) and Jessies First Down (2016).
This total earnings of the twelve invited starters in this year's edition exceeds $6 million dollars.
Trainer Dean Frey is hoping that his multiple Grade 1 winning gelding Danjer continues his 2021 prominence. Frey bred the son of world champion sire FDD Dynasty out of the Take Off Jess mare Shez Jess Toxic.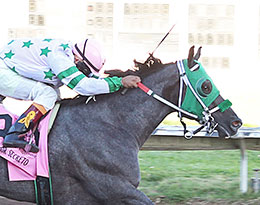 Mi Amor Secreto has won five races and earned $731,770
© Cody Photography
Now 5-years-old, Danjer is enjoying the best run of his career, with four wins from six starts in 2021. He captured the Debbie Schauf Remington Park Invitational last May at Remington Park and followed that with a victory in the $200,000 All American Gold Cup (G1) at Ruidoso Downs on September 6. Most recently Danjer defended his title in the $266,250 AQHA Challenge Championship (G1) on October 23, with Cody Smith in the irons.
Frey co-owns the intrepid runner with Downtime Enterprises and Billy Smith. The Oklahoma-bred has now won 14 of 25 career starts and is Frey's highest earner with $1.365,969 to date.
Danjer, has been installed at odds of 3-5 and will break from post position 11 with regular pilot Smith aboard.
"He goes out there and gives all he's got," explained Frey. "I raised him and he's just the type of horse that you show him once and he gets it. He's good in his stall and loves to train."
Frey, a second-generation horseman, keeps his stable small and starts just 3-4 2-year-olds each year.
"I don't overrun my horses," he stated. "I graze Danjer every morning; he's very special to me."
His rivals include Mi Amor Secreto, who is trained by Santos Carrizales, Jr. The respected Texas-based Quarter Horse jockey won 692 races before hanging up his tack in 2019. Carrizales rode the winners of two previous editions of the Refrigerator, guiding Charal Kid (2012) and Zoomin Effortlessly (2015) prior to transitioning to his training career.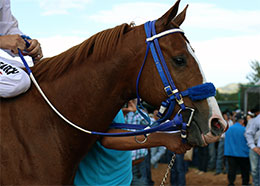 Three-time champions and All American Futurity(G1) winner Apocalyptical Jess has earned $2,233,358.
© Isamel Veneagas
Mi Amor Secreto, a Texas-bred son of champion sire
The Louisiana Cartel
is owned by Carol Ann Mays and has won five of his 29 career efforts, banking $731,770.
Mi Amor Secreto has run second to Danjer in each of their Grade 1 stakes this year. Juan Pulido will guide the chestnut gelding from post position three at odds of 4-1.
"He'll have to run the race of his life to beat Danjer," said Carrizales. "Danjer won the Challenge Championship (in Albuquerque) in :20.73 seconds ; "Secreto" is fast, but not that fast!"
Carrizales has 15 horses in training this year. It's a family-based operation for the former rider, who resides in Harlingen, Texas.
"Texas is home for us," he added. "To win this for the first time as a trainer would mean a great deal to me and my family."
Other notables include 2018 All American Futurity (G1) champion Apocalyptical Jess, who is the high earner ($2.3 million) in the field and will break from post position two with Tanner Thedford aboard. The son of leading sire Apollitical Jess is owned by Bill T. Robbins and prepped for this with a 400-yard allowance win here on October 8.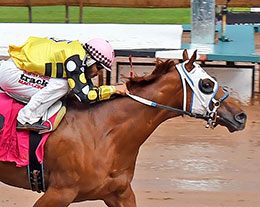 Grade 1 winner Perrys Double Down was third to Danjer in his last start, the $255,250 Bank of America Challenge Championship(G1) at Albuquerque.
© Jake Rogers
This would be the first Refrigerator victory for trainer Trey Wood, who has won the Texas Classic Futurity four times.
New Mexico-bred No Mires A La Luna makes his Lone Star Park debut for trainer Marc Jungers with earnings of $519,065 in 26 starts.
John Stinebaugh will saddle Perrys Double Down, who ran third in the Challenge Championship behind Danjer and Mi Amor Secreto. Francisco Calderon has the return call aboard the Texas-bred son of Mr Jess Perry.
The complete lineup, in post position order including jockey assignments and morningline odds:
Colby James (M Delgado), 6/1
Apocalyptical Jess (T Thedford), 20/1
Mi Amor Secreto (J Pulido), 4/1
Midday News (JA Alvarez), 12/1
Steal The Candy (S Becerra, Jr), 30/1
No Mires A La Luna (L. Constantin), 12/1
Perrys Double Down (F Calderon), 15/1
The Grand Legend (B Candanosa), 30/1
Eagles Fly Higher (JA Flores), 20/1
Don Chuy C (JM Ortiz), 9/2
Danjer (CR Smith), 8/5
Jess My Hocks (A Silva), 15/1
The Refrigerator Invitational Championship (G1) runs as the tenth race of Saturday's 12-race program which features six stakes.
* * * * * * * * * * * * * *
StallioneSearch contributor Martha Claussen served as publicity director at Sam Houston Race Park for ten years. She continues to be active in writing, fan education and Quarter Horse racing publicity in Louisiana, Texas, Indiana and other regions in North America.