RACING THIS WEEK
FEATURES
SERVICES
Multiple Grade 1 winner Empressum will return Saturday, November 27th as the morning-line favorite in the $393,415 Grade 1 Texas Classic Derby at Lone Star Park.

© Dustin Orona Photography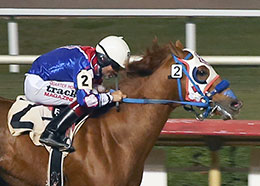 Empressum Concludes Sensational Year in the Texas Classic Derby (G1)
By Martha Claussen
GRAND PRAIRIE, TEXASóNOVEMBER 20, 2021óItís universal in sports that most win streaks have to end at some point and itís never easy. At Ruidoso Downs on Sunday, September 5, Empressum, the ultra-talented Oklahoma-bred gelding, lost his bid to win his ninth consecutive race of the year and complete Quarter Horse racingís Triple Crown for 3-year-olds.
But the son of Apollitical Jess, bred and owned by Steve Holt and Jeff Jones, rebounded in commanding fashion on November 5 at Lone Star Park, when he won his trial for the $393,415 Texas Classic Derby (G1). Trained by Heath Taylor and under confident handling by Rodrigo Vallejo, Empressum drew off by three lengths, crossing the wire of the 440 yard trial in :21.126 seconds.
The fastest qualifier will return to action in Saturday nightís final as the morning-line favorite, breaking from post position seven under Vallejo. His connections are hopeful for the victory, not just to get another streak rolling, but to solidify his standing for AQHA Racing 3-year-old champion honors.
Disappointment in the All American Derby
Empressum began his 3-year-old season at Remington Park in April, winning his trial and final of the $355,800 Remington Park (G2) Derby. He arrived at Ruidoso Downs and captured the Rainbow Derby(G1) and the Ruidoso Derby(G1) before winning his trial for the Grade 1 All American Derby. He was clearly the one to beat in the 440-yard final but broke poorly and finished fifth.
"I run him with a rig and he has always been good in the gate," said Taylor. "I watched the load and could see him pushing his head to the right and then the left. He was not settled when the gates opened. It was a matter of incredibly bad timing and really bad luck."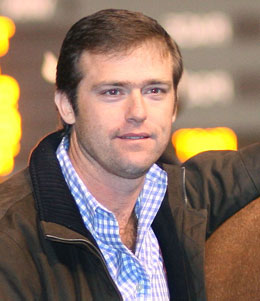 Leading Quarter Horse trainer Heath Taylor.
© Dustin Orona Photography
Taylor, 51, has been training since 1994, and has readied his charges for plenty of Grade 1 tests for juveniles and older horses. He responded to a question about the pressure of winning the Triple Crown .
"The whole thing to success in racing is preparation," he explained. "The horse was doing extremely well heading into the All American Derby; maybe even more prepared for that than each of his previous stakes."
But the year is far from over for Empressum, who received an invitation to the $600,000 Champion of Champions (G1) at Los Alamitos. Taylor and his owners gave it serious consideration, but due to several factors, opted for the Texas Classic Derby.
"It was a very difficult decision," Taylor admitted. "We went back and forth, but the logistics were not in our favor. There was no way we would haul to California and the issues right now with Tex Sutton were a concern. Staying in Texas just made more sense, but we plan to run Empressum next year and hope to be invited again."
Highest Earner for Breeder Steve Holt
Oklahoma horseman Steve Holt has enjoyed the ride with Empressum, who is a son of Apolittical Jess out of a mare Holt bred and raced by the name of Crazy Down Corona.
"Sheís had a few stakes-placed fillies, but Empressum is her most successful offspring," said Holt of the mare by First Down Dash.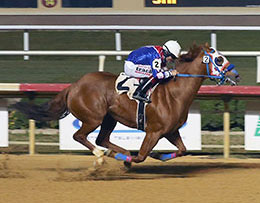 Empressum, under jockey Rodrigo Vallejo, setting the fastest time in the Texas Classic Derby(G1) trials at Lone Star Park.
© Dustin Orona Photography
Holt has a passion for his horses and shared that his multiple-stakes winning distance horse, De Passem Okey, who earned $458,625 in his 46 starts, is happily retired and enjoying life on his farm in Guthrie, Oklahoma. He has turned down several offers to sell Empressum.
"I pulled him out and have to admit that he is an extension of me and the passion I have for breeding racehorses," Holt said.
As an owner, Holt has been involved in some of the decisions, but in the case of Empressum, Holt has faith in Taylorís recommendations, including the call to bypass the Champion of Champions.
"Heath does such a tremendous job and I trust him to make the right call on where to run," added Holt. "Heís a special horse who has stayed sound throughout a very challenging campaign. I canít say enough about (jockey) Rodrigo Vallejo and Milo Maldonado, Empressumís devoted groom."
Holt and co-owner Jeff Jones hope to make the trip to Lone Star Park on November 27 to see Empressum run in the Texas Classic Derby. He has won 12 of his 16 lifetime starts, banking $857,059 since he made his debut on March 28, 2020 at Remington Park. The victory would vault their homebred past the million dollar earning mark.
Ajs Tres Of Paint Qualifies for the Texas Classic Futurity
Taylor won his first Texas Classic Futurity last November with Bob and Jerry Ann Gastonís homebred Dulce Sin Tacha. The son of Jess Good Candy was honored as AQHA Champion 2-year-old colt.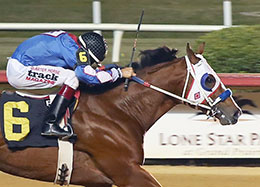 Taylor will saddle Ajs Tres Of Paint in the 2021 $1million Texas Classic Futurity(G1).
© Dustin Orona Photography
The 6th fastest qualifier was overlooked by the majority of the betting public, but took to the sloppy track with total dominance under Rodrigo Vallejo "He was one of those rare horses who always gave his all," said Taylor of the Texas-bred who will stand stud at
Lazy E Ranch
. "I always believed he would win a Grade 1."
Ajs Tres Of Paint in this yearís Texas Classic Futurity could very well be overlooked, which is certainly not the case for Empressum in the Texas Classic Derby. Taylor will also saddle second-fastest Texas Classic Derby finalist Hes Innocent who will break from post position three for owner Priscilla Rodriguez with Ricky Ramirez in the saddle.
"Itís an honor to qualify for these finals," stated Taylor. "We would love to win both, but just hope for a good, clean trip for our horses. Thatís all you can ask for."
** * * * * * * * * * * * * * * * *
StallioneSearch contributor Martha Claussen served as publicity director at Sam Houston Race Park for ten years. She continues to be active in writing, fan education and Quarter Horse racing publicity, Louisiana, Texas, Indiana and other regions in North America.