RACING THIS WEEK
FEATURES
SERVICES
National Hall of Fame Trainer Jack Van Berg will be at Prairie Meadows for a book signing June 29 during the Festival of Racing.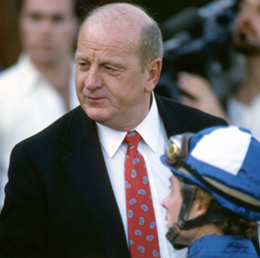 Meet National Hall of Fame Trainer Jack Van Berg at Prairie Meadows Book Signing June 29 During Fest
ALTOONA, IA—JUNE 13, 2013—
As told by television racing analyst and author Chris Kotulak,
Jack, From Grit to Glory
is the true story depicting the hardships and joys of young Jack Van Berg, who emerged from the prairie lands of Columbus, Nebraska, to train champions, break records, and become a Hall of Fame trainer like his father.
In the book, Kotulak relates the now-storied interview between the all-business Van Berg and hawkish sportscaster Howard Cosell, who criticized him for bringing Bold Ego, a lesser known contender, to the 1981 Kentucky Derby. Van Berg turned 78 on June 7.
Today, Van Berg lives in California and he is still actively training racehorses in a career that's spanned 56 years. He is most readily known as the trainer of 1987 Kentucky Derby winner Alysheba, voted Champion Three-Year-Old Male in 1987 and Horse of the Year in 1988. Van Berg has ties to the Prairie Meadows Cornhusker (Grade III), having won the race three times including 1985 with Gate Dancer (1984 Preakness winner) when the race was previously was held as The Cornhusker Handicap (1966-1995) at Aksarben in Omaha, Nebraska.
Racing fans are invited to Prairie Meadows June 29 to meet the legendary trainer Jack Van Berg.
WHO:
Jack C. Van Berg is a living legend throughout the racing industry. He became the first trainer in North America to win 5,000 races in 1987, and he remains the fourth leading trainer, all-time with 6,417 wins. He will make a rare visit to Iowa to greet racing fans at Prairie Meadows and sign his biography, "Jack, From Grit to Glory, a Lifetime of Mentoring, Dedication, and Perseverance."
WHAT:
Photo and interview opportunities with Jack C. Van Berg WHEN:
Saturday, June 29, 2013 Photos and video: 5:00 p.m. Book signing: 5:30 p.m. (Book purchase price at Prairie Meadows: $20.00) 6:30 p.m. – Post Time for 2nd day of Iowa Festival of Racing
Live performance of the national anthem – Kennedy Plowman
Presentation of colors on horseback – Brittany Abernathy and TBD
Performance by Raccoon River Riders Equestrian Drill Team prior to Race 1
WHERE:
Prairie Meadows, One Prairie Meadows Drive, Altoona, Iowa Track apron near saddling paddock, weather permitting, or Clubhouse Level 4 in the event of rain
CONTACT:
Mary Lou Coady 515.967.8247 marylou.coady@prairiemeadows.com
Prairie Meadows has given more than $1 billion through taxes, grants and charitable donations to the state of Iowa. More than $500 million of that figure has remained in our community to promote economic development, agriculture, jobs and tourism.