RACING THIS WEEK
FEATURES
SERVICES
Champion A Revenant was the Leading First-Crop Sire of Money Earners for 2021. © Courtesy Dunn Ranch

© Courtesy Dunn Ranch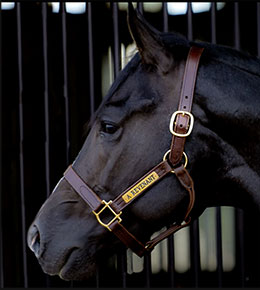 A Revenant Tops First Year Sires, Jess Good Candy, Apollitical Blood Repeat
DALLAS, TX—JANUARY 3, 2022—
A Revenant
the AQHA Racing Champion 2-Year-Old Colt of 2016, was the Leading First-Crop Sire of Money Earners for 2021. The son of leading sire
Mr Jess Perry
had 23 winners on 53 starters, 3 stakes winners and earnings of $1,184,494.
His top-performers were third-place finisher in the All American Futurity(G1), Sippin Hayden ($276,630; Oklahoma Futurity(G2) winner, Revenant Moon ($224,418); and Rainbow Futurity(G1) third-place finisher, Double Duty ($108,529).
Winner of the Rainbow Futurity(G1) at 2, A Revenant died in August 2019 following an extended battle with laminitis.
Dunn Ranch purchased the remaining frozen semen of A Revenant last year and stands the stallion for ICSI only at $4,500.
Rounding out the Top Five Leading First-Crop Sires of Money Earners in 2021 are:
#2 Fly Thru The Fire, a son of Walk Thru Fire from the "blue hen" mare Babe On The Fly by Strawfly Special. Fly Thru The Fire sired 23 winners from 49 starters, 2 stakes winner and earnings of $453,791.His leading money earner Watch Out ($182,095) was second in the Governor's Cup Futurity(G1) at Los Alamitos Race Course.

# 3 Duponte, the AQHA Racing Champion 3-Year-Old Colt of 2017, finished third with 21 winners on 52 starters and earnings of $425,549.His leading money earner Betterton ($28,903) was fourth in the Grade 3 Harrah's Futurity.

#4 Tf Im That Guy, a Grade 1 son of leading sire First Down Dash, sired 10 winners from 28 starters and earners of $156,496.

#5 My Royal Wagon, third in the Grade 1 Rainbow Futurity at 2, was the fifth leading first crop sire with five winners from only nine to race. He sired earners of $127,603.
For a list of the "Top 25" Leading First-Crop Sires of Money Earners for 2021
CLICK HERE
.
Second-Crop Sires • Jess Good Candy
AQHA Racing Champion Jess Good Candy repeated at the Leading Second-Crop Sire of Money Earners in 2021. After taking the first-crop title last year the son of Good Reason SA returned this season to sire 53 winners on 103 starters, 8 stakes winners and earnings of $2,682,622.
His top earner, Jess Savin Candy ($1,046,200), won the Rainbow Futurity(G1) and Ruidoso Futurity(G1). He was also represented by champion Dulce Sin Tacha who was second in the Rainbow Derby(G1).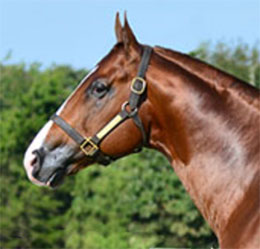 Jess Good Candy / © Lazy E Ranch
Rounding out the Top Five Leading Second-Crop Sires of Money Earners in 2021 are: