RACING THIS WEEK
FEATURES
SERVICES
Jockey Juan Marquez won his first Quarter Horse jockey title at Horseshoe Indianapolis in 2022.

© Coady Photography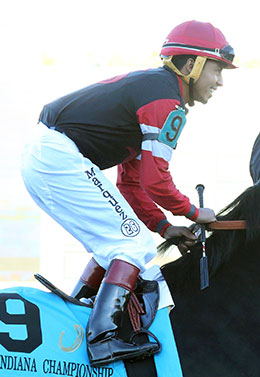 Juan Marquez Wins First Quarter Horse Jockey Title At Horseshoe Indianapolis
SHELBYVILLE, IN–NOVEMBER 23, 2022–What a year it's been for Quarter Horse Jockey Juan Marquez. The native of Hidalgo, Mexico took his assignment as first call for Trainer Randy Smith and turned it into a record-breaking season en route to his first Quarter Horse jockey title.
Marquez's journey to Indiana had a unique start. His father, Genaro Marquez, has always had horses and would ride in races the "old school way," without a saddle and only a strap similar to a seat belt.
When Marquez was old enough to start thinking about a career path, he credits his uncle Fernando Lugo with teaching him the skills he needed to head to the track and ride horses.
"My uncle taught me out how ride," said Marquez through interpretation by Jockey Rolando Pina. "I started with Quarter Horses but because I was small, I took advantage of my weight and began riding Thoroughbreds in races."
Marquez was the leading Thoroughbred Apprentice Jockey at Hipodromo de las Americas in Mexico City a decade ago before securing a job in the United States as an exercise rider.
He first came to Kentucky and galloped for D. Wayne Lukas. He soon recognized the Thoroughbreds didn't work for him here as a jockey and was off to Evangeline Downs where he won his first Quarter Horse race aboard Superior Foose in 2014.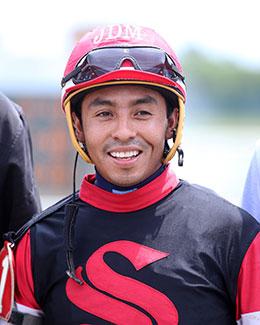 Marquez established four new Quarter Horse riding records this season.
© Coady Photography
Marquez ventured to Indiana and worked for various trainers, first in Thoroughbreds for Marvin Johnson before working for Quarter Horse Trainer Paul Martin, his first job in Quarter Horses. When his Visa and all the paperwork was in place and renewed, he was able to go to work for Randy Smith as the second call jockey last year. This year, he was moved to first call.
"I got the call at the beginning of this year to ride first call for Randy (Smith)," said Marquez. "I've been with Randy now for a year and a half. We start a little here breaking babies and then go to Ocala, Florida for the winter before coming back to Indiana. I really like working with the babies. It's very rewarding for the time we put into them with the (Smith) team and see them do well."
Marquez has established four new Quarter Horse riding records this season. In July, he recorded six wins in one day for a new record. He has seven stakes victories this season, also a new record.
And the 29-year-old is finishing up the 20th season of Quarter Horse racing in Indiana with the record for most wins and purse earnings by a jockey in one season (51, $1.1 million), which are both new records. Marquez is the first Quarter Horse jockey in Indiana history to go over the $1 million mark in purses in one season.
"I really didn't have any expectations coming into the year," said Marquez. "I didn't expect the records and this type of year. After I got days (riding infraction) at the end of last year, I never thought I could accomplish anything like this. I am very thankful to Randy and Debbie (Smith) and all the owners for their support this season."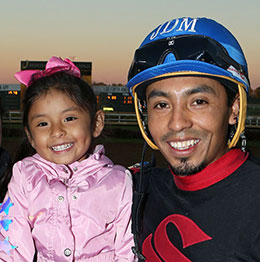 Marquez with his 4-year-old daughter Valentina.
© Coady Photography
Marquez has a couple horses that stick out as favorites on the season. Extermynator, who won four of six and never finished off the board, stands out to Marquez. He rode the two-year-old in two of his wins.
"Extermynator has been by far my favorite of the babies this year," added Marquez. "He does everything right. I also like the older horse WRs Valentino, but only to race ride, not to gallop."
WRs Valentino, known for his antics on the track in the morning, was a winner in three of four starts this season. The six-year-old Mighty B Valiant homebred for Gwen and Randy Williams is closing in on a half-million in purses. Marquez won all three races on him this season. All three were stakes. The horse also has a special bond for Marquez, as his daughter, Valentina, shares a similar name.
"My daughter will be four-years-old in December," said Marquez. "She likes the horse because of his name and her name. Without my daughter, I would have nothing. I am very thankful to my mother and father for their support and to my entire family, including my brother Mauricio Hernandez, who lives in Georgia. He is not in racing, but he comes to watch me as much as he can."
Marquez will be recognized with the Leading Quarter Horse Jockey award when racing comes to a close Wednesday, Nov. 22. He will be awarded his first title in Indiana alongside Trainer Randy Smith, who will receive his ninth consecutive leading trainer title. Marquez will enter the final day of racing in 2022 with 81 wins and more than $2.2 million in career earnings, moving into the top 12 all-time leading Quarter Horse jockeys in Horseshoe Indianapolis history.
* * * * * * * * * * * * * * *
The 20th season of live Thoroughbred and Quarter Horse racing extends through Wednesday, Nov. 23. Live racing is conducted at 2:30 p.m. Monday through Wednesday with Thursday post times set for 2:10 p.m. A total of 12 Saturdays will feature live racing in 2022 highlighted by the 28th running of the Grade 3 $300,000 Indiana Derby and the 27th running of the Grade 3 $200,000 Indiana Oaks set for Saturday, July 9. For more information on live racing at Horseshoe Indianapolis, visit www.caesars.com/horseshoe-indianapolis.
About Horseshoe Indianapolis
Horseshoe Indianapolis, owned and operated by Caesars Entertainment, Inc. (NASDAQ: CZR), holds multiple awards for customer service, entertainment, gaming, racing, dining, and diversity. Located just minutes from Indianapolis in Shelbyville, Ind., this one-of-a-kind property has wall to wall excitement on the 105,940 square foot gaming floor, featuring more than 1,600 slots and 72 table games along with a state-of-the-art World Series of Poker Room containing 20 tables. Please visit www.caesars.com/horseshoe-indianapolis for more information and find Horseshoe Indianapolis on Facebook, Twitter, and Instagram.