RACING THIS WEEK
FEATURES
SERVICES
Longtime California horseman Fred Scane passed away Tuesday.

© Los Alamitos Race Course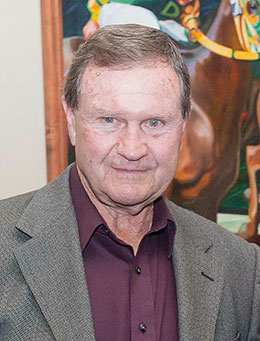 Fred Scane, Quarter Horse Owner, Breeder And Stallion Manager, Passes Away
LOS ALAMITOS, CA—FEBRUARY 26, 2020—
Fred Scane, a Quarter Horse owner, breeder and stallion manager for over 40 years, passed away on Tuesday night. He was 82.
A leading breeder and owner of some of the biggest names in the sport, Scane's vast experience in the racing industry included owning Scane Ranch in Chino, where leading stallion Merridoc stood, and later a ranch in Murrieta, where he boarded Quarter Horses for many leading operations.
Scane was Ed Allred's stallion manager and a member of the Pacific Coast Quarter Horse Racing Association board of directors.
His success in the horse racing world included some of the most famous names in California's Quarter Horse racing history. Starting in the late 1970s, his outstanding racehorse Merridoc won eight out of his fourteen career starts, including the Golden State Futurity and Bay Meadows Futurity in 1979, before moving on to a successful career as a stallion.
Scane was the breeder of three of Merridoc's finest offspring in Solvency, Apprehend, and Griswold. Solvency won $632,422 lifetime and was crowned AQHA champion 2-year-old gelding in 1985 after winning the Kindergarten Futurity while also qualifying to two other grade one stakes during his freshman campaign.
Solvency would also win the 1986 Golden State Derby in an upset victory at odds of more than 30-1. The great Apprehend, a five-time grade one winner earned over $500,000 in his five-year racing career that included a pair of AQHA championship honors. Apprehend was named the AQHA champion 3-year-old gelding in 1990 and AQHA champion aged gelding in 1991.
Scane raised one of the greatest 870-yard horses of all-time in Griswold, the champion distance horse in 1991, 1992 and 1993. A winner of 14 stakes races lifetime, Griswold retired with $627,307 in earnings and the 870-yard world record.
Back in the sport as a racehorse owner or breeder starting in 2007, Scane was represented by the likes of Corona Chick Handicap winner Separate Lives and by Golden State Juvenile Stakes winner Fighting City Hall. Along with his wife, Nancy, he campaigned the talented sprinter Ought To Be Rapid, a winner of over $75,000, who was the runner-up in the 2007 Governor's Cup Futurity and a finalist to the El Primero Del Ano Derby and Golden State Derby in 2008. Nancy and Fred Scane's racing operation combined to start over 200 Quarter Horses at Los Alamitos.
As stallion manager for Ed Allred's Rolling A Ranch, Fred Scane worked with some of the most prominent stallions in California. He managed Walk Thru Fire, Separatist, TR Dasher, Snowbound, Stel Corona, and the champion sire Kiddy Up. He was also an ever-present figure at most of the major Quarter Horse sale auctions.
"I leaned on Fred for advice on breeding and racing," Allred said. "Until the last few years he traveled to all the big sales. He was nationally known and had so many great contacts in the industry to build stallion syndications. For a while, he had a large breeding operation that produced a lot of great horses. He was a great friend and a respected horseman."
During an interview a few months ago, Scane said the following: "I've been lucky to have bred seven champions over the years. We bred Griswold and Apprehend and many others. It was great to own and race the great Merridoc. He repaid me over and over again. I love Quarter Horses and I love what I do. I really enjoy the California-bred racing program and always wanted to help Quarter Horse racing in California thrive."
An excellent athlete in his youth, Scane played minor league baseball for the Boston Red Sox organization from 1956 to '58 in Midwest League, Carolina League, etc.
Fred Scane is survived by his wife, Nancy, and his daughters, Tracy, Denise, and Vicki.
A memorial in honor of Fred Scane will be held on Wednesday, March 11 in the Vessels Club at Los Alamitos Race Course at 2 p.m. For questions, please call 714-820-2690.
* * * * * * * * * * * * * *
Courtesy of www.losalamitos.com.