RACING THIS WEEK
FEATURES
SERVICES
Funeral services for Charles Leggett will be held Monday in Muskogee, Oklahoma.

© Dustin Orona Photography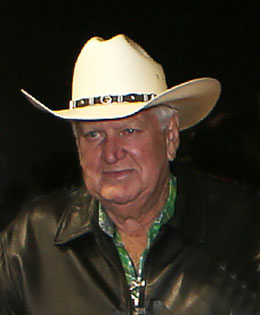 Memorial Service for Charles Leggett Set Monday
MUSKOGEE, OK—FEBRUARY 26, 2020—
A memorial service for longtime Oklahoma horseman Charles Leggett, 82, will be held Monday (March 2). Leggett passed away Monday, February 24.
Services will begin at 11:00 am (CST) at the Martin Luther King Center in Muskogee, Oklahoma, 300 W. Martin Luther King Street.
Charles was born on September 1, 1937, a son of the late Vernon and Ruby Leggett and sister of Mary Keisel, also deceased. He married his forever love, Susan W. Leggett in 1976 in Oklahoma City.
He leaves his loving memories to be cherished by his children, Susan O'Steen of OKC, Oklahoma, Karen Newell of Muskogee, Oklahoma, Mesha Sanchez of Tahlequah, Oklahoma, Brit Leggett of Muskogee, Oklahoma, and Wade Leggett of Morris, Oklahoma; along with 12 adorning grandchildren and 7 great-grandchildren.
He worked as an apprentice plumber after graduating from Okmulgee High School in 1957 and worked for Hogle Plumbing in Muskogee for several years before going into the plumbing business for himself.
In 1969 he switched to the RV and mobile home supply business eventually growing into wholesale distribution in the industry. Charlie's interests included racing horses, fishing, golfing, and attending auctions.
Charles was an avid owner and breeder, and a longtime member of AQHA and the Oklahoma Quarter Horse Racing Association.
He trained starters at Blue Ribbon Downs and Fair Meadows at Tulsa. As an owner, his American Quarter Horses made more than 170 starts and earned more than $123,000. He bred seven winners, led by stakes winner Gum Ball Machine ($35,812).
Charles also loved breeding, owning and racing Paints for many years. His Paint lifetime breeder earnings were $640,011 with 37 wins from such horses Miss Movin On, Crazy Mother Trucker and CL Victorias Secret.
His top money earner was AQHA Paint Racing World Champion Texas Silk ($249,384).
Flowers should be sent to: Cornerstone Funeral Home, 1830 N. York St., Muskogee, Oklahoma,74403.