RACING THIS WEEK
FEATURES
SERVICES
Quarter Horse stall applications are due Friday, March 6 for Sam Houston Race Park.

© Coady Photography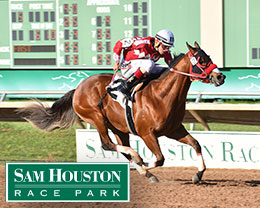 2020 Sam Houston Race Park Stall Applications Are Due March 6
HOUSTON, TX—FEBRUARY 25, 2020—
Horsemen wanting stalls for the 2020 Sam Houston Park American Quarter Horse Meet must get their applications into the Houston racetrack's racing office by Friday, March 6
In 2020, Sam Houston Race Park will host 23 days of live Quarter Horse racing from April 10 through May 30.
The usual $450,000-est. Sam Houston Futurity(G2) and the $200,000-est. Sam Houston Derby(G3) will again be among the Quarter Horse racing season highlights.
To download a 2020 Sam Houston Race Park Quarter Horse stall application CLICK HERE.
Additional information that horsemen and women should be aware of for the 2020 meet include:
Past performances must accompany the application. Applications not accompanied by past performances will not receive consideration until completed. Balanced stables will receive first preference.
ALL HORSES ENTERING THE STABLE AREA MUST HAVE a Valid Current Health Certificate (issued within 30 days of a horses' arrival) which includes a Current Negative Coggins, Current Negative Piroplasmosis for ARABIANS, QH, Paints & Appaloosas, and all Vaccinations, including EHV-1 given no less than 14 days and is within 90 days of the horses' arrival. At its discretion, SHRP will restrict entry from any location that is currently under quarantine or has a known positive outbreak. SHRP management reserves the right to modify the entry policy at any time.
No pony stalls allotted for stables of less than (12) horses.
$115 deposit required for each dormitory room. One Dorm allowed for each 10 stalls assigned. There will be a $10 stall deposit for each allocated stall which is refundable if stalls are stripped upon vacating premises.
Only allowable bedding material will be Wood Shavings or Straw.
Stalls will be assigned to horses on application. No substitutions allowed without permission of the Racing Secretary.
Negative Coggins reports must accompany registration papers!! ZERO DATE, WEDNESDAY, APRIL 1, 2020.
No Dogs Allowed in the Stable Area.
Failure to comply with these policies may result in but not be limited to fines, scratch from race, and or ejection from property etc.
Additional dates of importance to horsemen include:
Stable area delivery date is Wednesday, April 1 (based on availability)
Stable Move-In date is Friday, April 3 (based on availability)
Do not ship without stallion confirmation
All stalls must be occupied by opening day
Any questions regarding this policy can be directed to the Sam Houston Park Racing Office.
For additional information or questions contact Sam Houston Race Park's racing office at (281) 807-8780 or visit the track website at shrp.com.