RACING THIS WEEK
FEATURES
SERVICES
A celebration of life for Ron Hartley will be held in the Vessels Club at Los Alamitos Race Course on Thursday, March 19.

© Scott Martinez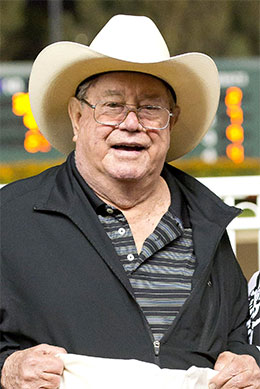 Event In Memory Of Ron Hartley To Be Held In Vessels Club At Los Alamitos On March 19
LOS ALAMITOS, CA—FEBRUARY 22, 2020—
A celebration of life in honor of Ron Hartley will be held in the Vessels Club at Los Alamitos Race Course on Thursday, March 19 at 11:30 a.m.
Horsemen, horsewomen, friends, and family are invited to attend the gathering to remember the longtime Quarter Horse owner, breeder and racing official. Hartley passed away on Monday, January 27.
Hartley was a board member of the Pacific Coast Quarter Horse Racing Association and a former Los Alamitos racing secretary and California racing steward. Hartley campaigned many outstanding sprinters including multiple AQHA champion Moonist and 2019 AQHA champion filly Cartel Jess Rockin. He also raced graded stakes winners One Proud Eagle and Black Fryday.
"Ron was such a dedicated board member and absolutely loved the horses," said Vince Genco, president of the PCQHRA. "He would do anything to help the sport and the Quarter Horse industry in California."
For information on the memorial service in the Vessels Club, please call 714-820-2681.
* * * * * * * * * * * * * *
Courtesy of www.losalamitos.com.