RACING THIS WEEK
FEATURES
SERVICES
The XCEL Farms' training center with a half-mile track and 340 yard straight away is located in Asher, Oklahoma.

© Photos courtesy XCEL Farms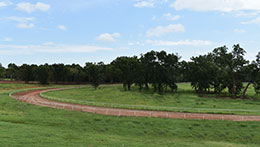 Ed Hardy Racing Teams With XCEL Farms To Open a New Training Center in Asher, Oklahoma
By Martha Claussen
ASHER, OKLAHOMA—SEPTEMBER 16, 2019—A new full service training center will open in Asher, Oklahoma this month. The venture is a partnership between veteran horseman Edward Ross Hardy and businessman Cole Morehead.
Hardy is a highly respected trainer with a 25-year tenure in the Quarter Horse and Thoroughbred industry. He has saddled over 820 winners, including World Champions Lett Her Zoom and One Rare Bug. Additionally, he has conditioned Grade 1 champions, Givingitaroyaleffort and High Rate Of Return. Ed is also a member of the Canterbury Park Hall of Fame. He owns and operates an 80-acre training facility in Lexington, Oklahoma.
"Ed Hardy and his team's record speaks for itself," said Morehead. "His career numbers are better than many of the current leading trainers' today."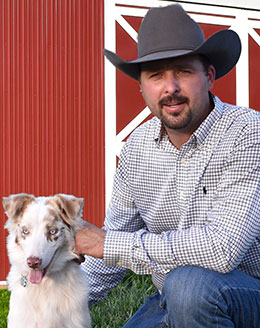 Cole Morehead.
The 32-year-old Morehead grew up around horses and competed in team roping as a teenager. After college, he pursued a career in the oil and gas industry, founding a Nondestructive testing company called XCEL NDT LLC, which grew and is still thriving.
However, his passion for horses never waned. In 2018, he and his father enlisted the training services of Hardy on a Tres Seis filly. His goal was racing first, followed by developing her as a broodmare prospect. This year, Morehead purchased two more fillies with Celebratori, a daughter of Corona Cartel, qualified for the 2019 Mystic Lake Northlands Futurity at Canterbury Park.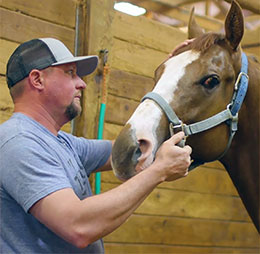 Trainer Ed Hardy
.
The venture is the brainstorm of both men, who realized that they shared the same commitment to the care and welfare of horses. Both are against the use of illegal medications, do not believe in pushing young horses too quickly and are committed to breeding and developing quality stock to vitalize the future of racing.
XCEL Farms will present a full range of services for both Quarter Horses and Thoroughbreds. Partnered with Ed Hardy Racing, clients will be able to choose from breaking, training and/or sale preparation of both yearlings and 2-year-olds in any of the racing breeds; off season conditioning, galloping, and overall care of older racehorses. On the breeding side, XCEL Farms will offer mare care and foaling services, and plans on standing stallions entering the 2022 breeding year.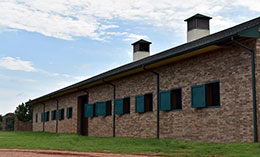 The XCEL Farms brick barn in Asher, Oklahoma houses 39 stalls.
The facilities include a top of the line barn with 39 stalls, brick exterior with a finished wood interior; two six-horse walkers and one six-horse Free-Flow Walker; a round-pen training enclosure to break and ride young colts; and a half-mile training track with a 340 yard straight away.
"Our training track was professionally designed and will be maintained by one of the best track men in the state of Oklahoma, if not in the country," stated Morehead.
Currently under construction are the mare care facilities which consist of safely constructed pens with loafing sheds and turn-out pastures. The loafing shed pens will have a projected capacity of 20-25 mares and the turnout pasture will consist of 60 acres of well-maintained Bermuda grass. All construction is projected to be complete in the late Spring of 2020.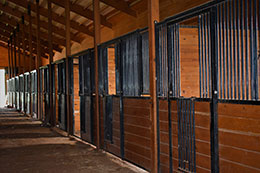 The 39 stall barn includes a finished wood and steel interior.
XCEL Farms new location is approximately 30 miles east of Hardy's current operation. Ed's current facilities will also continue to serve all of the racing and breeding clients. With the addition of XCEL Farms' facilities, Ed Hardy will be able to provide clients with expanded resources for training. He will be responsible for overseeing the racehorse operations and will serve as the primary trainer.
Morehead's focus will be on development and growth of the overall business operation with an emphasis on the breeding program and facilities. Quality services and safety are two extremely important priorities to both Hardy and Morehead.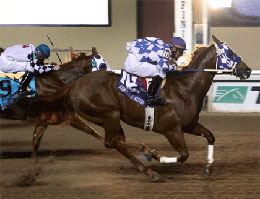 Ed Hardy trained Grade 1 winner and leading sire High Rate Of Return, shown winning the Heritage Place Futurity(G1) at Remington Park.
© Dustin Orona Photography
One other goal of the venture is to enhance communication with clients on the status of the training progress of their horses. Hardy and Morehead are developing a software application (App) that will have information and updates that can be easily accessed. They believe that the racehorse owners want to have better channels of communication with their trainers and are determined to make this a reality.
Both men want to give credit to their wives, Kari Hardy and Marijo Morehead for supporting them and being so involved behind the scenes. They are both an integral part of the team.
"I'm excited about this venture with Cole," said Hardy. "He is extremely motivated and an optimistic businessman, but still has the integrity of a real professional. Many in the racing and breeding industry concur that attracting new owners is essential for the future of the sport. I've been in business for 25 years, and to use a racing expression, it's like a horse 're-breaking'. It's given me a new outlook with tremendous potential."
* * * * * * * * * * * * * * * * * * * * * *
FACT BOX:
XCEL FARMS
41071 Hwy 59, Asher, OK 74826
Ed Hardy 512-658-0306
Phone: 785-614-1489
Website: xcel-farms.com
* * * * * * * * * * * * * * * * * * * * * *
Martha Claussen served as publicity director at Sam Houston Race Park for ten years. She continues to be active in writing and racing publicity in Texas, Louisiana, Indiana, Oklahoma and other regions in North America.