RACING THIS WEEK
FEATURES
SERVICES
Jockey Rickey Ramirez has been named the 2018 Sam Thompson Memorial Jockey Award winner.

© AQHA Racing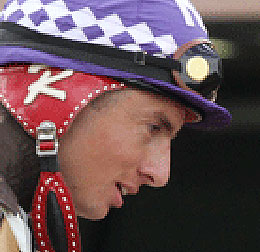 Jockey Ricky Ramirez Wins The Eighth Annual Sam Thompson Memorial Jockey Award
NORMAN, OK—AUGUST 10, 2018—
Jockey Ricky Ramirez has been named the winner of the eighth annual Sam Thompson Memorial Jockey Award. Ramirez will be honored at an awards presentation in the winner's circle at Ruidoso Downs on Sunday, September 2nd during the All American Weekend.
Ramirez will receive a belt buckle commemorating the award, as well as a signed and numbered Limited Edition bronze statue of Sam Thompson and Champion Corona Kool by artist Linda Manion made exclusively for the Sam Thompson Memorial Jockey Award. Ramirez's name will be added to a permanent plaque. This plaque is housed in the Racing Hallway, along with the most distinguished horses and awards, at the American Quarter Horse Association in Amarillo, Texas.
The Sam Thompson Memorial Jockey award is a peer-elected award. Each summer, ballots are mailed to U.S. racetracks that are running Quarter Horses. Active jockeys are invited to vote for the person whose personal character on and off the racetrack reflects positively on Quarter Horse racing. This year, the four nominees were: Jorge Martin Bourdieu, Jimmy Brooks, John Hamilton and Ricky Ramirez.
Previous winners of the Sam Thompson Memorial Jockey Award include: Roy Brooks, the first winner in 2011; Gilbert Ortiz in 2012; G. R. Carter, Jr. in 2013; Cody Jensen in 2014; Eddie Garcia in 2015; Ramon Sanchez in 2016; and Cesar De Alba in 2017.
This year's award winner, who was the 2015 AQHA Champion Jockey, Ricky Ramirez was born May 17, 1985, in Odessa, Texas. His father owned and raced Quarter Horses and Ricky began riding in match races there at the age of 13. He obtained his jockey license at 18 years of age.
Ricky's first win was in a 2003 maiden race at Gillespie County Fair aboard his father's horse, Hooked On Fuel. His racing career hit full stride in 2008 when he crossed the finish line first aboard Hearts Runaway in the New Mexican Spring Futurity-Gr. 1 at Sunland Park. But it was his status as first-call rider for Blane and Trey Wood that vaulted him to the elite level of Quarter Horse riding. He has won more than 40 stakes including 19 Grade 1's and currently ranks 12th on the All-Time Money Earned list.
"To be a jockey is all I ever wanted to do. I can't remember ever wanting to do anything else besides ride racehorses for a living," Ramirez said.
Ricky and his wife Alejandra reside in Odessa, Texas, with their young son and daughter.
* * * * * * * * * * * * * * *
Speedhorse Magazine, in conjunction with the Jockeys' Guild, developed the Sam Thompson Memorial Jockey Award, modeling it after the popular George Woolf Memorial Jockey Award in the Thoroughbred industry. The award is named in honor of jockey Sam Thompson, who suffered a fatal riding accident in 2008. One of the leaders in the jockeys' room during his riding career, Thompson was a Jockeys' Guild senator, the room representative at Los Alamitos, and a council member of the Los Alamitos division of the Race Track Chaplaincy of America.