RACING THIS WEEK
FEATURES
SERVICES
Breedings to leading Sire Feature Mr Jess will be available through Jumonville Farms in 2017.

© Don Shugart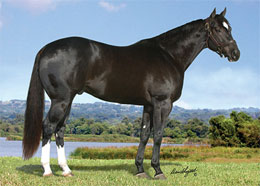 Jumonville Farms Brings Feature Mr Jess Home
VENTRESS, LA—MARCH 11, 2017—
Jumonville Farms
, near Ventress, Louisiana, announced today they have purchased the remaining frozen semen on Grade 1 winner and multiple champion sire
Feature Mr Jess
.
Bred and raced by Jumonville Farms, the son of leading AQHA sire Mr Jess Perry is the only Louisiana-bred to win a Grade 1 race at Ruidoso Downs (he won two) with 13 wins from 16 career starts and earned $532,327. He won both the Grade 1 Rainbow Futurity and Grade 1 Rainbow Derby at Ruidoso Down as well as finished second in the Dash For Cash Futurity(G1) and third in the Remington Park Futurity(G1). He was also third in the All American Derby(G1) and a finalist in the Texas Classic Futurity(G1) and Texas Classic Derby.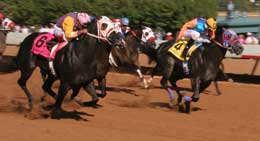 Four-time champion Heartswideopen winning the 2007 All American Futurity at Ruidoso Downs.
© Q-Racing / Andrea Caudill
Jumonville sold an interest in
Feature Mr Jess
while he was racing and the stallion, who died at the young age of 11 in 2009, stood his entire short career in Texas.
"We are excited to bring Feature back home," J.E. Jumonville said earlier this week. "We will be offering a limited number of breeding's to Feature Mr Jess through the ICSI process."
A true home bred for the farm, J.E. Jumonville purchased Feature Mr Jess' granddam, Brenda Beauty, for $52,000 in the 1983 November Keeneland Sale in Lexington, Kentucky. The stakes winning daughter of Cornish Prince was consigned by Johnny T.L. Jones' Walmac International, Agent for Royal.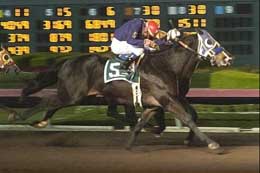 Three-time champion Jess You And I winning the Grade 1 Champion of Champions at Los Alamitos Race Course.
© Scott Martinez
In 1986, Jumonville bred Brenda Beauty to the world champion Quarter Horse Truckle Feature and got
Feature Mr Jess
' dam Brenda Feature SI 94, a winner of three races at 2. Truckle Feature held the 440-yard track record at Ruidoso Downs for 27 years.
As a broodmare, Brenda Feature is he dam of 19 ROM, 14 winners, 5 stakes horses including Grade 1 winner Feature Mr Jess (see above), stakes winner Disciple SI 94 ($51,863), G2-placed Louisianafeature One SI 105 ($135,898), stakes-placed Call Me Mr Feature ($22,448) and stakes-placed Tell Brenda SI 102 ($21,329).
Brenda Feature is also the granddam of RG1-placed Booyah Bay SI 96 ($204,937 to 5, 2016), RG3-placed With Jess Blue SI 95 ($103,986), RG2-placed Bankie Bay SI 103 ($99,963), stakes-placed Jess Snouping Around SI 95 ($56,175), etc.
From 10 crops to reach racing age, Feature Mr Jess sired 436 winners (67%), 128 stakes horses (20%), 7 champions with earnings of $24.9 million and Average Earnings Per Starter of more than $38,000. His offspring have won some of the biggest Quarter Horse races including the All American Futurity(G1) and Champion of Champions(G1) and he is the only Quarter Horse sire with two earners of more than $1.8 million.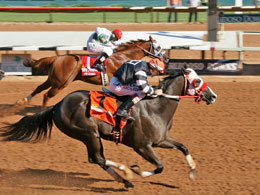 Feature Hero, out of the Feature Mr Jess mare Illegal Feature, winning the 2013 Grade 1 All American Derby at Ruidoso Downs.
© Gay Harris / Ruidoso Downs
Feature Mr Jess
seven champions who won 13 championship titles include 4-time AQHA Racing Champion Heartswideopen SI 104 (11 wins to 3, $1,885,283, All American Futurity-G1Ruidoso Futurity-G1, Rainbow Derby-G1, Ruidoso Derby-G1, etc.), 3-time AQHA Racing Champion Jess You And I SI 109 (19 wins, $1,851,691, Gelding, Golden State Million Futurity-G1, Champion of Champions-G1, Remington Park Inv. Championship-G1, Los Alamitos Winter Championship S.-G1, etc.), 2-time AQHA Racing Champion
Feature Mr Bojangles
SI 103 (8 wins to 4, $899,434, Rainbow Futurity-G1, The Championship At Sunland Park S.-G1, etc.), AQHA Racing Champion Stylish Jess Br SI 103 (11 wins to 6, $804,298, Mildred N Vessels Memorial H.-G1, AQHA Distaff Challenge Championship-G1, Charger Bar H.-G1-twice, etc.), AQHA Racing Champion Brenda Beautiful SI (4 wins to 4, $337,176, Southwest Juvenile Championship-G1, etc.), AQHA Racing Champion
Jesscuzican
SI 97 (5 wins, $252,891, Sunland Challenge Championship-G2, etc.), AQHA Racing Champion Wahoo SI 102 (8 wins, $166,425, Pauls Valley Handicap-G3, etc.).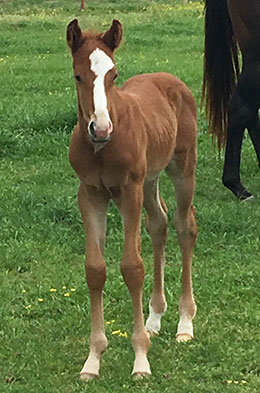 The first Feature Mr Jess foal since 2012 is a one-week-old colt out of Thelouisianapurchase, by Jess Louisiana Blue, foaled last week at Jumonville Farms.
He other top performers include Jess Featureme Quick SI 103 (9 wins to 7, $687,155, Hobbs America Derby-G3, etc.), Priceless Feature SI 111 (10 wins to 6, $641,668, Remington Park Inv. Championship-G1, Sooner State S.-G1, etc.), Jess Send Me SI 101 (3 wins to 3, $361,595, 2nd-All American Futurity-G1, etc.), Jessanotheraffair SI 98 (6 wins to 5, $349,426, PCQHRA Breeders Derby-G2, etc.),
Tf Featured Effort
SI 99 (8 wins to 6, $343,403, West Texas Maturity-G2, KOFX-FM H.-G2, etc.), etc.
Feature Mr Jess is the #1 siring son of leading sire Mr Jess Perry and the only two sires with an AQHA Racing champion in almost every category.
As a broodmare sire he has sired the dams of 20 stakes winners including champion Feature Hero SI 99 ($1,418,960), One Valiant Hero SI102 ($389,798), Jess Good Reason SI 93 ($280,282), etc.
"We have an outstanding Feature Mr Jess' colt foaled this year (2017) from the ICSI process out of a Jess Louisiana Blue daughter of champion Corona Cash," Jumonville said.
"If you compare what Feature Mr Jess sired in eight crops to race (his final two crops consisted of only 15 foals), you find his numbers are comparable to Corona Cartel, Mr Jess Perry and One Famous Eagle," Jumonville says.
"We are looking to work with a limited number of breeders who want to get the final foals from Feature Mr Jess," he concluded.
Jumonville Farms are expected to announce Feature Mr Jess' 2017 fee shortly. For additional information call J.E. Jumonville at 225-718-0665 or farm manager Dutch Jumonville at 225-939-8764.