RACING THIS WEEK
FEATURES
SERVICES
The Greater Kansas Racing Alliance hopes to return horse racing to the Sunflower State.

© Coady Photography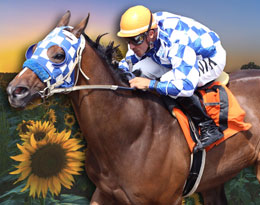 Initiative Looks to Return Live Racing to Kansas
TOPEKA, KS—JANUARY 7, 2016—
The Greater Kansas Racing Alliance has unveiled "Race for Kansas," an initiative that is intended to create jobs and revitalize the state's horse and Greyhound racing industries.
Race for Kansas volunteers recently participated in the Topeka Farm Show and will exhibit during Equifest, February 26-28, 2016 at the Kansas Expo Center in Topeka.
As the Kansas legislature resumes on January 11, the Alliance will encourage lawmakers to update Kansas statutes to allow Kansas racing venues to operate at a sustainable tax rate.
"Revitalizing the racing industry in Kansas will create more than 3,000 new jobs and offers a new revenue source for lawmakers to reduce the state's budget gap," according to Alliance spokesperson Kimberly Svaty.
The restored industry would also support countless allied businesses, vendors and family farms across rural and urban Kansas alike.
Maintaining Kansas' robust race horse and Greyhound sectors is not only a win for the Kansas economy and those who raise and train horses and Greyhounds, but it is also a win for the overall Kansas agriculture industry and all 105 Kansas counties. Farmers growing feed grains and bedding, implement supply stores, feed and equipment supply stores, veterinarians and many more main street-businesses benefit from a strong racing industry in Kansas.
Additionally, the racing venues in Kansas are owned by Kansans, therefore the revenue generated from these operations is Kansas revenue that will be reinvested in Kansas.
In 2007, the Kansas legislature passed a bill that allowed electronic gaming machines at racing venues, allowing tracks to offer greater purses to winning horses and Greyhounds thereby attracting a larger number of entries, but nearly doubled the state tax rate. The increased tax rate is unsustainable for racetrack owners and all tracks closed within a year of the tax increase.
"Race for Kansas encourages lawmakers to pass legislation this session putting electronic gaming at racing venues on par with the state tax rate afforded to the rest of the gaming industry in Kansas," Svaty said.
For more information and to support the initiative, visit RaceForKansas.com.