RACING THIS WEEK
FEATURES
SERVICES
FQHRA elected Ron Smith as the new president during the association annual meeting on December 5.

© 3Fisch Photography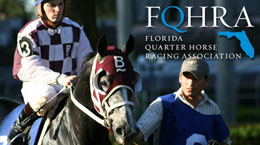 FQHRA Open Letter(s) to Horsemen
Dear Horsemen:
At the December 5th FQHRA General membership and Board of Directors meeting held at John Shaw's Pheenix Farms near Gainesville, Florida, Dr. Steve Fisch handed over the reins of the organization to Ron Smith who was elected and will now serve as president.
"FQHRA has grown from an organization that in October 2005 didn't own a pencil, didn't have a lobbyist and had no legislation that allowed for AQHA approved racing. Now in 2015, FQHRA, Inc. is a financially sound organization that has a top tier lobbyist, one of the best pari-mutual/gaming legal teams in the country and a support staff that is second to none. Thanks to FQHRA legislative efforts, there is now a Florida statute that requires a full schedule of live racing (40 days of racing with a minimum of 8 races per day) in order to operate a slots license. Also any slots license/card room permit owner must have a horsemen's agreement on file with DBPR in order to operate their gaming facility.
FQHRA is the reason there is about to be a 7th AQHA racing meet that begins December 26th at Hialeah Park. FQHRA is the reason that AQHA racing is close to making another expansion as we have successful track owners from other states who are investigating buying Florida QH racing permits that are currently in place. These seven years of AQHA racing have put $30 million of purse money into horsemen's pockets. The horses that race in Florida have gone on to be major stars in Texas, New Mexico and Oklahoma and include horses that have won or placed in the All American Derby, Grade 1 races in Texas, stakes in Oklahoma and a near miss in an 11th on the list for the rainbow Futurity. Many of these are accredited Florida breds. The accredited Florida bred program is the only program in the country that allows mares to be bred to accredited state stallions and be born in other states. This practice allows for greater genetic diversity and improvement in the breed. The accredited Florida breds are about to have their first restricted $200,000 Guaranteed Sunshine State Derby. Horses entered in this race were born in many states and are coming from all over the country. We already have one of the top open derbies in the country in the Hialeah Derby. It should qualify for graded stakes status.
FQHRA has also defended legitimate horse racing from attempts to allow "drop the flag racing" and other quasi racing. These successful defenses have great implications for the rest of the country as well. FQHRA has defended attempted takeovers of the horsemen's bookkeeper accounts and made sure the horsemen get paid what is rightfully due to them. In 2006 most of the Florida legislature didn't know what an American Quarter Horse was. Now FQHRA/AQHA is a respected organization in the state capitol and both organizations are named in the Florida statutes. At this point, FQHRA has been successful in every effort to defend AQHA racing in Florida. These efforts have cost well over $500,000 and thousands of hours of volunteer time from the FQHRA administrative staff, Will Fisch, CPA, AQHA and our members and Board of Directors.
FQHRA has also developed a first class and synergistic relationship with the FHBPA and the FTBOA as we formed the United Horsemen of Florida in 2011 while defending legitimate horse racing in Florida. The people in these TB organizations are not only our allies, they are our friends. We all understand the concept of we can hang together or we can hang separately. The QH's and the TB's joined forces to demonstrate and preserve the great economic impact of horse racing in Florida. In 2014 the FQHRA, FHBPA and the FTBOA, as the United Florida Horsemen, invested over $75,000 in an economic impact study that demonstrated just how important horse racing and breeding is to the economy of Florida and the USA.
As FQHRA has grown and had great success over the last ten years in spite of constant challenges to overcome, it has become evident that a change to a two-pronged form of leadership would benefit the horsemen and breeders and lead to more growth for AQHA racing in Florida. Due to the time consuming nature of the legal, legislative efforts and administrative efforts that is takes to keep making progress and to defend what we have, I will continue to lead those efforts and Ron Smith will take over as president leading FQHRA's policy and aiming the organization towards new growth in racing opportunities. I believe Ron Smith is the man for the job. He is a dedicated visionary and has shown his great leadership skills in many other organizations. Ron is a person who is a team player and he will do a great job. He does not have racehorses and he doesn't breed them at the present time but he does have the leadership skills that this job requires. Ron is one of the many quality people I have had the pleasure of meeting and working with during the last 10 years that the members have allowed me to serve as president. My plan is to continue to serve FQHRA in the legislature and by guiding our legal efforts. However I will always have an ear open for the racing and breeding horsemen. It has been a great pleasure and education over the last 10 years and I thank each and everyone one of you for the opportunity. You are in good hands".
Sincerely,
Steve Fisch, DVM
* * * * * * * * * * * * * * * *
Dear Horsemen:
"In the last ten years Dr. Fisch has provided an exceptional amount of guidance and determination that has helped FQHRA grow to become what it is today. I want to personally thank him for his hard work, and hope all of you will take the time to thank him for his never ending dedication to the sport of Quarter Horse racing. I will continue the task of helping make Florida a premier destination for racing. FQHRA has been successful working with other organizations within the state to reach common goals. That relationship will continue. We will provide a safe place for our horses to race, and a welcoming environment for our members and others to enjoy our sport. With everyone's help, the "First Coast" can become the first choice for owners to race their horses. I look forward to meeting some of you in the coming weeks in Hialeah, and wish to you a happy and successful holiday season."
I grew up on a farm south of Atlanta. I can't remember not having horses. As a child, I was involved in 4-H, and competed at the local shows. I started training show horses for the public about 1980, and was competing on the national level by 1985. I gave up my "real Job" and moved to Oklahoma to operate RGV Ranch which was a breeding, showing, and training operation. In 1991 I moved back to Georgia and began showing horses for national high point titles and training others for the opportunity to go to the world championship shows. In 1994 I was hired to start up a horse operation in North Carolina which produced one Congress Champion and two reserve World Championships in it's first year of operation. At this point I had trained horses that won five World Championships and six Reserve World Championships. I moved back to Georgia in 1996, and became involved in the business part of horses. In 1999 I became President of the Georgia Quarter Horse Association and served for two years. In 2001 I became a National Director for AQHA in the state of Georgia and continue to serve. Of the AQHA committees, I have served on show and contest, membership, marketing, recreational riding, nominations and credentials, and hall of fame. I have had the honor of serving as chairman of marketing and membership, and two times for nominations and credentials.
About 2011 their was rumors of trying to get Pari-mutual horse racing passed in Georgia. AQHA reopened their racing affiliate, and I was named President. Over the last several years I have gone to the Capital to help educate our elected officials about what is necessary to have a viable horse racing industry in the state. Currently the Thoroughbred group has one idea as to what's needed, while the quarter horse group concentrates on proper legislation and definitions. It is important to provide quality racing for all breeds while benefiting the people of Georgia. I was recently elected chairman of the Department of Agriculture Commodities Commission for Equine who's mission is to promote horses in the state, provide research opportunities, and to educate the people of Georgia about equine. I feel that any information about racing that can be passed on to our elected officials helps to educate them prior to making decisions about the racing industry.
FQHRA gave me the opportunity to serve on it's Board of Directors in 2013. At the general meeting in 2015, I was elected President. Dr. Steve Fisch had served the previous ten years. I want to serve FQHRA in a way that promotes growth and safe, quality racing; not just for our members, but for anyone who wishes to come and be a part of our sport. I will be at Hialeah on December 26 and look forward to meeting many of you at the races on opening day and at the BBQ on that same day sponsored by FQHRA and Speedhorse Magazine.
I serve as an Executive Director for LightHorse Healthcare Inc., which provides conventional mental health services as well as equine and farm based activities to a number of counties in south Georgia and north Florida..
Sincerely,
Ron Smith