RACING THIS WEEK
FEATURES
SERVICES
Wyoming Downs reopend last week with 16 dates this summer.

Leah Hogsen / The Salt Lake Tribune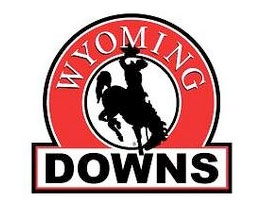 Utah, Idaho, Montana and Wyoming Horsemen Are Back In Business
By Steve Luhm, The Salt Lake Tribune
First Published Jun 20 2014
EVANSTON, WYO—JUNE 24, 2014—Since he was a teenager, Chad Giles has been involved in horse racing, first as a jockey and then as a trainer.
A year ago, however, he was ready to walk away from his lifelong passion.
After Wyoming Downs closed its doors in 2009, Utah horsemen like Giles struggled. Without an easily accessible pari-mutuel track where they could run horses for reasonable purses, an already-difficult business became nearly impossible.
"I was thinking I ought to get out," Giles said. "There was just no money in it."
But the situation began to change.
Wyoming Downs was purchased at a 2011 auction by Las Vegas investor and former owner Eric Nelson. Slowly, plans were made to reopen the track.
Just as significantly, the Wyoming state legislature passed a law last year to allow wagering on historic racing video terminals throughout the state. The legislation could pump millions of fresh dollars into horse racing.
Wyoming Downs was back in business.
So was Giles.
Wyoming Downs opens its 2014 racing season Saturday. The 16-day weekend meet runs through Aug. 10. In addition, Sweetwater Downs in nearby Rock Springs will run a four-day meet at the end of August, giving local horsemen another option.
"I can't wait," Giles said. "It's just great. Horse racing in our area was dying and this is the thing that can save it — Wyoming Downs opening up again."
Giles will have 12 horses stabled at the track. He hopes to have "20 or 25" next year, when Wyoming Downs officials have already announced they hope to extend the meet to as many as 24 days. "If we can get through this year and fill the races for all 16 days, I think the future of Wyoming Downs will be stronger than heck," Giles said. "... I'm just so gosh darn excited. There's finally some light at the end of the tunnel."
Utah's breeding industry could also benefit if Wyoming Downs prospers.
"The good young horses — the really, really fast ones — were being sold for next-to-nothing because there was no money out there," Giles explained. "The owners were selling them cheap because there was no place to run. Now maybe there is."
If the response by horsemen for opening day is any indication, Wyoming Downs will be able to offer the betting public attractively large fields.
Seventy-three horses were entered in the eight races on Saturday, including nine in the featured Inaugural Handicap.
"We have had an excellent response from horsemen in Utah, Idaho, Montana and — of course — Wyoming," said .