RACING THIS WEEK
FEATURES
SERVICES
Nearly 60 of the industry's leading sires are available to bid on until January 8th in the 2022 Beehive Stallion Service Auction.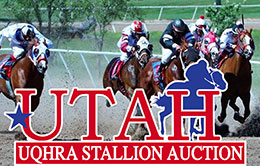 UQHRA Beehive Stallion Service Auction Runs Thru January 8
OGDEN, UTóDECEMBER 30, 2021ó
The Utah Quarter Horse Racing Association opened its 2022 Stallion Services Auction December 11. Bidding will be live through January 8, 2022.
CLICK HERE to view the UQHRA Stallion Service Auction.
The auction proceeds go toward added money for the Beehive Futurity. According to UQHRA, in the past four years, the race has averaged $78,000 each year.
Each donated stallion is featured in the online auction with a photo, pedigree and a link to further information, such as a farm website.