RACING THIS WEEK
FEATURES
SERVICES
The 2022 TQHA Stallion Service Auction runs from December 2nd thru January 12, 2022.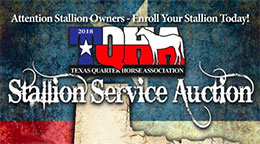 TQHA Annual Stallion Service Auction Live
ELGIN, TX—DECEMBER 3, 2021—
The 2022 TQHA Racing Stallion Service Auction went live on December 2nd and will run through January 12, 2022.
More than 80 race bred stallions are available to choose from. Breeders can take advantage of :
Discounted breedings to top stallions
All resulting foals from the participating stallions are eligible for life for the $75,000 added Sires Cup Futurity and $50,000 added Derby.
Many new auction features this year include:
Extended Bidding
Maximum Bidding - Just Like eBay
Stallion Favorites to make it easy to keep track of your favorite stallions.
A credit card is required for registration. After the auction is over, you can pay for your breeding(s) with the card on file or send a check to TQHA within 5 days.
Check out the Bidding Guide for all the information.
CLICK HERE to review available stallion list, register or place a bid.
For information contact Scott Sherwood at TQHA 512-458-5202 or ssherwood@tqha.com.