RACING THIS WEEK
FEATURES
SERVICES
Cyber Monday, shown here winning the $1,000,000 Ruidoso Futurity, is scheduled to arrive at Lazy E Ranch in the next few days.

© Jake Rogers / Ruidoso Downs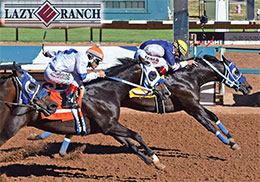 Cyber Monday Due To Arrive At Lazy E This Week
Reprinted courtesy TRACK Magazine
Monday Report
GUTHRIE, OK—AUGUST 29, 2021—Cyber Monday, who earned more money than any other Grade I winning two-year-old stud colt at Ruidoso Downs in the five racing seasons from 2017 through 2021, is scheduled to arrive at Lazy E Ranch in Guthrie, Oklahoma, later this week.
The winner of the 2020 $1,000,000 Grade I Ruidoso Futurity will enter stud at Lazy E in 2022 for a fee of $4,000. The original announcement that the Grade I winning son of Favorite Cartel was coming to Lazy E was made last week.
"We've had quite a bit of interest in the horse since the announcement last week, with several people wanting to know when they could come to the ranch and see the horse," said Lazy E Ranch 's Butch Wise.
"We're pleased to say that Cyber Monday will be at Lazy E later this week, and we expect to show him a lot during the upcoming September 24-25 Heritage Place Yearling Sale.
"Now that we have the fee set, contracts are available today," Wise added.
This impressive son of leading sire Favorite Cartel won 4 of his 5 outs at Ruidoso as a two-year including the $1,000,000 Ruidoso Futurity G1 in 2020. Cyber Monday opened his career by posting the fastest time among 131 head in 21 two-year old schooling races at Ruidoso Downs on May 7, 2020.
He followed that performance up two weeks later by winning his trial and qualifying for the Ruidoso Futurity G1 on the first day of trials while running into an 11 mph headwind. Two weeks later he easily triumphed in the $1,000,000 final by nearly a length with G1 performers Jettz, $440,000 2nd and 3rd Misscandymountain, $200,000, G1.
In his Rainbow Futurity trial, Cyber Monday stumbled out of the gate and then circled the field and qualified for the $1,000,000 Rainbow Futurity G1. In the final, he was fourth behind the undefeated World Champion Whistle Stop Cafe SI-99, $2,137,019.
In his trial for the $3,000,000 All American Futurity, Cyber Monday again stumbled from the gate, then rallied to win, his 4th Ruidoso win of his 2 year-old year but failed to qualify.
Cyber Monday finished his two-year-old season with an impressive 4 wins in 5 outs and earnings of $516,241 and was in Champion 2-Year-Old voting contention.
A finalist in a roughly run $100,000 Rainbow Invitational this year, Cyber Monday defeated Ruidoso Derby G1 finalist KH Sonny B $61,000 and 2020 Champion Apolitical Gold $996,009 in their trial.
A $140,000 Ruidoso Yearling, Cyber Monday is by leading sire Favorite Cartel SI-104, $607,669 and out of Corona Cartel's blue hen daughter Remember Me Rose SI-110, $800,344.
Besides being an All American Futurity G1 finalist, she won the Ruidoso Derby G1, Sunland Park Winter Futurity G2, AQHA Juvenile Championship and placed in the Rainbow Futurity G1, The Championship at Sunland Park G1 and Texas Classic Derby G1.
Cyber Monday is a full brother to 3-time G1 winner Powerful Favorite SI-106, $980,917 (racing in 2021), winner Los Alamitos Winter Derby G1, Brad McKinzie Winter Championship G1, Go man Go Handicap G1.
Cyber Monday also is a full brother to Golden State Million Futurity G1 winner Runforyourlife SI-96, $620,822 (racing in 2021), who was also a finalist in the Los Alamitos Two Million Futurity.
The second dam of Cyber Monday is the Zevi (TB) mare Im Moonlighting SI-106, $41,794, G3, a 3-time stakes producer who is also the dam of MLA Rodeorose SI-102, $131,890, a stakes winner who also was a finalist in the $614,220 Texas Classic Futurity G1.
"I was taken with this horse when I saw him win his Ruidoso Futurity trial so impressively. Then he validated that superior performance by coming back two weeks later to win the $1,000,000 final over a stellar field. I immediately initiated a dialogue with the owners because he is the kind of stallion prospect that excites breeders AND he is by Favorite Cartel", said Butch Wise of Lazy E.
"Stallion prospects with Cyber Monday's tremendous credentials are a very rare commodity in today's world", said Butch Wise of Lazy E. "A world class runner at Ruidoso, by one of the most productive sires today and from an incredible dam. He obviously has the looks and without question he has the pedigree, plus he is a G1 winner at Ruidoso - he is the complete package. This is the kind of horse that will certainly pass along his brilliance and the kind of horse we have had success with. We are very appreciative of his owners allowing us the opportunity to make this top prospect available in 2022".