RACING THIS WEEK
FEATURES
SERVICES
The 19-year-old multiple stakes sire and Grade 3 winner Attila's Storm died June 23 in New Mexico.

© Double LL Farms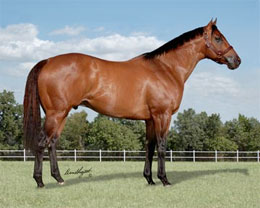 Multiple Stakes Sire Attila's Storm Dies Following Colic Surgery
BOSQUE, NM—JULY 14, 2021—
Grade 3 winner and multiple Thoroughbred and Quarter Horse stakes sire Attila's Storm died June 23rd following colic surgery. The 19-year-old son of Forest Wildcat had recently stood at
Double Farms
in Bosque, New Mexico.
Bred in Kentucky by Lajos Kengye, Attila's Storm is out of the Magesterial mare Sweet Symmetry . Following his fiirst two starts, he was purchased Barry K. Schwartz, Wachtel Stable, Double S Stable, and Brouse Stable.
Making his graded stakes debut in the 2005 TVG Breeders' Cup Sprint (G1), where he finished fourth, he ran second in the Malibu Stakes (G1) following a win in the Fall Highweight Handicap. He also won the 2007 Toboggan Handicap (G3), and lit the board in such prestigious Vosburgh Stakes (G1) and Forego Stakes (G1).
Longtime Quarter Horse and Thoroughbred owner-breeder R.D. Hubbard purchased Attila's Storm prior to the 2007 Breeders' Cup Spring, when an ankle injury caused him to not run. He was retired in 2007 sent to stand at JEH Stallion Station near Hondo, N.M.
"We thought he'd be a good candidate to breed to Quarter Horses and Thoroughbreds in New Mexico, so Mr. Hubbard sent me to New York to look at him," Tom Goncharoff, Hubbard's longtime farm manager, told Blood-Horse earlier this week. "I called him and said, 'I love him, come get him.'"
Attila's Storm later stood at Hubbard's Crystal Springs Farm in Tularosa, N.M.
He sired 25 Thoroughbred stakes winners, with earnings of $14.6 million including Waltzing Attilla (11 wins, $487,100), Hush's Storm (14 wins, $476,127), Stormin The Jewels (6 wins, $471,857), THERMAL (9 wins, $458,332), REAPER (9 wins, $399,470), TILLA CAT ($369,369), etc.
Attila's Storm had 19 Quarter Horse winners, 4 stakes horses, with earnings of $927,191 including Jimmy Drake Stakes winner Grant The Sar SI 101 ($110,823), By By JJ Stakes winner Heza Perfect Storm SI 102 ($103,094), and Gateway Stakes runner-up Attillitis SI 94 ($111,764).
"He had a huge effect on our program and on New Mexico racing and breeding in general," said Goncharoff. "He was dominant."
Following Hubbard's death in 2020, Attila's Storm was sold in an online dispersal of Crystal Springs Farm horses. He was purchased for $90,000 by Jimmy Vasquez to stand at Double Farms.
Attila's Storm began showing signs of colic on June 22nd and was sent to the Franklin Veterinary Clinic at Ruidoso Downs. When his symptoms worsened, he underwent successful surgery, only to suffer a heart attack June 23 as he was recovering.