RACING THIS WEEK
FEATURES
SERVICES
Hes Relentless has been named the first recipient of the StallioneSearch StallioneSearch Rising Star Sire Award for 2019.

© Amanda Glidden / Plugged In Marketing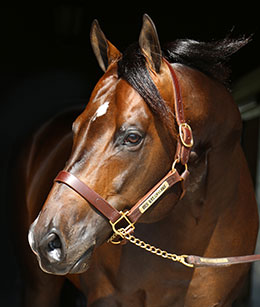 Hes Relentless Named Rising Star Sire Award Winner For 2019
by Greg Thompson, StallioneSearch
DALLAS, TX— JANUARY 30, 2020—Champion and leading first-crop sire of 2019, Hes Relentless, has been named the first recipient of the StallioneSearch Rising Star Sire Award for 2019. Each year StallioneSearch will honor the industries' leading first-crop sire of Money Earners with this annual award.
Hes Relentless, a champion son of leading sire One Famous Eagle, capped off one the best first-crop sire years in history with earners of $2,123,119.
"On behalf of the Hes Relentless owners, Tom & Bill Maher, R.D. Hubbard, Johnny Cope, and Bob Moore Farms, we are proud to accept the inaugural StallioneSearch Rising Star Sire Award," Farm Manager Phillip Stewart said today.
"Thank you to the ownership for allowing us to be a small part of Relentless, it is an honor for him to call Bob Moore Farms home. Thanks to the support of many of the industry's leading mare owners, Hes Relentless has been booked full each year at stud and we look forward to celebrating the successes of his progeny for years to come," he added.
In a banner year for first-year sires Hes Relentless led an outstanding group who collectively sired earners of nearly $7.6 million, an astonishing 26 stakes winners and 5 graded stakes winners last season.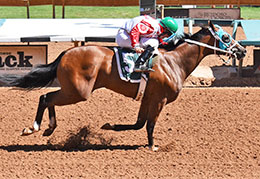 Determined One, under champion jockey Cody Jensen, qualifying to the $3 million Grade 1 All American Futurity at Ruidoso Downs.
© Jake Rogers / Ruidoso Downs
On his own, the young stallion sired 38 winners, 11 stakes winners and 3 graded stakes winners in his first crop.
Hes Relentless' top performers include Determined One SI 96 (3 wins at 2, $338,945 3rd All American Futurity-G1), Relentless Dynasty SI 101 (2 wins at 2, $247,256 TQHA Sale Futurity-G2, 3rd EVD Futurity), Ec Revenge SI 93 (4 wins at 2, $200,164 Oklahoma Futurity-G2, Heritage Place Juvenile S.), Mr Dillard SI 110 (3 wins at 2, $149,653 Black Gold 350 Championship Futurity, 2nd Black Gold 440 Championship Futurity), Rrelentless SI (2 wins at 2, $90,685 Ruidoso Downs Juvenile Challenge-G3, 2nd AQHA John Deere Juvenile Challenge Championship-G2, 3rd Will Rogers Juvenile Challenge S.), Relentless Jessie SI 91 (3 wins at 2, $90,260 2nd Speedhorse Futurity-G3), Relentless Cowboy SI 95 (winner at 2, $89,272 Iowa Double Gold Futurity), Relentless Gun SI 86 (2 wins at 2, $76,730 Remington Park Juvenile S. [R] , Easy Jet S.), Merciless Fire SI 93 (2 wins at 2, $63,590 Heartland Futurity), and Valentina Relentless SI 103 (3 wins at 2, $52,368 Hadley / Giles Futurity Finals, Golden Spike Futurity), Tipsy Girl B SI 98 (3 wins at 2, $36,932 MQHRA Stallion Auction Futurity), etc.
Owned by a partnership, Hes Relentless won or placed in 13 of 15 career starts while earning $616,380. His was named the AQHA Racing Champion 3-Year-Old Colt of 2014. He won the Hobbs America Derby(G2) was second in the Heritage Place Futurity(G1), Championship at Sunland Park(G1) and third in the Rainbow Derby(G1) and Zia Park QH Championship(G1). He also was a finalist in the All American Futurity(G1) and Texas Classic Futurity(G1).
His sire, champion One Famous Eagle, has sired 66 stakes winners, 6 champions, 397 winners, earners of $29.4 million includingOne Dashing Eagle SI 98 (World Champion Racing American QH, $2,079,065, All American Futurity-G1, etc.), Imperial Eagle SI 106 (champion 4 times, $1,852,897, All American Futurity-G1, etc.), Hotstepper SI 98 (champion twice, $1,416,516, All American Derby-G1, etc.), Bodacious Eagle SI 104 (World Champion Racing American QH, $1,293,444, Champion of Champions S.-G1, etc.), etc.
Hes Relentless hails from one of the leading broodmare lines in the industry. His second dam is the AQHA Racing Champion 2-Year-Old and 3-Year-Old Filly Dashing Phoebe ($609,553) by Dash For Cash.
She is the dam of 15 winners, 16 ROM, 6 black type, 2 champions including four-time champion Heartswideopen ($1,188,283), champion Special Phoebe ($139,963), Grade 3 winner and multiple stakes sire Furyofthewind ($70,553), Grade 3 winner Dashingfordestiny ($56,961), Grade 3 winner Solid Demand and Grade 3-placed Especially Phoebe.
This is the immediate family of world champion Bodacious Eagle ($1,293,444), champion and champion sire American Runaway ($686,355), Grade 1 winner Valiant Tiberias ($395,644), Grade 2 winner Dueling Juan ($475,001), Grade 2 winner FM Im A Zatanaz Too ($330,749), and many, many more!
Hes Relentless has stood his entire career at Bob Moore Farms near Norman, Oklahoma. For additional information call Phillip Steward, Bob Moore Farm Manager, at 405-329-8571.