RACING THIS WEEK
FEATURES
SERVICES
Two-time champion EC Jet One will continue to stand his second season at Granada Farms near Wheelock, Texas.

© Bee Sliva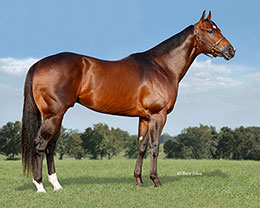 Special Offer For Stakes Mares/Producers to Champion EC Jet One
WHEELOCK, TX—NOVEMBER 1, 2017—
Enrique Carrion has just announced that the first 10 stakes winners or stakes producing mares that book to his second-year Champion stallion
Ec Jet One
SI 104 for 2018 will have the opportunity to enjoy 20% discount from his advertised fee of $5,000.
The first 10 breeders to contact Granada Farms manager Jimmy Eller at 979.828.5167 or Alejandra Carrion 281.466.9075 and book their mare to Ec Jet One for 2018 will save $1,000.
The 2016 AQHA Racing Champion 3-Year-Old and Champion 3-Year-Old Colt won or placed in nine of 10 starts and earned $1,370,385, capping off his career with a win the Grade 1 All American Derby at Ruidoso Downs. His first foals arrive in 2018.
Ec Jet One, under jockey Esgar Ramirez, winning the
Grade 1 $2.4 million All American Derby at Ruidoso
Downs.
© Linda Earley / Speedhorse
In a recent
Bloodlines N Pedigrees—Insight on Breeding Better Horses
article written by Larry Thorton, the author says "We often hear the term "Classic" in discussions of racing distance as a reference to the mile and quarter for thoroughbred racing and the 440-yard race in quarter horses. The mile and quarter is the distance of the Kentucky Derby G1 and the 440-yards is the distance of the All American Derby G1 both important races for three-year-old's in our industry. These "classic" races are very hard to win and that difficulty in part is based on the distance of the race. So, this sends horseman looking to find or breed a horse that has an affinity for the classic distance."
Ec Jet One went undefeated his 3-year-old season, winning five races with four of them at the 440 yard distance.
"EC Jet One is the Classic 440 yard horse to breed speed and distance into your mares," Alejandra Carrion said. "He is the industry's next leading sire and will sire a new generation of Quarter Horse runners."
Ec Jet One has the potential to cross with a wide variety of mare lines especially the blood of Dash For Cash, First Down Dash, Beduino and Streakin Six. He has the duplication of only two ancestors in his 5-generation pedigree, both former leading sires. They are Dash For Cash with a breeding pattern of 5 X 4 and Easy Jet with a breeding pattern 5 X 5.
To read the complete article EC Jet One—A Classic Racehorse by Larry Thorton CLICK HERE.
For additional information or breeding contracts to Ec Jet One contact Granada Farms manager Jimmy Eller at 979.828.5167.