RACING THIS WEEK
FEATURES
SERVICES
First crop sire Krash Cartel will stand the 2017 season at DLR Ranch near Weatherford, Texas.

© Mark Herron / TRACK Magazine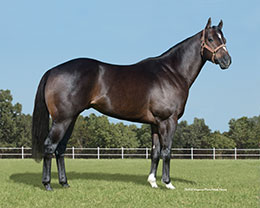 Krash Cartel Available For Breedings
By Ben Hudson, TRACK Magazine Owner/Publisher
WEATHERFORD, TX—MARCH 16, 2017—Krash Cartel will stand the remainder of the 2017 breeding season at DLR Ranch northwest of Weatherford, Texas, according to the ranch's Chris Benedict.
Krash Cartel, who earned $208,797, had his first starter Krashing Runaway win his first lifetime start on March 4 with the 4th fastest qualifying time for the $233,578 Harrah's Entertainment Futurity G3 at Louisiana Downs. There were 72 head in those trials. Krashing Runaway is scheduled to run in the final of the Harrah's Futurity on March 22. Four Krash Cartel two-year-olds are scheduled to run in the trials for the $500,000 Oklahoma Futurity this Saturday (March 11).
Krash Cartel was part of a group of horses seized in the early summer of 2016 by federal authorities after individuals connected to the horses were named in a federal money laundering indictment. Several individuals involved in the matter reportedly remain in custody.
Krash Cartel and several other horses seized in the matter have been at DLR Ranch since last June. One of the seized horses that is currently at DLR is 2016 Champion Aged Stallion Moonin The Eagle.
A former president of the National Cutting Horse Association and a lifetime horseman, Benedict acted as agent for the government on several of the seized horses that were sold in this past January's Heritage Winter Mixed Sale in Oklahoma City.
Benedict also represented the government when such horses as Tempting Dash and A Dash Of Sweet Heat sold at Heritage Place. Tempting Dash brought $1.7 million in the 2013 Heritage Place Fall Mixed Sale and A Dash Of Sweet Heat brought $1 million in the 2012 Heritage Place Fall Mixed Sale.
Krash Cartel, a son of No. 2 all-time AQHA sire Corona Cartel, won his first out in a trial for the $600,000 Ruidoso Futurity G1 by 4-1/4 lengths and was the fastest qualifier among 248 head for that race. He finished second by a neck to Champion PJ Chick In Black in the final.
Krash Cartel was the third fastest qualifier among 251 head for the 2012 All American Futurity G1. He also was a finalist in the $1 million Rainbow Derby G1.
Krash Cartel is a half-brother to stakes winner A Hot Valentine SI-107, Krash Cartel's second dam is Champion Two-Year-Old Filly Speedy Empress $494,716. A daughter of First Down Dash, Speedy Empress has produced three stakes winners.
Krash Cartel is standing for a fee of $2,000 with consideration available for approved mares and multiples. The $2,000 includes the farm fee.
For additional information or breeding contracts email chrisb6980@gmail.com or call Cell: 682-333-4999 or Ranch 940-682-4001.