RACING THIS WEEK
FEATURES
SERVICES
Dreams Divine, under a confident ride jockey Oscar Peinado, sets the top qualifying time for the $403,500 Los Alamitos Oaks Saturday night at Los Alamitos Race Course .

© Scott Martinez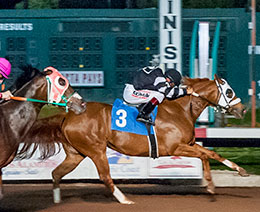 Dreams Divine Oaks Trial, Posts Fastest Time To $403,500 Final
LOS ALAMITOS, CA—MARCH 7, 2020, 2020—
The first ever trial to the Los Alamitos Oaks featured a dominant performance from Reliance Ranches' Dreams Divine, as the stakes winning filly was superb in posting a ¾ length victory and the fastest qualifying time to the $403,500 Oaks here on Saturday night.
Ridden by Oscar Peinado for trainer Mike Robbins, Dreams Divine was part of trial head that also featured 2019 AQHA champion 2-year-old filly Cartel Jess Rockin. While Cartel Jess Rockin bumped at the start, Dreams Divine flew out of the gate like a rocket to open up an early length lead in the 400-race race.
She was ahead by 1-¼ lengths at the halfway point and from there cruised to an easy in a time of :19.682. Bred by J. Garvan Kelly, Lloyd Yother and Nancy Yearsley, Dreams Divine improved her career record to five wins in seven starts. She's finished in the top three in every single one of her starts.
"We were very pleased with her," Robbins said. "She's always been very consistent. She got beat a couple of times (in 2019) but she had a little problem last year. We worked on her and has come back super. We took care of her here (at the track). She's a super gate horse and gives you 100 percent every time."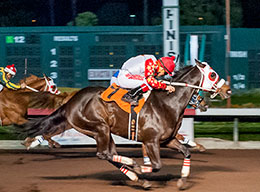 Southern Wagon, under jockey Jesus Ayala, posting the second fastest time in the second Los Alamitos Oaks trial Saturday night.
© Scott Martinez
Dreams Divine is now a perfect two for two in 2020, as she came into these trials following a half-length victory in the AB What A Runner Handicap on January 25. In 2019, the Oklahoma-bred filly by
Apollitical Jess
finished second by a nose in the Grade 1 Ed Burke Million Futurity and ran third in the Grade 2 Robert Adair Kindergarten Futurity. Dreams Divine will now lead a group of 10 fillies in the Los Alamitos Oaks final to be held on Saturday, March 28. The Los Alamitos Oaks is the richest race in the nation for 3-year-old fillies.
In a trial featuring Grade 1 Golden State Million Futurity finalists, Dunn Ranch's Southern Wagon defeated Gentry Farms' Kiss Thru Fire by a head in the second heat of the night. The two met in the Golden State final, a race in which Kiss Thru Fire finished fifth while Southern Wagon ran sixth.
The two will now meet again in another big money race on the night of Oaks final, as Southern Wagon's winning time of :19.717 resulted in the second fastest qualifying time and Kiss Thru Fire's :19.730 clocking finished as the third fastest. Jesus Rios Ayala piloted Southern Wagon from post number seven for trainer Monty Arrossa.
"We left with the field but number eight bumped us a little bit," Ayala said. "She kept going and the filly loved the distance. I feel she still has a lot more in her. She needed this race. It's been a while since she last race. The morning that she worked (on February 11) she got tired a little bit. I think she'll be a lot better in the final."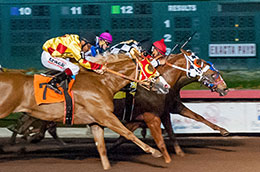 Suite Expectations (#2) gets up over Javelina Cantina (#4) and Ventura Jess (#7) to qualify in the final Los Alamitos Oaks trial on Saturday night.
© Scott Martinez
Bred by Matt Dunn, the filly by PYC Paint Your Wagon improved her record to four wins in 10 starts. This was her first start since running fourth in a trial to the Los Alamitos Two Million Futurity back on November 24.
Racing for Jeryl Hartley and her husband, the late Ron Hartley, Cartel Jess Rockin posted the fourth fastest qualifying time of :19.772. Her second place finish to Dreams Divine had to be great result for her connections after the filly faced a troublesome trip when finishing 10th in the Grade 1 Los Alamitos Winter Derby in her most recent start. The daughter of Favorite Cartel won the Grade 1 Los Alamitos Two Million Futurity last year on the way to being named the 2019 AQHA champion 2-year-old filly. Juan Pablo Leon piloted her for trainer John Cooper.
Paul Jones, Howard Nichols and Thompson Racing Inc.'s Suite Expectations won the third trial by a nose over Ed Burke Million finalist Javelina Cantina. With Ayala aboard, Suite Expectations was fifth at the start and got bumped during the race, but came flying late to outdueled a tightly packed group of runners in the final heat. Her winning time of :20.036 gave her the eighth fastest time of the night.
"She ran a nice race and really ran game tonight," said Jones, who saddled the Utah-bred daughter of Apollitical Jess. "She didn't get the best of breaks and got bumped a little. She was behind. The outside horses had her beat. She finished strong and made it count at the end of the race. She outfinished them. It was close. We barely got it. It was no big margin, but she fought gamely at the end to get the win. We're tickled that she won. Usually she gets out better than (tonight). She's been a little antsy lately. Jesus Rios Ayala fits her nicely. They've won (four) races together now."
For the complete list of qualifiers with times, sires, dams, owners, breeders, trainers and jockeys CLICK HERE.
* * * * * * * * * * * * * *
Courtesy of www.losalamitos.com.