RACING THIS WEEK
FEATURES
SERVICES
La Fiesta Futurity winner Speed Dynasty was the high-seller on Day 1 of the 44th annual Heritage Place Fall Mixed Sale in Oklahoma City.

© Coady Photography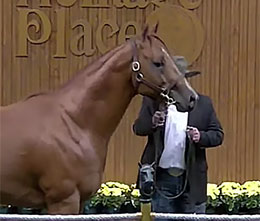 Heritage Place Fall Mixed Enjoys Across The Board Increases On Day 1
OKLAHOMA CITY, OK—NOVEMBER 5, 2021—
Far exceeding expectations, Heritage Place's 44th annual Fall Mixed Sale kicked off today (Friday) and sustained the Quarter Horse industry's booming yearling market of 2021.
"We had a great sale today with across the board increases in every session," Heritage Place General Manager Spence Kidney said Friday evening.
Session 1 for AQHA and APHA yearlings averaged $17,907, a 38% increase over 2020 with 89% of the horses offered marked sold. Session 2 for Thoroughbred yearlings saw a 17% increase over last year to $5,293. Friday's Mixed Session 3 averaged $14,163, a 52% increase over the same session in 2020 with again 89% of horses offered marked sold.
Friday's complete numbers for Day 1 saw 242 head of the 274 offered sell for gross receipts of $3,831,300, a 36% increase in average over the same day last year to $15,832. The Day 1 median was $10,500.
"We have a great selection of horses for Day 2 and we wish everyone best of luck on the purchases from today," Kidney added.
Hip 282, Speed Dynasty, a 3-year-old son of world champion sire FDD Dynasty consigned by Lazy E Ranch, LLC, Agent for J & SM, Inc. was the Day 1 high-seller for $170,000. Sue Floyd and Jeremy Trujillo purchased the stakes winner out of AQHA Dam of Distinction Jess Sass Me by Mr Jess Perry. Speed Dynasty is a half-sibling to two champions and 10 black type.
Ted Rushing purchased the yearling high-seller, Hip 39 Cytation for $90,000. Bobby D. Cox consigned the colt by world champion sire Freighttrain B out of First To Celebrate by Frist Down Dash. Cytation is a half-brother to Champion Wahoo and G1-placed Jettz and RG2-placed Aunti Up.
Cavenaugh Quarter Horses, LLC sold the second high-seller yearling Hip 168 Seis Hoot, a colt by leading sire Tres Seis. Longtime owner Ed Melzer paid $82,000 for the bay colt out of Carey Corona by Corona Cartel. This is the family of Los Alamitos Million Futurity(G1) winner Value The Man.
Sue Floyd and Jeremy Trujillo were the Day 1 leading buyer(s) with the one purchase for $170,000. Mireya Castro Villarreal signed the ticket on 11 head for $156,900 and Louis Howard made two purchases for $96,000.
Bobby D. Cox was the leading consignor or agent on Day 1 with 10 head grossing $371,500. Lazy E Ranch, LLC, Agent for J & SM, Inc. sold the one 3-year-old for $170,000 and Cavenaugh Quarter Horses, LLC had two head for $123,000.
Freighttrain B was the leading yearling sale sire on Day 1 (by average with two or more sold) with three yearlings averaging $48,000. Mr Jess Perry had four yearlings average $40,375 and Apollitical Jess had three yearlings for a $40,333 average.
Epic Leader was the leading covering sire on Day 1 (by average with two or more sold) with two in-foal mares averaging $27,000. The Marfa Lights had two in-foal mares average $14,250 and KVN Corona had two in-foal mares average $11,250.
CLICK HERE for Day 1 preliminary results and hip-by-hip prices.
* * * * * * * * * * * * * * * *
Session 4, the final session offering Hips 318 thru 634, will start promptly 10 a.m. Saturday (Nov. 6th), consisting of mixed horses.
Heritage Place offers online bidding, as well to the horsemen and women who can't attend can view the sale live through an online webcast. For more information and a links to the Catalog Preview, Online Bidding and Sale Webcast CLICK HERE.
A complete online version of the 2021 fall mixed catalog, including horse, consignor, sire and dam indexes, is available by CLICKING HERE.
A downloadable iPad version is currently available on the RGP Catalog App. The RGP Catalog App is available for both Apple and Android phones and tablets. A Catalog App tutorial can be viewed by CLICKING HERE.
The free RGP Catalog App can be downloaded from www.robinglenn.com or by searching for "RGP Catalog App" in the Apple App Store.
Persons who do not plan to bid but want to watch the sale can view the 2021 Fall Mixed Sale Webcast by CLICKING HERE Friday and Saturday.
For additional sale information call the Heritage Place Sale Company at 405.682.4551 or visit www.heritageplace.com.