RACING THIS WEEK
FEATURES
SERVICES
Two-year-old filly Red Headed Beach was named 2023 Leading Quarter Horse of the Year at Horseshoe Indianapolis.

© Coady Photography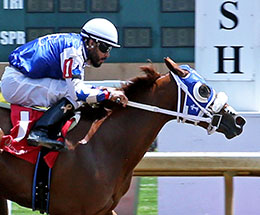 Red Headed Beach Named Quarter Horse of the Year at Horseshoe Indianapolis
SHELBYVILLE, IN–NOVEMBER 16, 2023– It's been quite a year for Red Headed Beach. The near perfect two-year-old filly completed the season with six wins in seven starts, setting all kinds of records along the way to be named 2023 Leading Quarter Horse of the Year at Horseshoe Indianapolis.
A daughter of Escondido Beach, the state's top stallion for numerous years, Red Headed Beach began her career with a third-place finish.
That's the last time she saw the heels of her opponents. She reeled off six straight wins, including titles in three Futurities, a first in the history of Quarter Horse racing in Indiana.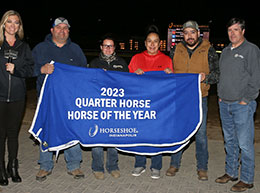 The Eggleston Stable was presented with a blanket in honor of Red Headed Beach as the season's Leading Quarter Horse.
© Coady Photography
"She's a great horse and a super horse to be around," said Trainer Tim Eggleston. "She got her name when she was little but she's not like that at all anymore. She's a super gate horse and doesn't make mistakes. That's all you can ask."
Red Headed Beach completed her freshman campaign with a total of $365,779, which set a new record for most purse money earned in one season by a Quarter Horse or a Thoroughbred. Her six wins also puts her in pretty impressive company as she joins Beach Cartel and Beach Treat for most wins in one season. She also joins Pistolpacking Pepsi, Beach Treat, and Valiantinecandyrocks for most stakes win in one season at three.
"For a two-year-old to break records like she did, that's phenomenal," added Eggleston. "We've had a great team effort behind her. My wife, Keli, has worked with her since she was a baby, so she has a special place in our barn."
Owned by Pattie Marshall of Michigan, Red Headed Beach is currently taking a break from racing. She is in Texas where she is undergoing embryo transplant procedures with the hopes of having a foal from her sooner than later from a reset mare.
"She will stay in Texas until probably January," noted Eggleston. "Then she will head back home, and she'll be back next year."
* * * * * * * * * * * * * * *
The 22nd season of live Thoroughbred and Quarter Horse racing begins with a special Monday, April 8, 2024. The racing program begins at 12 p.m. for Total Solar Eclipse Day in the area. Racing extends through Thursday, Nov. 14. For more information on live racing at Horseshoe Indianapolis, visit www.caesars.com/horseshoe-indianapolis.