RACING THIS WEEK
FEATURES
SERVICES
Horseshoe Indianapolis' Leading Quarter Horse Co-Owner for 2023, Jessica Vazquez and Patti Marshall, were joined by family and friends in the winner's circle Thursday night.

© Coady Photography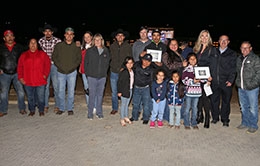 Jessi Vazquez, Patti Marshall Share Leading Quarter Horse Owner Title at Horseshoe Indianapolis
SHELBYVILLE, IN–NOVEMBER 16, 2023–The final Quarter Horse race of the season was contested Thursday and two ladies could not be separated atop the Leading Quarter Horse Owner standings.
Jessi Vazquez and Pattie Marshall each completed the meet with 8 wins to share the title.
Vazquez established new records in the trainer standings last season for the Quarter Horse ranks. Her success carried over to the owner standings this season as she earned eight wins as an owner with $123,000 in purse earnings.
"We had a rough start to the meet, so I guess it's been the worst best year ever," said Vazquez. "The year turned around for us. As they say, when God shuts one door another one opens. We have great owners and we want to thank all of them for helping us have a great year as a team."
Vazquez and her husband, Giovani Vazquez-Gomez, work side by side everyday in the barn. They met in Marengo, Ill. when Giovani served as the jockey for Jessi's father's horses.
They have been together for 10 years and have four children, Zuria, Giovani Jr., Miranda, and seven-month-old Ismael. Jessi noted he was born the day before the 2023 racing season started in April, and she watched her first race of the year from her hospital bed.
"I'm so honored to win this award," said Jessi. "Our racing stable is a family operation. Everyone is related to us. A lot of the people are Gio's cousins. And we have to send a special thanks to Hugo Macias. He works horses in the mornings and although he doesn't get to ride as much as we wish he could, he works so hard. He's a big part of our team."
Along with Vazquez, Pattie Marshall earned honors as the co-Leading Quarter Horse Owner of the Meet. Marshall is the owner of the year's top Quarter Horse Red Headed Beach, who won six races.
Although she isn't at the track a lot due to her commitment to barrel racing, she has been a long-time owner and supporter of Indiana racing. She and her husband, Brad, have several horses involved in racing and are also in the breeding industry as well.
Marshall completed the season with eight wins and more than $400,000 in purse earnings for a stellar year on the track.
Pattie and her husband, Brad, were in attendance for Red Headed Beach's win in the Miss Roxie Little Futurity during Indiana Champions Day. Although she has had several top 10 finishes in the past five years in the Quarter Horse Owner standings, this marks the first title for her at Horseshoe Indianapolis.
Both Vazquez and Marshall will be presented with custom made belt buckles. Vazquez was available for the winner's circle presentation during Thursday's racing program.
* * * * * * * * * * * * * * *
The 22nd season of live Thoroughbred and Quarter Horse racing begins with a special Monday, April 8, 2024. The racing program begins at 12 p.m. for Total Solar Eclipse Day in the area. Racing extends through Thursday, Nov. 14. For more information on live racing at Horseshoe Indianapolis, visit www.caesars.com/horseshoe-indianapolis.