RACING THIS WEEK
FEATURES
SERVICES
Tony Cunningham won his first Leading Quarter Horse Trainer title at Horseshoe Indianapolis in 2023.

© Coady Photography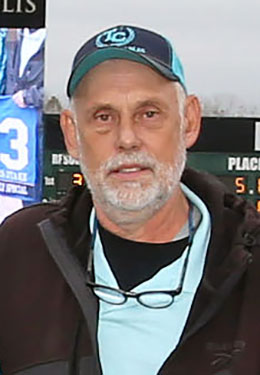 Tony Cunningham Wins First Leading Quarter Horse Trainer Title at Horseshoe Indianapolis
SHELBYVILLE, IN–NOVEMBER 16, 2023–It's hard to talk about Indiana Quarter Horse racing without including the name Tony Cunningham. The Michigan native made a commitment to support racing in Indiana during the first year of pari-mutuel action for Quarter Horses in 1997.
The 2023 season saw him win his first Leading Quarter Horse Trainer title at Horseshoe Indianapolis.
Although he is the state's all-time leading Quarter Horse owner, Cunningham had never secured a leading trainer title. He has finished second nine times since 2008 and is ranked second on the list of all-time leading Quarter Horse trainers with 339 wins and more than $7.5 million in earnings.
He holds several Quarter Horse owner records for most wins by an owner in one season, and has garnered three titles in that category, showing the depth of his success over the past 27 years.
"This title means so much and I can't do any of this without our team," said Cunningham. "It's definitely a team effort and this is the best year we have ever had for Quarter Horses. This team has been a blessing."
Cunningham had several stakes wins over the season, but none more special than with the two-year-old Relentlessly Special owned by his wife, Lisa, who picked him out of the Heritage Place Sale last fall.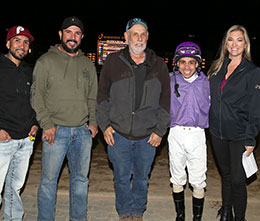 Tony Cunningham was joined by several members of his team, including Villalobos, for the Leading Quarter Horse Trainer award prior to the last Quarter Horse race of the season.
© Coady Photography
He also scored two stakes wins with Namgis Kodiak Kiss, HG Favorite Energy, Had to Be Ivory and the veteran Stone Lake, who is a staple for the stable.
"We struggled in 2022 and everyone dug in and worked hard for this season," said Cunningham. "The owners stepped up and bought some really nice horses at the sale. We've had some success with launching some jockeys too over the past couple of years. Francisco Quintero won his first stakes last year and was the leading sophomore jockey and Saul Lopez won his first stakes race this season. And, of course, Daniel Martinez has done really well for our stable. It goes back to being a team effort."
One of the main components of the Cunningham team is assistant Salvadore Villalobos, who oversees operations during the meet at Horseshoe Indianapolis while Tony and his wife, Lisa, keep the horses at their farm in Michigan going.
"Salvadore works hard," added Cunningham. "We try to keep the horses that don't ship well at the track and then rotate the others in and out. He's a big part of that, and he oversees it very well. We took him to Detroit to complete all the steps and he is now a U.S. Citizen. He's been with us for 13 years now, and we rely on him a lot in the barn."
In all, the Cunningham barn has 13 employees between two locations. Although they have always had a few Thoroughbreds, this season saw them soar to new heights in that category as well, scoring several stakes wins during the season with the Thoroughbreds in their operation.
Cunningham was joined by several members of his team, including Villalobos, for the Leading Quarter Horse Trainer award prior to the last Quarter Horse race of the season. It was only fitting their horse, Credible, ridden by Martinez, was the final winner of the meet, boosting Cunningham to 36 wins and more than $1.2 million for the season.
He was the only trainer to top $1 million this year at Horseshoe Indianapolis. Jessi Vazquez finished second in the trainer standings with 33 wins and $671,000 in earnings.
* * * * * * * * * * * * * * *
The 22nd season of live Thoroughbred and Quarter Horse racing begins with a special Monday, April 8, 2024. The racing program begins at 12 p.m. for Total Solar Eclipse Day in the area. Racing extends through Thursday, Nov. 14. For more information on live racing at Horseshoe Indianapolis, visit www.caesars.com/horseshoe-indianapolis.