RACING THIS WEEK
FEATURES
SERVICES
Giovani Vazquez-Gomez was named Leading Quarter Horse Jockey at Horseshoe Indianapolis for 2023 after clocking 29 wins.

© Coady Photography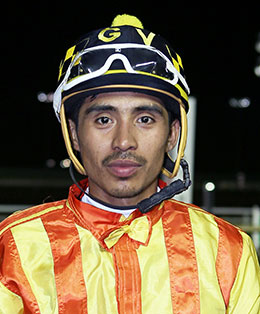 Giovani Vazquez-Gomez Named Leading Quarter Horse Jockey at Horseshoe Indianapolis
SHELBYVILLE, IN–NOVEMBER 16, 2023–Giovani Vazquez-Gomez began the 2023 season on top of the standings for all Quarter Horse jockeys and he ended the season on top to score his first career title at Horseshoe Indianapolis.
Vazquez-Gomez earned 29 wins and more than $546,000 in purses to win the title over Rolando Pina with 25 wins.
A native of Mexico, Vazquez-Gomez has been among the top 10 jockeys at Horseshoe Indianapolis for the past eight seasons with several third-place finishes. He is ranked third on the list of all-time leading Quarter Horse jockeys with 137 wins and more than $3 million in earnings.
"Gio (Vazquez-Gomez) was the one who made the decision to try out Indiana eight years ago," said his wife, Jessi Vazquez, who interpreted for him during the presentation. "He works so hard. He does it all, top to bottom. Sometimes he shoes horses before he comes in to ride. I'm so proud of him and he's so deserving of this award. He says he is so happy to win this. It's a great accomplishment for him."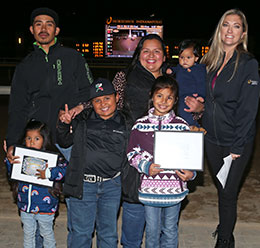 Giovani Vazquez-Gomez joined by Jessi along and their four children, Zuria, Giovani Jr., Miranda, and Ismael along with many of their family members on Thursday night.
© Coady Photography
Giovani and Jessi Vazquez met near her hometown of Elgin, Illinois. He was the jockey for her father's horses. They have been a team for the past 10 years with Jessi breaking several of her own records this season as the top female Quarter Horse trainer in Indiana.
She completes the 2023 season with 33 wins to finish second in the Leading Quarter Horse Trainer standings.
Vazquez-Gomez was presented with a custom belt buckle for his win as Leading Quarter Horse Jockey. He was joined by Jessi along with their four children, Zuria, Giovani Jr., Miranda, and Ismael along with many of their family members for the winner's circle presentation.
It was the final night of Quarter Horse racing for the 2023 racing season at Horseshoe Indianapolis.
* * * * * * * * * * * * * * *
The 22nd season of live Thoroughbred and Quarter Horse racing begins with a special Monday, April 8, 2024. The racing program begins at 12 p.m. for Total Solar Eclipse Day in the area. Racing extends through Thursday, Nov. 14.
For more information on live racing at Horseshoe Indianapolis, visit www.caesars.com/horseshoe-indianapolis.