RACING THIS WEEK
FEATURES
SERVICES
Luis Eduardo Diaz guided Ae Just Dale to victory at Horseshoe Indianapolis Thursday in his very first start as a jockey.

© Coady Photography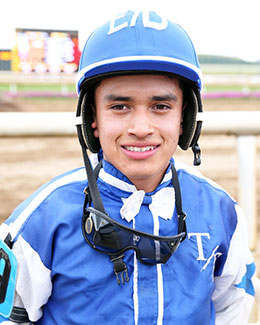 Eduardo Diaz Wins First Race In First Start at Horseshoe Indianapolis
SHELBYVILLE, IN–SEPTEMBER 7, 2023–It was an evening that won't be forgotten anytime soon during the lone Quarter Horse race Thursday, Sept. 7. Luis Eduardo Diaz guided AE Just Dale to victory in his very first start as a jockey. The win with the two-year-old Indiana bred was also a first for owner Aydin Eggleston.
Diaz was scheduled to make his debut aboard CV Dashin Layne, but an early scratch gave Trainer Tim Eggleston the nod to move his other entrant, Togoodtobelieve, in off the Also Eligible list. Rolando Pina was named to ride both horses, so that gave Eduardo the opportunity to go ahead and get his first career start as a jockey aboard AE Just Dale.
Starting from post nine, AE Just Dale moved out of the gate ready for action. Diaz, who is 20 years old and the younger brother of Jockey Edgar Diaz, kept the grey gelding focused during the 330-yard dash. He was a clear winner at the wire by one and one-quarter lengths.
MG Pilot Boi and L. Daniel Martinez and Togoodtobelieve and Rolando Pina finished in a dead heat for second.
AE Just Dale paid $16.60 for the win. The Indiana bred son of Cartels Feature was raised by Aydin, who now owns the broodmare, Blur of Furr. She also has a yearling and a weanling in line for future starters at Horseshoe Indianapolis.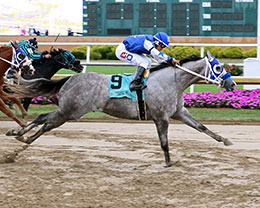 Ae Just Dale breaks his maiden under first time jockey Luis Luna Diaz on Thursday at Horseshoe Indianapolis.
© Coady Photography
Aydin is the daughter of Keli and Tim Eggleston. She has been active on the barrel circuit in the Midwest for several years with multiple wins, but AE Just Dale marks her first win as a Quarter Horse owner. The horse carries her initials "AE" as her signature brand for ownership. Prior to his win, the gelding had four starts, including a qualifying effort for the Jaguar Rocket Futurity in late July.
"This is her baby," said Keli of Aydin's AE Just Dale. "She raised this horse and has worked with him all the way to the races. This is an exciting day for her."
For Eduardo, he has worked and studied alongside Pina as a member of the Eggleston team for the past year. He assisted the Eggleston crew with breaking babies at their farm last winter and gallops many of their horses at the farm enroute to the races at Horseshoe Indianapolis. He was greeted by the entire jockey colony outside the paddock to congratulate him on his win.
Before the race, Eduardo said, "I'm really excited about riding today. I'm ready."
He proved that statement was correct.
* * * * * * * * * * * * * * *
The 21st season of live Thoroughbred and Quarter Horse racing extends through Friday, Nov. 17. Live racing is held Monday through Wednesday at 2:30 p.m. with Thursday post time set for 2:10 p.m. Saturday racing will be held during the summer months featuring six all-Quarter Horse dates June 3, July 1, July 22, Aug. 12, Sept. 2, and Oct. 7 beginning at 10:45 a.m. Indiana's featured event, the Grade 3 $300,000 Indiana Derby is set for Saturday, July 8 with a first post time of 12 p.m. Also, the Summer Saturday Racing Series includes seven Thoroughbred racing cards beginning Saturday, June 10 through Saturday, Aug. 26. For more information on live racing at Horseshoe Indianapolis, visit www.caesars.com/horseshoe-indianapolis.