RACING THIS WEEK
FEATURES
SERVICES
Longtime horseman John Boegner captured his first leading owner title at Retama Park.

© Coady Photography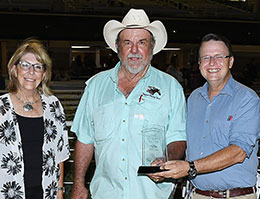 Ali Rivera, Juan Diaz, Jr., John Boegner Top The Standings In The 2023 Retama Park QH Meet
SELMA, TX–SEPTEMVER 6, 2023–Saturday, September 2 was the final night of the 2023 Retama Park Quarter Horse meet and despite difficulties in the beginning, the 23-day season ended on a high note.
Full fields and a quality stakes schedule were matched with family-friendly promotions throughout the 23-day meet.
Several notable highlights include:
> The 2023 TQHA Sale Futurity (RG1) contested on August 5
with Dollar Bill, owned by Celeste Martinez, winning the
$700,000 final. That was the highest purse in Retama
Park history.
> Total handle of $782,989 was the highest QH handle since at
least 2017, second highest overall.
> Track safety was at a premium throughout the meet with
zero catastrophic breakdowns on the racetrack.
> A large number of Quarter Horse breeders and trainers reside
in the San Antonio area and look forward to a mid-summer
respite when they can stay home, run four nights a week and
attend the annual Texas Quarter Horse Association (TQHA)
Yearling Sale.
Rob Werstler, Executive Director of the TQHA made plenty of visits to Retama Park over the past two months and was very encouraged by the improvements made this year.
"The annual live racing season at Retama Park is very important to the Texas racing and breeding industry," stated Werstler. "So many horsemen live in the San Antonio area, gear up for the season and support the TQHA Yearling Sale which is held in San Antonio. We are all very appreciative of the hard work done by Byran Pettigrew and his team and look forward to working with them to help Retama become the racing venue it was designed to be and what Texans deserve."
"We had a really good meeting with the Texas Racing Commission (TxRC) in Austin outlining our plans for the future improvements to Retama Park," said Vice President and General Manager of Texas Racing Operations for PENN Entertainment. I have the full support of PENN Entertainment and we are committed to serving horsemen and women, and horseplayers at Retama Park. We are heading in the right direction and will continue our efforts."
John Boegner Captures His First Owner Title at Retama Park
The leading owner title went to John Boegner who finished with six victories from 32 starters, including a win from Howdy Bok on closing night to stay on top of the owner standings.
"We are all Aggies and howdy is a big word for us," said Boegner, who stands Howdy Bok's sire Boknaii on his farm in Bryan, Texas.
"I had a fairly slow start in Houston; the Retama meet was much better," said Boegner. "My riders, Francisco Giles and Eliazar Vera did well and I think that young Adrian Morales has talent and could be a good one."
Boegner spoke of the challenges of the heat this summer and praised the Retama management team for their commitment and improvements to the 28-year-old racetrack.
"The heat was awfully tough," he stated. "You have to make sure the horses get enough electrolytes. I was one of many horsemen who appreciated the hard work of the PENN group. It gave us faith that things are looking up in Texas."
AA Farms, LLC finished second with four wins in a tie with Guerras Racing Stables. Josefina Guzman, Pete Scarmardo, Triple Five, Stacey and Robert Martin, Manuel Ortiz and Aide Lara Banda each won three races.
Jockey Ali Rivera Captures His First Retama Park Leading Rider Title
It has been a banner year for jockey Ali Rivera who carried his momentum as leading rider earlier this year at Sam Houston Race Park to claim top honors, for the first time, at Retama Park. The 21-year-old, from Elgin, Texas, who began riding three years ago, topped his fellow riders with 33 wins, 26 seconds and 28 thirds from 153 mounts.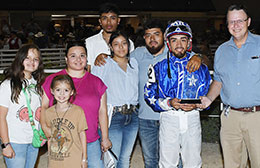 Ali Rivera captured his first leading rider title at Retama Park.
© Coady Photography
A number of horsemen supported him including John Stinebaugh, Leonel Hernandez, Gilberto Gonzalez, Adan Guzman, Jose Sanchez, III, Alvin Francis, Jr. and J. B. Morace.
His stakes wins at Retama Park included the $55,352 Bank of America Texas Challenge Championship on August 11 aboard Pete Scarmardo's homebred His Time to Deal and a score on longshot Eye Will Decide ($35.80) in the $43,250 San Marcos Stakes on September 2.
Rivera was surrounded by his family and agent Aubrey Vega as he received his award on closing night. He will ride next at Lone Star Park in Grand Prairie, Texas.
"Winning the title at Sam Houston has opened a lot of doors for me," he stated. "I am looking forward to Lone Star and starting that meet with a lot more mounts than I had from last year."
"I want to thank all the owners and trainers for their faith in me," added Rivera. "My family has always been so supportive and my agent, Aubrey does such a wonderful job. I enjoyed being a part with a closeknit group of riders and want to give credit to Raul Ramirez, Jr, who gave me great advice throughout the meet."
Francisco Giles finished second with 15 wins. Jose Herbert rode 13 winners to lock up third place and Raul Ramirez, Jr., Noe Villatoro and Eliazar Vera tied for fourth with 12 wins each. Ramirez announced on social media that he is hanging up his tack (after 33 years) to devote more time to his family. He will certainly be missed by horsemen, his fellow riders and fans.
Juan Diaz, Jr. Defends His Leading Trainer of the Meet Title
Texas horseman Juan Diaz, Jr. held a commanding lead in the trainer standings throughout the meet, finishing with 15 wins from 60 starts and $808.434 in purses. The 34-year-old from Floresville, Texas captured the lucrative $700,000 TQHA Sale Futurity (RG1 ) on August 5 with Dollar Bill.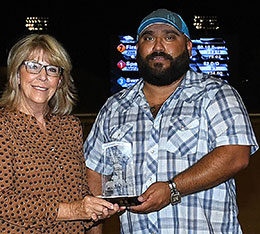 Juan Diaz, Jr. defended his leading trainer of the meet title at Retama Park.
© Coady Photography
The son of Kiss My Hocks, owned by Celeste Martinez, has won five of his six starts this year, making the final of the Louisiana Downs Futurity and Sam Houston Futurity prior to his victory at Retama.
"My owner picked him out at the TQHA Yearling Sale and he has gotten better and better every time he runs," said Diaz. "He is paid into the Texas Classic Futurity (G1) at Lone Star Park and we are excited to see if he can take it to the highest level later this year."
With his success earlier this year at Sam Houston, as well as wins at Louisiana Downs and Remington Park, Diaz is the top ranked Quarter Horse trainer in the country by wins (69) and third in purses ($2,397,507)
Surprised at the ranking, he deflects the praise to his team and his owners.
"All of my owners deserve a trophy," acknowledged Diaz. "The Retama meet has been great for us; we love running at our "home" track and the comfort of traveling from the farm to the racetrack."
Jose Sanchez, III was second in the standings with 10 wins followed by J. B. Morace who saddled 9 winners with four conditioners: Adan Guzman, Alvin Francis, Jr., Janessa Lee Muniz and Martin Rodriguez with 8 victories each.
* * * * * * * * * * * * * * * *
About Retama Park
Retama Park is a Class 1 pari-mutuel horse racetrack located in Selma, Texas, just 20 minutes from downtown San Antonio. Live Quarter Horse races take place each summer, while simulcast wagering and races from around the world are shown daily. Managed by Penn Entertainment Inc. (NASDAQ – PENN), Retama Park opened in 1995 celebrated its 28th year of operation in 2023. For more information and racing schedules, please visit www.RetamaPark.com follow on: Facebook, Instagram, Twitter, TikTok and YouTube.