RACING THIS WEEK
FEATURES
SERVICES
2023 All American Futurity winning trainer Michael Joiner (right) with his mentor All American Futurity winning trainer Leo Wood.

© Carol Hendrix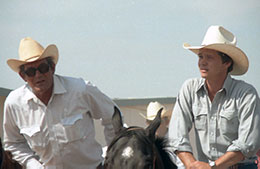 Leo Wood Dynasty Continues With Mike Joiner's Win In The All American Futurity(G1)
By Greg Thompson, StallioneSearch.com
RUIDOSO, NM–SEPTEMBER 5, 2023– As Cowboys Gun Z crossed the wire in front in the $3-Million All American Futurity(G1 on Labor Day, trainer Michael Joiner joined trainers Blane Wood and Gregg Sanders as winning conditioners of All American Futurity(G1) winners that came up under Ruidoso Racehorse Hall of Fame trainer Leo Wood.
Leo Wood won the 1979 All American Futurity(G1) with Dan and Jolene Urschel's Pie In The Sky and was a mainstay in Ruidoso throughout most of his career.
Wood was one of the top-10 trainers in the nation in the 1970's and the 1980's, and won the 1973 Rainbow Futurity(G1) with Flying Rockette. Also adding Mighty Deck Three to the long list of great horses trained by Wood, he passed away at the age of 55 in 1995.
The first trainer that was a former assistant of Hall of Fame trainer Leo Wood to win the All American Futurity(G1) was Gregg Sanders, who won the 1995 edition of the Labor Day classic event, shortly before the death of Leo Wood, with Winalotacash. Billy Peterson was in the irons.
Sanders got his start win he was 15yrs old, when he hitch-hiked to Lubbock, Texas and immediately got a job working for Wood.
"When I first went to work in 1979 for Leo, it was me, Blane and Mike Joiner working for him," said trainer Gregg Sanders. "Leo gave me my start and taught myself, Blane and Mike how to be the horsemen we are today. I was happy to have been the youngest trainer to ever win the All American, and now tremendously happy that Mike and Blane have won it as well. Mike Joiner and Blane Wood are the two best horsemen that I know. Their knowledge of horses is unmatched in my opinion, and I would have never won the All American without all their teaching of me."
Trainer Blane Wood is proudest of Joiner's win in the All American Futurity(G1) on Monday, as Joiner and Blane Wood have been as close as brothers since the early 1980's when Joiner came to work for Blane's father Leo. Blane, also worked under his father in the horse racing business, was victorious as the trainer of two winners in the All American Futurity(G1) with Apocalyptical Jess in 2018 and Whistle Stop Cafe in 2020.
"Mike has always been like a brother to me, and he even lived with my dad for a little stretch while he was working for him," said trainer Blane Wood. "Dad instill into all three of us his work ethic, and I feel strongly to tell you that has made a difference in all of our lives. If you worked for Leo Wood, most times you became to be viewed as a part of the family, and I know dad would be proud of all of us winning this race."
"I remember that he would want us to eat and breath horses and winning the All American Futurity. He would stress that really winning that big race is all that really mattered in this sport of Quarter Horse racing. If he were alive to see Mike's win on Monday I would almost have to say that he would be speechless. Now that Mike has won it to make it three wins from former assistants of Leo Wood, it is now time that his grandson Trey wins one as well."
After multiple close finishes in prior All American Futurity's, Cowboys Gun Z has given trainer Mike Joiner a win in the race his mentor had instilled the importance of winning during his time working under trainer Leo Wood.
"I was so happy to have come up under Leo Wood," said 2023 All American winning trainer Michael Joiner. "He was such a great mentor and friend to me, as well as the whole Wood family. After Blane winning is a couple of time, I am just so happy to now to have at least one it once."
Leo Wood was posthumously inducted into the Texas Race Horse Hall of Fame in 2014, as well as the Ruidoso Racehorse Hall of Fame in 2019.