RACING THIS WEEK
FEATURES
SERVICES
Canterbury Park's 2022 mixed meet will feature 15 Quarter Horse stakes races.

© Coady Photography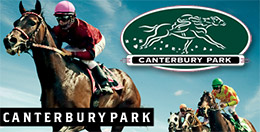 Canterbury Park Releases 2022 Quarter Horse Stakes Schedule
SHAKOPOEE, MN—JANUARY 12, 2022—
Canterbury Park's 2022 mixed meet will feature 15 Quarter Horse stakes races with the centerpiece being the 35th running of the Mystic Lake Northlands Futurity on Aug. 10 offering an estimated purse of $150,000.
Quarter Horse racing will be conducted on Wednesdays and Thursdays throughout the 65-day meet that begins May 18. The first quarter horse race of the season is scheduled for June 1.
Also on Aug. 10 will be the Canterbury Quarter Horse Derby. The 400-yard race likewise is being run for the 35th time. Racing officials estimate that purse will reach $100,000.
Overnight purses will remain similar to 2021 when purses for both open races and races restricted to Minnesota-breds in all categories were increased to record levels in response to what Canterbury racing officials predicted would be a very competitive spring and summer in the Midwest. Last season the average purse per quarter horse race was $22,630.
A pair of Grade 3 stakes will run on July 14. The Canterbury Park Distaff Challenge will have a $30,000 added purse while the Canterbury Park Championship Challenge will be $50,000 added. Both are Bank of America Regional Challenge Races.
The 2020 AQHA Champion Aged Horse and Champion Aged Gelding Danjer has won the past two Championship Challenges at the Shakopee, Minn. racetrack and each year went on to win the Grade 1 AQHA Challenge Championship Stakes. Danjer is a contender to win AQHA Racing Champions Aged Gelding at an awards ceremony held Wednesday night in Oklahoma City. Also on July 14 will be the Canterbury Park Distance Challenge with a $20,000 added purse.
Six stakes will be restricted to Minnesota- bred quarter horses beginning with the $25,000-added North Star State Futurity on June 1. Both the Minnesota Futurity and Minnesota Derby purses were increased to $60,000 and will be held Sept. 10.
Initial nomination payments for the Mystic Lake Northlands Futurity and Canterbury Park Derby are due by March 1.
For the entire Quarter Horse stakes schedule CLICK HERE .
The first condition book and stall application, due April 4, will be available later this month. The complete quarter horse stakes schedule is attached.
For additional information, stall applications and schedules visit the track's website at : canterburypark.com/horsemen.
* * * * * * * * * *
More information about Canterbury Park is available at canterburypark.com.