RACING THIS WEEK
FEATURES
SERVICES
AQHA has reported medication violation record updates.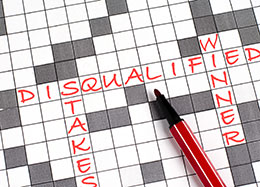 Stakes Disqualifications Released
AMARILLO, TX—JANUARY 11—
The American Quarter Horse Association released the following ruling for a horse(s) who competed in a 2021 "Stakes Race" that required disqualifications due to medication positives.
TRES A JESS has been disqualified from 1st place in the Arizona Downs QH Derby held on August 24, 2021 due to a medication violation for Clenbuterol, a Class 3/A substance. Heraclio Botello Jr was the trainer.

The new order of finish for the $19,950 Arizona Downs QH Derby is:
Shez Our Jess
Gotta Bad Habit
Ole Town Road
Arcana
Ms Cache Queen
Tres A Jess placed last. Deal A Corona and Our Darling Corona scratched.
ILL BE GONE has been disqualified from 9th place in the AQRA Turf Paradise Open Quarter Horse Futurity held on December 9, 2021 due to a medication violation for Medroxyprogesterone Acetate, a Class 3/B substance. Jesus Garcia was the trainer.
Equibase has received the rulings and updated their records.