RACING THIS WEEK
FEATURES
SERVICES
Sunland Park will return to live racing, after being shuttered for more than year due to the COVID-19 outbreak, on Friday, December 31.

© Coady Photography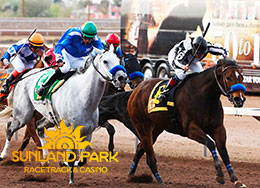 Sunland Park Live Racing Season Begins Friday, December 31
SUNLAND PARK, NM—NOVEMBER 22, 2021—
The highly anticipated Sunland Park live racing season begins on Friday, December 31.
Post time to start the 62nd season will be 12:25 p.m. A 55-day meet is planned and extends through Sunday, April 3, 2022.
Well-armed with a dazzling array of stakes races, Sunland Park offers some of the most attractive and richest races in the Southwest. The $15 million dollar season will dish out over $250,000 in purses per race day.
The world's finest Quarter Horses converge on Sunday, Jan. 2 in the Grade 1 Championship at Sunland Park worth $350,000. The 20th running of the 440-yard feature may attract reigning AQHA Racing Champion Aged Horse and multiple Grade 2 winner Danjer.
Of course, the highlight of the season is the $500,000 Sunland Derby (Gr. III) to be run on Sunday, March 27, 2022. The Kentucky Derby prep race offers 50 qualifying points to the winner for entry to the 2022 Run for the Roses.
The 17th edition of the one and one-eighth mile classic anchors a huge day worth over $1.6 million. The enriched $300,000 Sunland Park Oaks, $250,000 New Mexico Breeders' Derby, $250,000 New Mexico Breeders' Oaks, $120,000 New Mexico State University Stakes, $100,000 Bill Thomas Memorial Stakes and $100,000 Harry W. Henson Handicap are also part of Sunland Park's biggest day.
The 2019 Sunland Derby day program handled an all-time New Mexico State record all-sources handle of over $4.8 million. National interest and appetite for the Sunland Park racing product is at a zenith.
The 2021-22 season hits the ground running with an excellent opening weekend menu. The $100,000 New Mexico State Racing Commission Handicap and the $65,000 KLAQ Handicap will be run for Thoroughbred Sprinters on Saturday, Jan. 1.
Lead up races to the Sunland Derby (Gr. III) include the $100,000 Riley Allison Derby at one mile on Sunday, Jan. 30 and the $100,000 Mine That Derby at one mile and one sixteenth on Sunday, Feb. 27.
Prep races for the Sunland Park Oaks are the $65,000 Borderplex Stakes at six and one-half furlongs on Sunday, Jan. 30 and the $75,000 Island Fashion Stakes at one mile on Sunday, Feb. 27. The Sunland Park Oaks offers 50 points to the winner for entry to the 2022 Kentucky Oaks. Both the Sunland Derby (Gr. III) and Sunland Park Oaks will be Lasix-free events.
Six figure stakes races are plentiful throughout the season. An annual favorite is the $100,000 Sunland Park Handicap at 9 furlongs on Saturday, April 2.
The meet comes to a crescendo on Sunday, April 3 with the $250,000 estimated New Mexican Spring Futurity and $250,000 estimated West Texas Futurity for two-year-old Quarter Horses.