RACING THIS WEEK
FEATURES
SERVICES
Episode 17 of Los Alamitos Race Course's racing show webcasts are now available on demand and include interviews with jockeys Armando Cervantes and Diego Herrera, plus trainers Lindolfo Diaz, Kasey Willis and Juan Aleman.

© Los Alamitos Race Course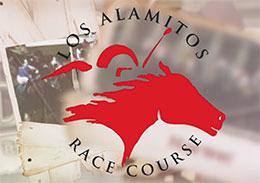 The Los Alamitos Two Million Futurity Preview Shows And More!
LOS ALAMITOS, CA—NOVEMBER 20, 2021—
Fourteen trials to the Los Alamitos Two Million Futurity are on tap for this Sunday night. At stake will be the 10 qualifying spots to the Grade 1 400-yard final, which will offer its richest purse since 2014. The weekend will also feature a showdown between top mares Kiss Thru Fire, Cat Daddys Lil Girl, Lynnder 16 and seven other distaffers. All this and more are featured in
episode 17
of the Los Alamitos Preview Show.
The webcast show includes interviews with jockeys Armando Cervantes and Diego Herrera, plus trainers Lindolfo Diaz, Kasey Willis and Juan Aleman share their thoughts on their top runners in action this weekend.
Hosted by "Los Ponies" Jose Contreras, the racing analyst on TVG's The Quarters, webcast is available on demand on YouTube and as always the link will be available at LosAlamitos.com and the track's social media pages on Twitter (@losalracing), Instagram and Facebook (Los Alamitos Race Course). CLICK HERE for a direct link for the show.
Also on the webcast are Chris Wade, the racing analyst at Los Alamitos, and track announcer Michael Wrona, as they each share their play of the night for Saturday. First post for the 10-race card is 6:15 p.m. (PST).
Armando Cervantes, Diego Herrera, Juan Aleman and Lindofo Diaz, plus we dive in to talk about the 14 trials. The "Previa de Los Alamitos" is available on the Los Alamitos Race Course YouTube channel via this link.
New episodes of this webcast will be released each week to preview the upcoming racing action. A variety of current and past racing personalities are always featured on each show. For more information, please contact Los Alamitos Race Course at larace@losalamitos.com.