RACING THIS WEEK
FEATURES
SERVICES
Sustaining and late nominations to the 2020 the Black Gold Lads Championship and the Black Gold Lassies Championship are due Saturday, February 15.

© Coady Photography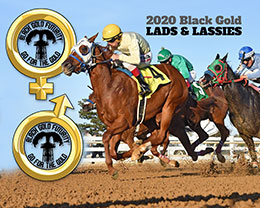 Black Gold Splits Into Two Gender Specific Races, Late Nominations Due February 15
OKLAHOMA CITY, OK—FEBRUARY 11, 2020—
OQHRA has announced the Black Gold program will offer the Black Gold Lads & Lassie Championships this fall at Will Rogers Downs. The two separate races, to be contested over 400 yards, are expected to offer estimated purses of $250,000 for each race.
The $118,750-added Black Gold Lads Championship, for Quarter Horse colts and geldings of 2018, and the $118,750-added Black Gold Lassies Championship, for Quarter Horse fillies of 2018, will be run Saturday, November 14 at Will Rogers Downs in Claremore, Oklahoma.
Horses who have already nominated must make a sustaining payment of $400 on or before Saturday, February 15. Any two-year-old foal of 2018, sired by a Black Gold participating stallion, is eligible to make a. late nomination to their specific race for $1350 ($150 late penalty + all payments to date).
CLICK HERE to download a nomination form for the 2020 Black Gold Lads & Lassies Championships.
Trials for both races will be contested on Saturday, October 30th at Will Rogers Downs. This is a Quarter Horse Racing program for Two Year Old foals of 2018 who are sired by any "Participating Stallion" in the Black Gold since the program was founded.
For a current list of participating Black Gold eligible stallions CLICK HERE.
All Fillies will be entered in the Black Gold Lassies Championship and all Colts and Geldings will be entered in the Black Gold Lads Championship.
Payments should be made payable and mailed to: OQHRA - P.O. Box 2907 - Edmond, OK 73083.
New Stallions may be added to the Black Gold program for a ONE TIME – LIFETIME STALLION PARTICIPATION FEE:
$2,500 for stallions that have not yet bred a mare provided fee must be paid prior to breeding the first mare
$5,000 for stallions that have previously bred a mare or mares The Black Gold Program pays 5% of all purses in stallion awards annually.

CLICK HERE for a Black Gold Futurity Program Stallion Nomination Agreement.

For additional information visit the OQHRA website at oqhra.com or call (405) 216-0440.