RACING THIS WEEK
FEATURES
SERVICES
Thomas Goldsmith (center) from Montgomery, California is the winner of the 2020 National Horseplayers Championship.

© Courtesy Lone Star Park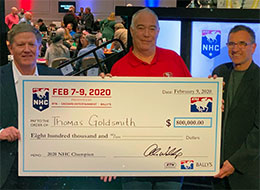 Lone Star Park Qualifier Wins 2020 National Horseplayers Championship
GRAND PRAIRIE, TX—FEBRUARY 5, 2020—
Thomas Goldsmith from Montgomery, California is the winner of the 2020 National Horseplayers Championship. His score of 404.1, the second highest ever at the NHC, was tops and he'll be going home with the $800,000 top prize as well as a Breeders' Cup Betting Challenge entry, valued at $10,000.
Goldsmith qualified for the 2020 NHC from Lone Star Park on his birthday weekend on July 14, 2019 in a Live Money format tournament. 2020 is Goldsmith's second time qualifying for the NHC as he previously placed 539th in the 2016 NHC. The 57-year-old grew up going to Bay Meadows and has been a long time horseplayer of 40 years, but only playing tournaments for the last few years.
In the immediate aftermath of winning the NHC and the $800,000 grand prize, Goldsmith "was in shock". The prize is "a life changer, and it hasn't sunken it yet".
In addition to Goldsmith, Trey Stiles, another Lone Star Park qualifier did well at the NHC. An NHC Hall of Fame member and Houston, Texas resident, Stiles finished in 5th place with a score of 334.9 and a prize of $75,000.
Registration opens for Lone Star Park's Spring Betting Challenge, taking place on Saturday, April 18, this Wednesday, February 12 and will offer four guaranteed 2021 NHC seats as well as $7,500 in cash. The no-entry-fee 100% Player Bankroll Live Money contest offers incredible value in contest play with odds of winning an NHC Seat at 1-in-25 or better. Additional NHC seats will be awarded for every 25 entries beginning with 100 entries for a total of up to 10 possible NHC seats getting awarded if there are 225 entries or more. Entries are capped at 250.
Other free perks for participating players include seats in Lone Star Park's Silks Dining Room overlooking the track, access to the Silks Buffet and complimentary valet parking. For players looking to win their $1,000 Bankroll Entry, weekly feeder contests will become available on HorseTourneys.com as well as on-track feeders available at Lone Star Park.
Lone Star Park is offering a guaranteed total of 10 NHC seats in 2020 and up to 25. For more information and to enter, visit LoneStarPark.com/Handicapping-Tournaments.
* * * * * * * * * * * * * * * * * * * *
Lone Star Park at Grand Prairie, a Class I racetrack operated by Texas Partners LSP and Global Gaming LSP. The track offers a 16-day 2019 Quarter Horse Season, which opens Friday, September 20 and concludes on Saturday, November 9. Live racing will be held Friday and Saturday Nights at 6:05 p.m. For more information on Lone Star Park visit LoneStarPark.com or follow us on Facebook and Twitter.
Lone Star Park is also home to the multi-million dollar simulcast racebook, sports bar and event venue, Bar & Book. The 36,000 square foot venue is open to the public 363 days a year.
* * * * * * * * * * * * * * * * * * * *
Global Gaming Solutions, LLC (GGS), is a wholly owned subsidiary of the Chickasaw Nation with a primary business focus of pursuing entertainment, gaming and racing related opportunities in emerging jurisdictions in the United States and overseas as well as acquisition of regional gaming and entertainment assets. GGS LLC is the parent company of GG RP, which owns Remington Park in Oklahoma City, OK and GG LSP, which owns a significant stake in Lone Star Park. GG LSP is the track operator who owns the license to operate Lone Star Park and leases the property from the Grand Prairie Sports Facilities Development Corporation.