RACING THIS WEEK
FEATURES
SERVICES
Horses planing to enter for the opening weekend at Remington Park must be hair tested no later than Monday, February 17.

© Courtesy OQHRA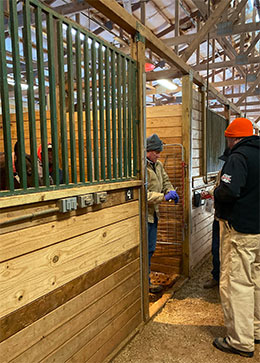 Remington Park Hair Testing Information
OKLAHOMA CITY, OK—FEBRUARY 10, 2020—
Monday, February 17 is the last "safe day" to have horse's hair tested to make sure the results are back in time for trainers who plan to enter for races during the opening weekend (March 6) at Remington Park. This includes the Oklahoma Futurity and Derby trails for both Quarter Horses and Paints.
Testing days are Monday thru Saturday 9am to 2pm (CDT).
To make an appointment call (405) 881-5120 by noon the day prior to the day you wish to schedule. Some days are filling up so please plan ahead and call for an appointment as soon as you know what day you will be wanting to come.
There will be NO testing on February 18th or February 29th.
Eligible Oklahoma Futurity and Derby horses have already had their test paid for, all others will need pay $250 at time of collection.
Horsemen and women MUST have a copy of the horses papers FRONT and BACK, no exceptions.
* * * * * * * *
The 50-date live racing season will at Remington Park will get underway on March 6 at 6 pm (CDT). The Opening Weekend also features trial racing for the historic Oklahoma Futurity on Saturday, March 7 at 4 pm, and Sunday afternoon racing at 1:30 pm on March 8.