RACING THIS WEEK
FEATURES
SERVICES
Remington Park announced today hair testing will be conducted on entries to its Grade 1, $250,000 Remington Park Championship.

© Remington Park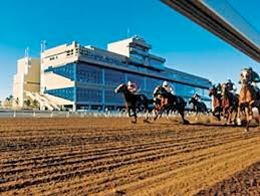 Remington Park Announces Hair Testing For Grade 1 Championship
OKLAHOMA CITY, OK—APRIL 13, 2017—
Remington Park has instituted a new policy concerning its Grade 1, $250,000 Remington Park Championship. For the first time, hair testing will be conducted to ensure fairness for the event.
The Remington Park Championship is an invitational handicap event for 3-year-olds and older at the classic American Quarter Horse distance of 440 yards. The race will be held as part of the $2 million-plus night of racing on Saturday, June 3.
Horses invited to the Remington Park Championship will be required to be on grounds no later than Monday, May 15, 2017. Hair samples will be collected on Tuesday, May 16 from each horse seeking an invitation to the race.
Any horse testing positive for a prohibited substance will not receive an invitation to the race. After the testing process is complete, Remington Park racing secretary Tim Williams will issue formal invitations and provide a list of horses eligible to enter as having met these conditions. That list will be available on or before May 26, 2017.
"We are implementing these new measures at the request of the Oklahoma Quarter Horse Racing Association and in keeping with the highest and latest standards for assuring a level playing field," said Remington Park president and general manager Scott Wells. "The Remington Park Invitational Championship is one of the nation's most prestigious races. The winner is assured a place in the starting gate of the Grade 1 Champion of Champions at Los Alamitos in December, where these same basic regulations will be in place. "
The Remington Park Championship serves as the richest race of the season for older Quarter Horses and is the prime event for those horses on the June 3 program which closes the season.
* * * * * * * * * * * * * * * * * * * * *
Tracked by over 122,000 fans on Facebook and 8,700 Twitter followers, Remington Park is the home of the $932,500 Remington Park Futurity, for Oklahoma-breds, on Saturday, April 22. Remington Park has provided over $167 Million to the State of Oklahoma general education fund since the opening of the casino in 2005. Open daily at 10:30am with free parking and admission, Oklahoma City's only Racetrack & Casino is located at the junction of Interstates 35 & 44, in the heart of the Oklahoma City Adventure District. For more information, reservations and group bookings please call 405-424-1000, 866-456-9880 or visit remingtonpark.com.