RACING THIS WEEK
FEATURES
SERVICES
Jockey Ivan Carnero was injured Sunday at Will Rogers Downs.

© Greg Thompson / StallioneSearch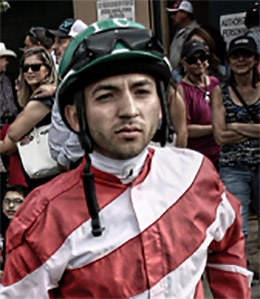 Jockey Ivan Carnero Recovering From Accident At Will Rogers
by Greg Thompson, Stallionesearch.com
TULSA, OK—SEPTEMBER 26, 20160—-All American winning jockey Ivan Carnero is recovering from injuries sustained during a spill at Will Rogers Downs in Claremore, Oklahoma yesterday (Sunday), that resulted in him being air-lifted to St. John's Medical Center in Tulsa with possible head injuries.
The injuries came aboard Steve Holt-owned Lota James in the third race of Sunday's race card at Will Rogers Downs. The R. Allen Hybsa trainee, who was coming into the Will Rogers Derby Challenge trials off of a four-race win streak, stumbled badly leaving the gates at the start.
Carnero went over the top of the stumbling horse, and landed on the Claremore racecourse. Just as Lota James re-gathered himself to dart away with the rest of the field, it is reported that Carnero was clipped with a back hoof behind his left ear on the back of his head.
"Carnero has a small skull fracture located behind his left ear that caused some minor bleeding in the brain," said Carnero's agent Ryne Valerio. "He also has smaller facial fractures from the spill. As bad as all of that sounds, the doctors aren't overly concerned with anything being too significant. He is expecting a full recovery, and the Carnero family is thankful to all the prayers and support they have received from folks in the racing community."
Carnero, who is currently the second leading rider by earnings in the U.S. with over $2 million earned in 2016 thus far, is coming off of a 2015 season that saw him victorious aboard Jess Good Candy in the All American Futurity(G1).
The Amarillo-native has split time between riding at Will Rogers in Claremore, OK, Lone Star Park in Grand Prairie, Texas, and Zia Park in Hobbs, New Mexico since the conclusion of the 2016 Ruidoso Downs Meet. Earlier in 2016, Carnero won the leading rider title at the 2016 Remington Park Quarter Horse racing meet that concluded in late May.