RACING THIS WEEK
FEATURES
SERVICES
World Champion/World Champion Sire Oak Tree Special, 2000 — 2013.

Don Shugart Photo
World Champion/World Champion Sire Oak Tree Special Euthanized
BREAUX BRIDGE, LA—APRIL 29, 2013—
The 2003 AQHA Racing World Champion and World Champion Sire
Oak Tree Special
was euthanized Friday, April 26, due to ongoing complications from bilateral osteoarthritis of the stifles. Owned and raced by Raul Rubalcava, the 13-year-old stallion stood most of his career at
Robicheaux Ranch
, Inc. near Breaux Bridge, Louisiana.
"As a stallion manager, your dream is to stand a World Champion", ranch manager Ryan Robicheaux, said today. "Oak Tree was not only that, but a World Champion and Champion Sire."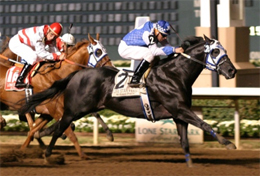 Oak Tree Special winning the Grade 1 Dash For Cash
Derby at Lone Star Park.
© Reed Palmer Photography
Only eight stallions in history earned the title of AQHA Racing World Champion, then sired an AQHA Racing World Champion.
Oak Tree Special
is one of those elite stallions. Named the AQHA Racing World Champion, Champion 3-Year-old and Champion 3-Year-Old Colt of 2003, he won or placed in 20 of 26 career starts, earning $628,470.
Under the guidance of trainer Bobby Martinez the son of Special Task won six stakes races including the Texas Classic Derby(G1), Dash For Cash Derby(G1), Retama Park Derby(G1), Remington Park Derby(G1), TQHA Sales Futurity(G1) and East Championship Challenge(G2). He was second in the Heritage Place Futurity(G1), Heritage Place Derby(G1) and third in the Longhorn Derby(G3).
In the breeding shed Oak Tree Special (through April 23) has sired 181 winners (58%), 1 world champion, 2 champions, 52 stakes horses (17%), earners of $9.1 million with average earnings per starter of nearly $30,000 per head.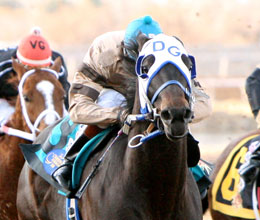 Oak Tree Special's World Champion son Cold Cash 123 winning 2011 The Championship at Sunland Park(G1).
© Coady Photograhpy
His biggest money earner Cold Cash 123, the 2011 AQHA Racing World Champion, has won 12 races, $1,279,596 to 5, 2013. Also named Champion 3-year-old and Champion 3-Year-Old Gelding, Cold Cash 123 won the Rainbow Derby(G1), Texas Classic Derby(G1), The Championship at Sunland Park(G1), Remington Park Championship(G1), etc.
Oak Tree Special is also the sire of 2012 Champion 2-Year-Old Gelding and Grade 1 West Texas Futurity winner El Duero ($285,378 at 2, 2012), RG1 winner Furrtreeous ($244,651), G1 winner Acorn ($352,227), 2013 Oklahoma Derby winner and G1-placed Big Boi ($346,311, to 3, 2013), RG2 winner Coors Select ($312,706), Southwest Juvenile Championship(G1) winner Send Me A Candy Tree ($305,097), etc.
Bred in Texas by Mr. C.L. Loreant, his sire Special Task was a Grade 1 winning son of World Champion/Triple Crown winner Special Effort. Special Task sired 14 stakes winners and $5.4 million in money earners.
Oak Tree Special's dam is former Broodmare of the Year Easy Lady Oak, by Easy Dozen. An earner of $85,872, she qualified to the All American Futurity(G1), Kansas Futurity(G1) and La Bahia Fall Derby(G3). Easy Lady Oak is the dam of 7 ROM including stakes-placed Ryons Easy Oak ($49,529), etc.
"We are saddened to lose Oak Tree Special at the young age of thirteen while at the height of his stallion career. He had a heart as big as the great Secretariat TB. Even though he was in a great deal of pain, he would perform his stallion duties with the heart of a Champion. This is the first stallion we have lost at Robicheaux Ranch, and laying him to rest under the oak tree in front of the stallion barn seemed like the perfect place."
CLICK HERE to watch a tribute To Oak Tree Special.