RACING THIS WEEK
FEATURES
SERVICES
Chivalry Sr races to a new 400 yard track record in the Spencer Childers California Breeders Championship Handicap.

Scott Martinez Photo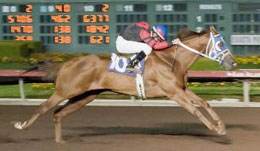 Champions Night Program Has Record Handle And Features A 400-Yard Track Record
LOS ALAMITOS, CA—July 31, 2011—
Los Alamitos Race Course hosted the 12th running of California Breeders Champions Night on Saturday. The program consisted of 13 races and the all-source handle for the evening of action (including simulcast races) was a Champions Night record $2,071,719.
The previous event record of $2,054,127 was set in the 2007 California Breeders Champions Night. This year's figure was up 3.93% from last year's Champions Night handle of $1,992,467. Saturday's handle was also the 15th highest of ever at the Orange County oval and the highest since the $2,086,568 wagered on the night of the Los Alamitos Two Million Futurity on Friday, December 12.
The night was highlighted by Chivalry SR's track record victory of :19.067 in the 400-yard Spencer Childers California Breeders Championship Handicap. Trained by Adan Farias and ridden by Rodrigo Aceves, Chivalry SR's winning time shattered the previous track record of :19.11 set by Grade 1 winner One Sweet Jess on March 18. It was also an amazing night for the stallion Walk Thru Fire, as he sired the winners of the three richest races on the card: the Governor's Cup Futurity with Fixin To Fly, Governor's Cup Derby with Hot Hitter and the aforementioned Spencer Childers.
History Of The 400-Yard Track Record At Los Alamitos
Chivalry SR / :19.067 on July 30, 2011
One Sweet Jess / :19.113 on March 18, 2011
Apollitical Jess / :19.133 on November 6, 2010
Freaky / :19.156 on June 19, 2009
Freaky / :19.170 on May 30, 2009
Little Bit Of Baja / :19.270 on November 21, 2008
A Stoli Mate / :19.290 on November 30, 2007
Blues Girl Too / :19.301 on September 21, 2007
Ocean Runaway / :19.305 on November 19, 2005
Takin On The Cash / :19.340 on December 19, 1990
Chivalry SR made his track record clocking at 400 yards look easy, as the son of Walk Thru Fire cruised to a wire-to-wire 1 ½ length victory over former World Champion Freaky in the Restricted Grade 1 $100,000 Spencer Childers Handicap. The race was over at the start, as the Stern Ranches-bred gelding ran the opening 180 yards in a blistering time of :09.857. In comparison, World Champion Apollitical Jess ran a :09.973, One Sweet Jess a :09.993 and Freaky a :10.07 in the first 180 yards of their respective track marks.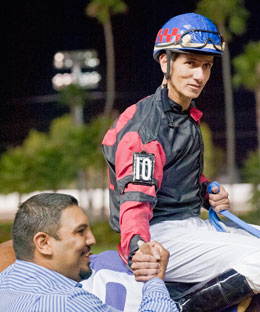 Winning jockey Rodrigo Aceves and trainer Adan Farias after Chivalry Sr's track record setting win.
Scott Martinez Photo
"He's the kind of horse you wait a lifetime to breed," said Albert Stern of Chivalry SR. "It's amazing that he can break that quick. He has so much talent. He had some problems as a 2-year-old and as a 3-year-old he ran some nice races, but we also missed the Super Derby. He's really at his prime now and I'm just happy that he's getting healthier and better every time. He ran second in the Vessels Maturity and he also posted a phenomenal :17.30 workout at 350 yards earlier this year. Rodrigo didn't let him go tonight. He probably could have gone faster, but I would have been just as happy if he had not set the track record."
As fast as Chivalry SR has shown to be, he does have his share of quirks.
"He's a finicky eater," Albert Sterns added. "He stays lean like a Marathon runner. He never seems to gain any weight. He's very particular about his eating habits. He usually doesn't crave food. We always have to tempt him with different mixtures. I guess you could say he is a connoisseur of fine foods."
Albert Sterns and Patricia Sterns have been racing and breeding Quarter Horses for a long time. Albert Stern was one of the original First Down Dash share holders and the Sterns currently have breeding shares in Walk Thru Fire and Separatist. Chivalry SR earned Sterns Ranches $50,000 for his sixth win in 15 career starts.
"He ran like a monster tonight," said Freaky's owner Armando Aguirre about Chivalry SR. "You have to give him credit. He is one fast horse."
Vessels Maturity winner Snitcher finished third and was followed across the wire by Simons Wonder Choice, First Down King, Pappyscoronalilbro, Shining First Dash, How Goes It, Dickson Creek and Sir Seth.
*****************
For related Governor's Cup Futurity and Derby coverage CLICK HERE.
*****************
Trainer Juan Aleman and jockey Eduardo Nicasio joined forces to win back-to-back races on California Breeders Champions Night with an aged mare and a bright young filly.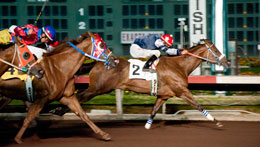 Edurardo Nicasio driving Chalala to the finish line in the California Breeders' Matron Stakes.
Scott Martinez Photo
Aleman and Nicasio smiled for the winning photo with Rancho El Cabresto's 7-year-old veteran Chalala after she posted a half length win over Azshecanfly in the $50,000 Matron Stakes. Earlier on the card, Aleman and Nicasio were celebrating after the $25,000 Debutante Stakes following Vinewood Farms' Kips Kitten defeated La Primera Del Ano Derby winner Fall For It.
Chalala showed a new style of winning in the Matron at 400 yards. The daughter of Chicks Beduino Jr is usually blazing fast out of the gate, but this time she broke a step behind Azshecanfly before outdueling her rival in the second half of the race. Chalala covered the distance in :19.379 while posting her 12th win in 23 starts.
"The layoff helped her," said Aleman, referring to Chalala's near seven-month long vacation. "She didn't break that well tonight. We're used to seeing her at 220 yards be ¾ lengths in front. To see her with the pack after 220 made me very nervous. She runs well fresh and we are pleased to see her win at 400 yards. The distance didn't bother her. She had another gear. We'll now point her to the Millie Vessels Handicap."
The winner of the Mildred Vessels Memorial Handicap on September 17 will earn a berth to this year's Champion of Champions.
"She's an older mare now so we know her races are limited," Aleman added. "We are thinking about three or four more races for the rest of the year. We took three embryos out of her during her time off. We got one by Apollitical Jess and two by First Down Dash. We were only going to do two embryos, but she had twins with First Down Dash and you can't let those pass you by."
Chalala made $25,510 in the Matron. Armando Leon's Azshecanfly earned $8,163 for her runner-up finish. Dash Beduina, Quic Jess, Dream The Day Away, Shes First Down, Fire Specialist, Suger Mama and The Partys On Fire completed the field.
Vinewood Farms is enjoying a hot streak right now. The racing operation has won four races in a row, including Kips Kitten's head victory over the talented Fall For It in the Debutante for 3-year-old fillies at 350 yards.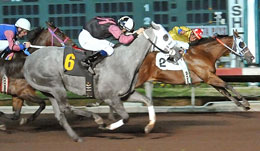 Vinewood Farms' Kips Kitten winning the California Breeders' Debutante Stakes.
Scott Martinez Photo
"We gave her a layoff and she ran big her first time out," Aleman said. "Fall For It is tough, but we felt that if Kips Kitten got away from the gate in good form that she would be tough at the end because of her Thoroughbred blood."
"I'm so happy for Vinewood Farms," Aleman added. "They have some good stock and some good babies coming up. This filly is in the Super Derby and in the Southern California Derby and Significant Cartel, who I really like and is at the top of his game, is eligible to the Golden State Derby and Super Derby."
Vinewood Farms' TR Eddie, the winner of the Los Alamitos Maiden Stakes earlier this season, is also eligible to the Super Derby.
"Kips Kitten was a late baby and she's just getting better and better," said George Lucas of Vinewood Farms. "When she ran and won she got bumped leaving the gate and she had to come and get them. She ran a :15.24 in that 300-yard race, but if you calculate her time because of her bad trip, we think she could have posted a time of in the :15.10s. She ran right there with Hot Hitter in a PCQHRA Breeders Futurity trial. That showed us that she can run. What I love about her is that she's a pleasure to be around."
Kips Kitten covered the 350 yards in the Debutante in a sizzling time of :17.159. This was her third win in five career starts. Her sire is the Thoroughbred Kelly Kip, who now stands at Vinewood Farms.
"He's the fastest Thoroughbred ever bred to a Quarter Horse mare," Lucas said. "He still holds the five furlongs record at Belmont and broke his own track record when he beat Artax at six furlongs at Aqueduct. Kelly Kip never ran on lasix and he made over $1 million in his career."
Kips Kitten earned $13,750 for the win. Brian Hyde's Fall For It, who saw her four race win streak come to an end, earned $5,625 for running second. Classy Nicole, Tyd Down, Icy In The Morn, Scatter Sunshine and Getit Together completed the field.
*****************
Purchased for a bargain price of $2,000 at the 2010 Los Alamitos Equine Sale, Ugo De La Torre's Last To Check Him sprung a surprise in the $25,000 California Breeders Freshman Fillies Stakes on Saturday night.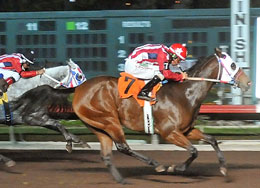 Last To Check Him, under Adrian Loza, winning the California Breeders' Freshman Fillies Stakes.
Scott Martinez Photo
Bred by the Estate of Spencer Childers, the daughter of Check Him Out posted a head victory at 10-1 odds over the 7-5 favorite Flame N Flash in the 350-yard race. Last To Check Him broke her maiden with the victory in her fifth career start. She earned $13,750 for her Freshman Fillies victory, nearly seven times her purchase price at the sale. Adrian Loza piloted Last To Check Him to winning time of :17.351.
"We bought Last To Check Him for a good price," said De La Torre, who also saddled the filly. "She had a good second workout before her debut so we felt she had some talent. The thing with her is that she's a high spirited filly. A lot of riders have had a tough time getting along with her. Joel Cruz was the first to ride her and they didn't always get along. Then we tried Santiago Mendez and they didn't get along. Next was Adrian Loza and he made a great connection with this filly and it paid off. Sometimes those things happen."
Last To Check Him's mother is Last Shall Be First, who won the 2002 Governor's Cup Derby for Childers.
Flame N Flash earned $5,625 for running second. Study Hall Pierce ran third.
*****************
Roberto Lopez won his first ever stakes race at Los Alamitos with his fourth horse ever to run at Los Alamitos Race Course. Lopez, a maintenance worker at UCLA, enjoyed the thrill of winning on California Breeders Champions Night with the 5-2 co-favorite Buying Snow in the 400-yard Jens List Jr. Memorial California Breeders Stakes.
"We've always enjoyed racing horses in my family," said Lopez, a resident of Pico Rivera, which about 20 miles north of Los Alamitos. "Growing up in Mexico my father raced horses in San Luis Potosi. I enjoyed training horses for fun, but I was certainly not a pro trainer. I had the opportunity to get into horse ownership and I'm enjoying it. We claimed Buying Snow for only $3,200 and he's done well for us."
Trained by Dennis Givens, Buying Snow ran second in his next start after being claimed and then picked up a victory at the $5,000 conditioned claiming level. He came back to score a solid allowance victory at 350 yards before posting the win in the Jens List.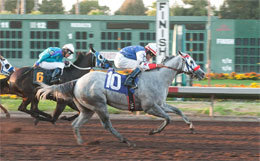 Buying Snow, under jockey Carlos Huerta wins the Jens List Jr Memorial California Breeders Stakes.
Scott Martinez Photo
"I feel so happy right now," Lopez said. "It's a great thrill and I hope more wins are coming."
It didn't take long for Lopez to pick up his second trophy, as his horse Defiant won the Claiming Stakes for 3-year-olds later on the card. Ridden by Carlos Huerta, Buying Snow covered the distance in :19.285. Bred by Ed Allred, the Snowbound gelding earned $13,750. Blanca Mendez's El Aguila Real finished second and earned $5,625, while La Pacifica Handicap winner Warm It Up ran third.
Defiant, meanwhile, covered the 350 yards in :17.476. Carlos Huerta rode the A Regal Choice gelding for trainer Dennis Givens.
*****************
The stallion Check Him Out picked up a second stakes win with a 2-year-old on California Breeders Champions Night after the Ed Allred-owned and bred sprinter Check My Thoughts edged the Allred-bred Blanket Finish by a neck to win the California Breeders Freshman Stakes at 350 yards. Ridden by Eulices Gomez, Check My Thoughts covered the distance in :17.303 to record his second win in three career starts. His only loss was a third place finish to One Ramblin Lady in the $30,000 Ed Burke Memorial Juvenile.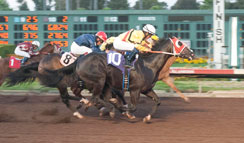 Check My Thoughts (#10) holds off Blanket Finish (#2) to win the California Breeders' Freshman Stakes.
Scott Martinez Photo
"He's a good one," said trainer Jimmy Glenn Jr. "He was rolling late. This horse wants more distance. We've been pointing him to the Golden State Million Futurity trials. This victory makes it real and tangible that we can qualify. This is a good step for this horse. The extra 50 yards in the Golden State Million trials will be to this horse's liking."
Lightly raced with only three starts under his belt, Check My Thoughts earned $13,750.
Blanket Finish made $5,625 for running second, while Kindergarten Futurity finalist Red Dasher earned $3,125 for finishing third.
*****************
San Gregorio Racing Stables, Inc.'s Pepe El Trueno won the biggest race of his career, as the 7-year-old hard knocking veteran edged Jus Ledoux It to win the $25,000 Sprint Stakes at 350 yards. Saddled by Ugo De La Torre and ridden by Santiago Mendez, Pepe El Trueno picked up his fourth win in his 20-race career.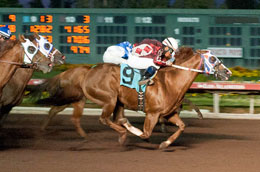 Pepe El Trueno, under Santiago Mendez, defeats Jus Ledoux It (#1) and Our Man Scott (#5) in the California Breeders' Sprint Stakes.
Scott Martinez Photo
"He was never eligible to any of the 2-year-old futurities or anything like that so he always had a pretty light racing schedule," said George Carmona of San Gregorio Racing Stables. "This race changes a lot for Pepe. We'll start looking for more races to run him and if he keeps it up I think we might consider running him in the Z. Wayne Griffin Directors Trials. He ran in the Vessels Maturity earlier this year and he only finished eighth, but he had the lead for the first 100 yards."
The Vessels Maturity was a good race for San Gregorio Racing, as their sprinter Blues Man Too won the race to earn a berth to the $750,000 Champion of Champions.
"Blues Man Too gave us a big surprise in the Vessels Maturity so when I saw Pepe break on top in this year's Vessels I started to get excited. Pepe was facing a lot of nice young horses so it wasn't meant to be, but if Ugo thinks he can be a candidate to run in the Z. Wayne Griffin then we'll give it a shot."
The stallion by Spanish Boot covered the distance in a sizzling fast time of :17.112 while earning $13,750 in this race.
*****************
The evening's action also featured three additional claiming stakes races. Ed Allred's Flare Checking won the Claiming Sophomore Stakes for $10,000 claimers. Patricia Visscher saddled the Check Him Out filly out of the Flare For Toby… Valentin Zamudio's Don Bandido won the $17,500 Senior Claiming test for $10,000 claimers in a 400-yard time of :19.41. Cesar De Alba piloted the Hawkish gelding… Marco Antonio Barajas' Apollos Sensation won the Senior Claiming Stakes for $5,000 claimers in a 400-yard time of :19.608. Santiago Mendez rode Apollos Sensation for trainer Guillermo Morales.
Courtesy of www.losalamitos.com