RACING THIS WEEK
FEATURES
SERVICES
Grade 1 winner Trane Station V won the sixth trial by 2-1/2 lengths to post the fastest qualifying time for the Los Alamitos Two Million Futurity(G1) Sunday night.

© William Zuazo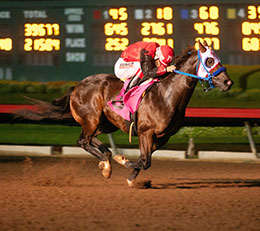 Trane Station V Delivers Another Big Win And Posts Top Time To Los Alamitos Two Million Futurity
LOS ALAMITOS, CA–NOVEMBER 19, 2023–After posting dominant victories in his trial and then in the final of the Grade 1 Golden State Million Futurity, Valeriano Racing Stables' millionaire colt Trane Station V delivered another sensational win while posting the fastest qualifying time to the Grade 1 Los Alamitos Two Million Futurity here on Sunday night.
Undefeated in his three local starts, the California-bred Trane Station V broke sharply from post number eight and then increased his lead with each stride in his 400-yard trial.
By the midway point, the son of Favorite Cartel led by daylight and from there he increased his advantage with each stride. By the time he crossed the wire, the Steve Burns-bred runner out of the stakes winning mare Attack The Cartel was 2 ¼ lengths ahead of his closest pursuer while stopping the clock in a night's best time of :19.766 at 400 yards.
The photo finish operator has been able to relax in all three of Trane Station V's victories here at Los Alamitos. He won his Golden State Million trial by 2 ¾ lengths, the Golden State final by 1 ¾ lengths and now this trial by over two lengths.
Five Bar Supreme, under jockey Jesus Ayala, qualifying in the 12th trial Sunday night.
© William Zuazo
"Even the announcer (Michael Wrona) announced 'that's probably the best he's ever broke,' " Taylor said. "He broke up on his feet and broke great. Hopefully he's getting that part of it down. Obviously, he ran a really good race. Glad to be sitting where we're sitting right now. The horse is just a really fast horse. When he arrived here, he had already made $700,000 and had run 440. He's a quality colt."
Trane Station V has won five of eight career starts and has now earned $1,015,509. He arrived at Los Alamitos after running second in both the Grade 1 All American Futurity and the Grade 1 Rainbow Futurity.
Led by Trane Station V, A total of 127 juveniles competed in a marathon night of 14 trials with the runners with the 10 fastest times in the trials will return for the $1,785,675 on Sunday, December 10.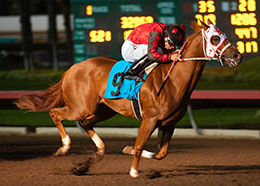 Ab Seis Corazones, under jockey Armando Cervantes, qualifying in the opening trial Sunday night.
© William Zuazo
Jorge Carmona's Five Bar Supreme, the winner of the Wild West Futurity here on October 22, posted another superb effort at Los Alamitos, as he scored his fourth win at the Orange County oval on the way to winning his trial in the second fastest time of :19.782. The gelding by Five Bar Cartel led from gate to wire and won this trial by an impressive 1 ½ lengths. In addition to his Wild West win, the Ugo De La Torre-bred runner also won the Firecracker Futurity at Grants Pass on 4th of July.
Five Bar Supreme, under jockey Jesus Ayala, qualifying in the 12th trial Sunday night.
© William Zuazo
Out of the multiple graded stakes placed mare Luv Supreme, Five Bar Supreme was ridden by Jesus Rios Ayala for trainer Lindolfo Diaz.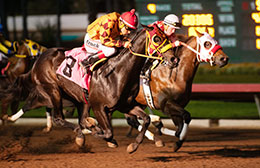 Checkn Cartel (#8) and Unrelentless (#6) qualifying in the fourth trial. © William Zuazo
"I'm impressed and I'm very pleased," Carmona said. "Thank you to Lindo and his team. They're doing a great job with him. Now we just have to see how he pulls up. We'll give it a shot. We're running against some great horses. It's all about luck. He likes it here. He's maturing more and he's getting better and better. Hopefully he continues this way and stays sound."
Diaz also trains fourth fastest qualifier Checkn Cartel, who won her trial by ½ length from post number eight. The Favorite Cartel filly is owned by Diaz's father, J. Francisco Diaz.
"Since early in the year we knew she had talent," said the trainer. "She just has a mind of her own. In the Governor's Cup trials and the PCQHRA Breeders trials she drew the far outside post and she just doesn't like that outside post. She veered out both times. This time we were lucky enough in that she had at least one horse to the outside of her. That helped her. As long as there's one horse outside of her, it's fine. She'll break and she'll run relatively straight. She broke on top and just kept going. In the last race when she ran second to one of Eddie Willis' horses (Politiko) she needed the race. We weren't going to run her (tonight) but since she ran well in that race, I was like 'Alright, she paid her way into these trials. Let's give her a shot.' She showed up big and ran big. We'll see what happens in the final. Hopefully she gets a clean break, and she doesn't get an outside post. She just needs one horse on her right side. If she gets the outside post, I know I'm going to be in trouble."
Jesus Rios Ayala piloted the homebred filly, who improved to three wins from seven career starts.
Ab Wow, under jockey Justine Klaiber, qualifying in the 10th trial on Sunday night.
© William Zuazo
Dunn Ranch's AB Seis Corazones, a gelding by Apollitical Blood and out of the Tres Seis mare Daring Seis, ran a tremendous race in the opening trial of the night, winning by two lengths while posting the third fastest qualifying time.
Ridden by Armando Cervantes for trainer Monty Arrossa, the Rancho El Cabresto-bred runner was picking up his first Los Alamitos win. Fourth in the Grade 1 Heritage Place Futurity at Remington Park in early June, AB Seis Corazones' only previous start at Los Alamitos was a second-place finish in an allowance event here on October 28.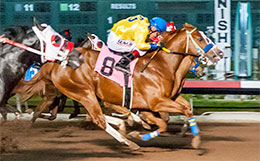 Apollitical Open Mrl, under jockey Oscar Peinado, qualifying in the third trial.
© Amber Mendez
"The horse ran really good for us at Remington," Arrossa said. "We decided to give him a little bit of a break. We brought him out here and he really ran a good race in his first start under the lights at Los Alamitos. He ran second and he's trained real good up until that point. I loved his draw (in the trials) of post position. He broke well and finished strong. I was really happy with him."
AB Seis Corazones has been incredible in both of his trial races, as he also won his trial to the Heritage Place Futurity by 2 ¼ lengths.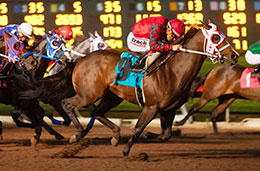 Southern Devine, under jockey Jesus Ayala, qualifying in the seventh trial Sunday night.
© William Zuazo
The stallion by champion sire Apollitical Blood also sired Jaime Bryant, Melanie Brooks and Linda Joiner's AB Wow, who his trial by ¾ lengths while posting the sixth fastest time.
The Rancho El Cabresto-bred runner came into this race fresh off a third-place finish to Trane Station V in the Golden State Million final. Justine Klaiber piloted AB Wow for trainer Eddie Willis. Klaiber and Willis also teamed up with Reliance Ranches' Unrelentless, who qualified with the fifth fastest time while running second to Checkn Cartel in the fourth trial. Klaiber piloted the Flag Ranch LLC-bred Unrelentess to a second-place finish in the rich Golden State Million final.
Optical Illusion, under jockey Victor Salazar, drives to victory in the ninth trial.
© William Zuazo
"AB Wow has really been leaving running and Unrelentless had been getting away a little slow, but they both qualified to the Golden State and they're also making it to the Two MIllion," Willis said. "They ran really good. Unrelentless can really run down the racetrack. If this was 440, he would really be right there with all of them. He's got to get away a little better. AB Wow, he's solid. He runs every time I've run him. He gets up on the ground and he goes to long jumping and gets on down there. Justine is a really good rider. She's up to the task. She's a hard worker. She's there in the barn early in the morning and comes back in the evening and helps us then too."
Owned by Jose De Jesus Hernandez and trained by Jaime Gomez, Apollitical Open Mrl won his trial by a nose and his winning time of :19.998 was the seventh fastest of the night.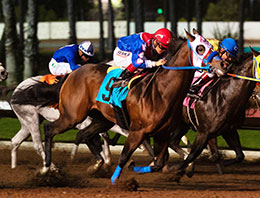 Think Again Kev, under jockey Jose Nicasio, qualifying in the second trial Sunday night.
© William Zuazo
The gelding by Apollitical Jess has won his last two starts and has finished second or better in his last six starts. Oscar Peinado piloted the Haras Portofino-bred runner.
Dunn Ranch's Southern Divine won her trial by ¾ lengths on her way to advancing to the final for jockey Jesus Rios Ayala and trainer Monty Arrossa. Sired by Pyc Paint Your Wagon, the homebred filly ran second in the PCQHRA Breeders Futurity in her previous start and now advances after posting the eighth fastest time.
Jim Schlagel's Optical Illusion led every step of the way to win his trial by a head with jockey Victor Salazar up for trainer Paul Jones. Bred by Steve Burns, the son of Seperate Interest will be running in his third futurity of the year after qualifying with the ninth fastest time. He previously ran in the Governor's Cup Futurity and PCQHRA Breeders Futurity.
Keith Nellesen's Think Again Kev will also be making his third futurity appearance of the year after winning his trial by a ½ length while completing the list as 10th fastest qualifier. The gelding by KVN Corona ran in the Kindergarten final earlier this year and was also in the Golden State Million final.
For the complete list of Los Alamitos Two Million Futurity qualifiers with times, sires, dams, owners, breeders, trainers and jockeys CLICK HERE.
* * * * * * * * * * * * * * * *
The all sources total handle for the Sunday trials of $2,516,706 is a new record for the Lo Alamitos Two Million Trials night, bettering the $2,203,379 wagered on the 2021 trials program.
The 2021 trials were also the last time we had 14 futurity trials. This is also the 7th highest single night handle here. The other six all came in 2020 during a time in which Los Alamitos was one of the few racetracks offering live racing.
* * * * * * * * * * * * * * * *
For more info' please contact larace@losalamitos.com. Follow us on Twitter or Instagram at @losalracing or visit us online at www.losalamitos.com.
https://www.stallionesearch.com/info.asp?section=18&storyid=3256