RACING THIS WEEK
FEATURES
SERVICES
Toxic Relationship (#7) battles Jess Dream Of Me (#8) and Famous Shining Star (#9) to win the $125,000 Mildred N. Vessels Memorial Stakes at Los Alamitos Sunday night.

© William Zuazo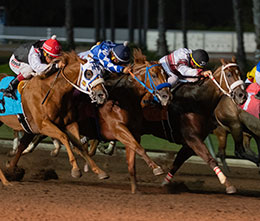 Toxic Relationship Wins Grade 1 Mildred Vessels Memorial
LOS ALAMITOS, CA–SEPTEMBER 16, 2023–Dean Frey's Toxic Relationship, a half-sister to 2021 AQHA World Champion Danjer, entered the running of the Grade 1, $125,000 Mildred Vessels Memorial Handicap as the only one in the field of nine fillies and mares without a stakes victory to her name.
The daughter of Fly Thru The Fire out of Shez Jess Toxic picked the perfect time to join the club of stakes winners, as she shook some early trouble to fight gamely before proving best in the final yards to win the Mildred Vessels by a head on Saturday at Los Alamitos.
Toxic Relationship's victory resulted in a couple of first for her connections. For winning rider James Flores, a three-time AQHA champion jockey, this was his first stakes victory at Los Alamitos, and it was a Grade 1 to top it off.
For the young stallion Fly Thru The Fire, Toxic Relationship is his first Grade 1 stakes winners from three racing crops. Toxic Relationship, who was part of his sire's first crop of runners, crossed the wire ahead of Ben Peterson's Lil Longmire and Raymond Merrill's Jess Dream Of Me. Lil Longmire would then be disqualified from second and placed ninth after shifting out to interfere with several other runners during the running of the race.
The winning connections of Toxic Relationship include trainer Monty Arrossa, jockey James Flores and assistant trainer Ramiro Castillo.
© William Zuazo
"You hate it when it's like that (a race with a disqualification)," said trainer Monty Arrossa, who saddled Toxic Relationship to victory at 16-1 odds. "You wish they could get out, get a clean break and a clean go."
"She ran an impressive race," Flores added. "She was all grit from the start. She got a little bit of pressure early, but I think it worked to her advantage. It encouraged her to dig deeper and try harder and she pushed herself just ever so slightly. When I found that we were in front, I knew that it was going to be a really tight race, but I could tell that she still had enough for the win. When we came back (after the race) I didn't know for sure but thankfully she held on for the win. Nothing startled her at all. She was game from the start. She proved herself just the better horse tonight."
Toxic Relationship covered the 400 yards in :19.850 while posting her sixth win in 11 career starts. With her victory in the Mildred Vessels, the Frey and Dr. Steve Burns-bred 4-year-old mare receives a presumptive invitation to the 2023 Champion of Champions.
Arrossa gave all the credit for this win to Dean Frey, who trained his California-bred mare before shipping her to the West Coast via Remington Park in Oklahoma. Arrossa knew exactly what his role was in caring for Toxic Relationship at Los Alamitos.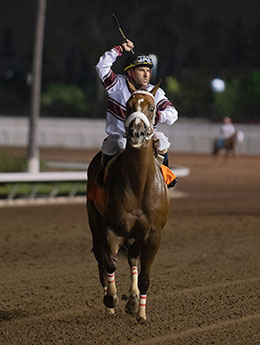 Champion jockey James Flores returns aboard Toxic Relationship after winning the Mildred N. Vessels Memorial Stakes.
© William Zuazo
"Not to change anything," Arrossa added. "The credit goes all to Dean. Dean had her ready to run. He sent her out here just before the Q-Racing California Distaff Challenge (on August 6). She was here just two weeks before the Challenge. She has really settled in, but I've not changed anything. It's (Frey's) program that we are following. We've just been taking care of her and following their lead. We're thankful they've trusted her with us.
"We're pretty similar," Arrossa said in comparison to Frey's training program. "I manage the day to day, but I run everything through Dean. I was his assistant.
"(Toxic Relationship) likes to pony a lot. I'm a pony guy too. I like to pony horses a lot. She's had some issues in the past at the gate so we talked about the strategy of what we would. We did a lot of standing her (in the starting gate). No tack. No rider. Once they're in the starting gate, we then love on them and just take care of them in there. She's gotten really comfy in (the starting gate). It's just something that we thought and said 'Let's try something different. We pony her without a rider a lot. Apollitical Pence, Chicks First Flash and her are probably the only three I do that with. They just needed more time in the gate and as you know, you win (races) and lose (races) in the starting gate."
Arrossa has done well with helping others when they ship horses to his barn from out of state. For example, Arrossa helped Idaho-based trainer Heath Hillman care for Pattys Saint here in route to her victory in the Mildred Vessels last year.
Arrossa will focus on keeping Toxic Relationship at the top of her game now that she could race in this year's $750,000 Champion of Champions on December 10. Or will Toxic Relationship participate in the Grade 1 Charger Bar Handicap next January?
"That'll be something we'll have to discuss with Dean and Dr. Steve Burns and see what their thoughts are. It's tough to qualify for the (Champion of Champions).
Toxic Relationship earned $68,750 for the win to more than double her career earnings to $126,203. er shifting out to interfere with several other runners during the running of the race.
Ridden by Ruben Lozano and saddled by Jose Flores, Jess Dream of Me earned $28,125 for her second place finish. The 4-year-old mare by Apollitical Jess entered this race after winning the Florentine Stakes on August 19.
Johnny Trotter's Famous Shining Star, who was the 6-5 favorite, posted a solid effort while losing for the first time this year in five outings. She won the Charger Bar Handicap earlier this year.
Cir Lady Moon, She Goes Up, A Dream To Fill, Letty Cartel, Sweet Tess, and Lil Longmire completed the field.
* * * * * * * * * * * * * * * *
For more info' please contact larace@losalamitos.com. Follow us on Twitter or Instagram at @losalracing or visit us online at www.losalamitos.com.