RACING THIS WEEK
FEATURES
SERVICES
Bomb Cyclone, under jockey Eduardo Nicasio, dominates the Los Alamitos 2 Million Futurity trials on Sunday night with a four-length win to set the fastest qualifying time from 14 trials.

© Scott Martinez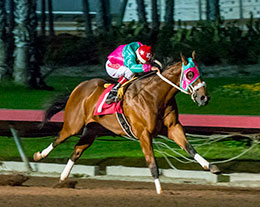 Bomb Cyclone Latest From Great Family To Shine After Posting Fastest Los Alamitos Two Million Time
LOS ALAMITOS, CA—NOVEMBER 22, 2021—
The magical cross of sire
Favorite Cartel
and the mare Remember Me Rose continues to be a headline making machine in the Quarter Horse racing industry.
From the Grade 1 stakes winning exploits of Powerful Favorite, Runforyourlife and Cyber Monday to the big yearling purchases of Cyber Attack and So So Beautiful, this family has been purely spectacular.
It was another weekend of successes for the full siblings from this family at Los Alamitos Race Course. On Saturday, Burns Ranch's Go To Girl became a stakes winner for the first time in the Las Chiquitas Handicap and on Sunday, Rosenthal Ranch's Bomb Cyclone thundered down the straightaway at the Orange County track, easily blowing past his foes during a marathon evening of trials to the richest Los Alamitos Two Million Futurity since 2014on the way to posting the fastest qualifying time of the night.
Ridden by Eduardo Nicasio for trainer Chris O'Dell, Bomb Cyclone won the sixth of 14 trials, flying deftly to a tremendous four length victory in a time of :19.563 at 400 yards against a three mile per hour tailwind.
His time was more than 18/100ths of a second faster than Dunn Ranch's Grade 1 Golden State Million Futurity winner Whizkey Glasses, who has the second fastest time of :19.748.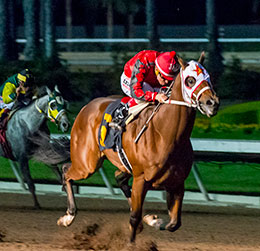 Coming off a win in the Golden State Million Futurity(G1), jockey Jesus Ayala rode Whizkey Glasses to a three-length trial win on Sunday.
© Scott Martinez
Bred by Steve Burns, Bomb Cyclone led by 2-¼ lengths after the first 100 yards and from there he was relentless with his power and speed in route to his second career win from only four starts. His victory in the Two Million trials also marked his debut at Los Alamitos after racing three times at Ruidoso Downs during the summer.
"We love the combination of Favorite Cartel and Remember Me Rose and we just keep going back to the well," said trainer Chris O'Dell, who has won Grade 1 stakes races for Rosenthal Ranch with Powerful Favorite and Runforyourlife. "He's kind of tall but he got down low under the wind. We have so much faith in this horse. We've been trying to take our time and pick our spots. A lot of people second guessed us but hopefully he comes out of the race good. Right now, it looks like we did the right thing. We waited. His last couple of races at Ruidoso were marginal. He got bumped around and knocked down and had some bad experiences. We needed something good to happen for him. We took our time. He's the kind of horse that makes you be patient because he's super-fast and everybody can see that. With the super-fast ones, you have to take your time. They'll tell you what to do. They kind of train themselves. I'm so excited that I can't believe it. I was very impressed with his effort. We've all been high on him, Nicasio, Mrs. Rosenthal, me - I think the world of the horse."
Apollitical J Streak, under jockey Jimmy Brooks, defeats fellow qualifier Dasha Good Reason (outside) in trial 8.
© Scott Martinez
Bomb Cyclone, who was purchased by Rosenthal Ranch for $215,000 at the Ruidoso Yearling Sale last year, won his career debut at Ruidoso before running second and then fifth in his next two outings at the New Mexico track.
"We worked him out here (Los Alamitos) a couple of times before we went to Ruidoso," O'Dell said. "He showed a little bit of run. Then we went to Ruidoso and ran him in the training races. He drew the one hole. He stood there, made up four, five lengths and ran second. He galloped and I mean he went like six furlongs. We were just standing like 'Whoa'. Shaun Hubbard told me 'Can you see the gallop out on that horse?' We ran him back and he really tried to break hard and fell all the way down. He got up and he won. Then he ran a second and didn't qualify. He just had a couple of terrible, terrible experiences. He's so big that it's hard for him to get out of the gate. He got out of the gate tonight. Maybe he's figuring it out. He's (bigger) than the others in the family. He's huge. It's not so much that he's wide – he is wide – but he's really long that he barely fits in the gate. When you get him in the gate and the tailgate gets closed, his nose gets jammed up in the gate. Today, Nicasio said that he actually raised his head up to give himself a little room. He's learning how to cope (in the gate)."
With Bomb Cyclone leading the way, the horses with the 10 fastest times in Sunday's trials advanced to the Los Alamitos Two Million Futurity final to be held on Sunday, December 12.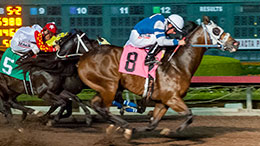 Dynamic Jess, under jockey Ramon Sanchez, posted the fifth fastest time after winning the opening trial Sunday night.
© Scott Martinez
The purse for the Two Million will be $2,036,825, which is the richest since He Looks Hot won the 2014 running. It's also the fifth highest in the 27-year history of this stakes race. The complete list of qualifiers to the Two Million is as follows: Bomb Cyclone (:19.563), Whizkey Glasses (:19.748), Apollitical J Streak (:19.997), Dasha Good Reason (:20.005), Dynamic Jess (:20.013), Favorite Honey (:20.014), Rocket Seventeen (:20.015), Jess Being A Friend (:20.032), Watch Out (:20.036), and Chizum (:20.037).
There was a head wind the entire night ranging from 2 miles per hour to as high as 10 mph. Among the qualifiers, Watch Out faced the strongest head wind of 10 mph. Dynamic Jess, Rocket Seventeen and Chizum each qualified while running into a head wind of 7 mph.
Dunn Ranch's Whizkey Glasses will look to make it back-to-back million dollar futurity wins after posting the second fastest qualifying time of the night.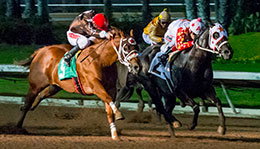 Favorite Honey (inside), under jockey Armando Cervantes, defeats fellow qualifier Jess Being A Friend in the fourth trial.
© Scott Martinez
The gelding by
FDD Dynasty
will come in after winning the Golden State Million and enters with a sparkling record of six wins from eight starts. He won the 10th trial by three lengths and he ran with the spotlight clearly focused on him after the horses drawn alongside of him left the gate away from him, leaving him with all the room in the world to run.
"The gates opened and he made things look so easy," winning jockey Jesus Rios Ayala said. "He's a horse who's always focused. He doesn't make mistakes. From the start he left the gate, he found his speed. He closed strongly too. I was worried about his time because it was windy out there. Some of the other times had been slow, so I was worried. Horses tend to relax when they get out to a big lead and you have to get their attention a little bit more. The horse responded nicely."
Bred by Dunn Ranch, Whizkey Glasses was saddled by Monty Arrossa.
Rocket Seventeen, under jockey Ruben Lozano, posted the seventh fastest clocking in trial 2.
© Scott Martinez
Owned and bred by Rancho El Cabresto and trained by Eddie Willis, Apollitical J Streak broke cleanly from post seven, ran away from his rival but then held on by a nose to win in the third fastest time of :19.997. The sorrel colt is by
Apollitical Jess
and out of Streak of Sixes. Rancho El Cabresto campaigned
Apollitical Jess
to a second-place finish in the Two Million in 2009 before embarking on a World Championship winning campaign in 2010.
"Apollitical J Streak ran pretty good in that allowance here before this trial victory," Willis said. "He got beat but he ran well. They beat the field a long way. Tonight, he got a good start. That horse is really sound that's one of the big things he's got going for himself. He's maintenance free. That's what you have to have this time of the year. He's a nice horse. We tried to rest (our juveniles) a little bit before they get here. If I have them in the Two Million, I tried to space them out a little more and save a little in the tank before we come out here. When I come out here, I want to bring the best that I have. There's a lot of money here. I try to take all the horses that I'm bringing here to Ruidoso and that way they are already halfway here from Oklahoma. New Mexico is halfway from Oklahoma. It's worked out for me."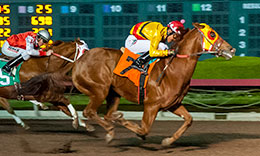 Watch Out, under jockey Henry Lopez, qualifying with the ninth fastest time in trial 5.
© Scott Martinez
Willis, the AQHA champion trainer last year, credited his son, Kasey, for helping him with horses stabled at Los Alamitos. An accomplished stakes winning Quarter Horse trainer, Kasey Willis has won over 350 Quarter Horse races in his career, including stakes wins with the likes of
One Fabulous Eagle
,
The Fiscal Cliff
, and more.
"Kasey trained on his own for a long time," Willis said. "Then he stopped and came back to work with me for a while because I need his help. Probably next year he'll work for himself again. I just needed some help and my sons showed up. He does a good job – all my (sons) do a good job with the horses. I didn't tell them to work with horses but that's what they've wanted to do. With Kasey, he's a people person. He knows everybody."
Robyn Gordon, Juan H. Moya and S-Quarter K LLC's Dasha Good Reason was superb in the second half of his trial race against Apollitical J Streak, nearly catching him at the wire. Bred by S-Quarter K LLC, the colt by Good Reason SA is out of Dasha Freda, who is the mother of 2015 Two Million winner Ima Fearless Hero and also Heza Dasha Fire, who ran fourth in this race in 2014.
"Jose has liked him from the start because he's big," said Don Meneely of S-Quarter K Racing. "He said that the more distance the better He made up so much ground in the last 75 yards. He was a length back and almost won it. He benefited from the outside post so much. If he would have broke like that from the three or four post, he would not have had anywhere to run. If he draws outside (in the final), he could be good because he can run."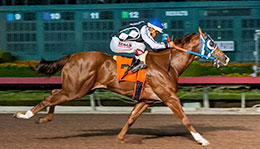 Chizum, under jockey Cruz Mendez, qualifying to his third Grade 1 futurity this year with a 2-½ length win in the 12th trial.
© Scott Martinez
Robyn Gordon and Juan H. Moya have joined a couple of different partnerships with juveniles at Los Alamitos this year. Gordon and S-Quarter K Racing teamed up to win the Town Policy together with Just A Dasha Hero on November 6.
Owned and bred by Bruce and Jill Thompson, Dynamic Jess won the opening trial by a half-length thanks to a strong late punch from the outside post eight. The gelding of Apollitical Jess was impressive on the night of the Golden State Million trials, qualifying to that Grade 1 final as well.
For the Thompsons, they've qualified to all three of Los Alamitos' million-dollar futurities. They made the Ed Burke final with the filly Run By Your Cartel. The couple also campaigned both Run By You and Fervents Dynasty, who are the dams of their 2020 futurity stars. Fervents Dynasy, who earned nearly $50,000 in her career, is the dam of Dynamic Jess. Juan Aleman has trained both Dynamic Jess and Run By Your Cartel this year.
Ramon Sanchez, this track's newly crowned all-time leading stakes winning jockey, piloted Dynamic Jess to a spot in the Two Million final.
"We figured that we were either going to have an early dinner and leave early or that (hopefully) we were going to be here all night," said Bruce Thompson. "Dynamic Jess ran against the wind but the wind remained the entire night, so it was consistent and fair for everyone. Our horse is fast at the end. If he can get out of the gate, he's fine. The two races we wanted to be in more than anything else were the Ed Burke Million and the Los Alamitos Two Million. That was a really cool to get in the Ed Burke for the first time ever. What a year. We've been in all three million dollar races this year. It's the first time we've done that. When I brought these babies earlier this year, Juan told me 'These are the best horses you've ever brought me, Bruce.' It's takes so long between breeding them and work it out. My wife puts up with me, but it's fun. She doesn't miss any of their races either."
Five Livestock Company LLC and Steve Wright's Favorite Honey won the PCQHRA Breeders Futurity in honor of Five Livestock's Matt Telford, who passed away on August 30. He'll now carry on the Five Livestock banner in the Two Million final for Melinda Roche and Wright. Favorite Honey held off Howard Nichols' Jess Being A Friend by a head to win the fourth trial in the sixth fastest time of :20.014. The Favorite Cartel gelding was ridden by Armando Cervantes for Arrossa. The jockey and trainer duo won the Two Million last year with Apollitical Patty.
The Nichols-homebred Jess Being A Friend had the eighth fastest time after surprising the field with his runner-up effort at 38-1 odds. Trained by Elena Andrade, Jess Being A Friend is by Jess Being Valiant, who Nichols campaigned to a great career that included a victory in the A Ransom Handicap and second place finishes in the Grade 1 Vessels Maturity and Grade 1 Golden State Derby plus eight other stakes races.
The Quarter Company LLC's Rocket Seventeen will join the Two Million final after making up for his early trouble at the start with a strong finish in which he opened in the second half of the race to win by ¾ lengths. Trained by Valentin Zamudio and ridden by Ruben Lozano, the colt by Apollitical Jess was winning for the first time in four career starts.
Bred by The Quarter Company LLC, Rocket Seventeen's dam is Tres Magicals, who won the Cash For Kas Handicap in 2015 while also running in the top three in other stakes events at Los Alamitos. Rocket Seventeen posted the seventh fastest time.
Owner and breeder Ed Allred won the previously mentioned running of the Two Million in 2014 and now will look for his third victory in this futurity with a runner with connections to the World Champion He Looks Hot.
Second in the Governor's Cup Futurity earlier this year, Watch Out's sire is the freshman stallion Fly Thru The Fire. Watch Out's dam is Look Her Over, who is also the mother of He Looks Hot, the 2014 Two Million winner and 2019 World Champion. James Glenn, Jr. trains Watch Out, who was ridden to victory in the fifth trial by Henry Reynoso Lopez. Watch Out finished with the ninth fastest time.
Ricardo Ramirez's Chizum is the only runner this year to qualify to the Ed Burke Million, Golden State and Los Alamitos Two Million. He's done so thanks to a triple of top trial winning performances, including a runaway 2-½ length win in the 12th heat.
Bred by John Andreini, the Tempting Dash gelding is out of the Tres Seis mare Ms Eaves. Jose Flores saddled the multiple Grade 1 finalist, who was ridden by Cruz Mendez.
"He threw a little fit in the Golden State Million final," Flores said. "He didn't break the best and out here, if you don't break against the best there is in the final you are not going to do very good. He's a good horse. I think he's going to become an even better 3-year-old next year. Trial nights can be filled with ups and down. Some of your horses get bumped and it's hard to get a clean trip with every one of them. It's part of the game and you just have to live with it. That's why when you qualify to the final with horses like Chizum and Dasha Good Reason, you have to savor the moment and be grateful for the opportunity to train such outstanding runners."
Leading sire Apollitical Jess sired three of the 10 finalist while Favorite Cartel will be represented by two in the final. FDD Dynasty, Good Reason SA, Jess Being Valiant, Fly Thru The Fire and Tempting Dash each have one qualifier.
Three colts qualified to the final in Apollitical J Streak, Dasha Good Reason and Rocket Seventeen. The other seven finalists are all geldings.
For a complete list of 2021 Los Alamitos 2 Million Futurity(G1) finalists with times, sires, dams, owners, breeders, trainers and jockeys CLICK HERE.
* * * * * * * * * * * * * *
For more info, please contact larace@losalamitos.com. Follow us on Twitter or Instagram at @losalracing or visit us online at www.losalamitos.com.