RACING THIS WEEK
FEATURES
SERVICES
Ramon Sanchez sets a new Los Alamitos record for stakes wins by a jockey on Saturday when he rode his 154th stakes winner, Jess Lyndes Reason, at the Southern California racetrack.

© Scott Martinez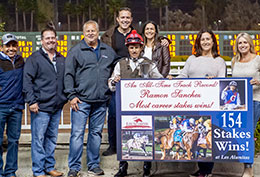 Sanchez Sets Track Record With 154 Stakes Wins; Las Chiquitas Is A Dead-Heat
LOS ALAMITOS, CA—NOVEMBER 20, 2021—
Jockey Ramon Sanchez became Los Alamitos' all-time leading stakes winning Quarter Horse jockey after piloting Jess Lyndes Reason to a dead-heat for the win with Go To Girl in the $17,000 Las Chiquitas Handicap for 3-year-old fillies on Saturday night.
Sanchez earned his 154th stakes win at Los Alamitos aboard Jess Lyndes Reason to break the tie with jockey Eddie Garcia, who held the record since 2007.
"I've been trying to get this win for a long time," Sanchez said. "This is such a nice win. I'm very grateful for this moment and for all the people who have helped me along this road that I've traveled to get here."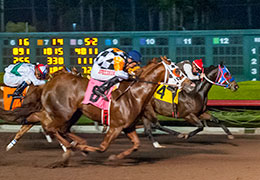 Jess Lyndes Reason (#4) and Go To Girl (#8) dead-heat in the $17,000 Chiquita Handicap on Saturday at Los Alamitos Race Course.
© Scott Martinez
Sanchez started riding at Los Alamitos since the late 1990s. He's piloted Champion of Champions winners Wave Carver, Rylees Boy and The Down Side; Los Alamitos Two Million Futurity winners
Good Reason SA
and I Like The Odds; Los Alamitos Super Derby winners Apollitical Time, Little Bit Of Baja and Matabari; plus Grade 1 winners
One Dashing Eagle
, Runnning Brook Gal,
Foose
, Eye For Corona, KVN Corona, Separate Fire and many more.
In his entire career, Sanchez has won 1,956 races, 105 graded stakes wins, 194 total stakes wins and over $44 million dollars from 11,216 mounts. His win aboard Jess Lyndes Reason was a sharp one, as the Good Reason SA filly broke on top and would not be denied a share of the spoils in this 350-yard race.
"It was a tough race, but she's a filly and showed it here,' Sanchez added.
Trained by Paul Jones, Jess Lyndes Reason is owned in partnership by Jones, Thompson Racing Inc. and Turner Farms. Bred by Turner Farms, Jess Lyndes Reason earned $6,588 for dead-heating for the win. She is a daughter of Champion sire Good Reason Sa from the two-time champion producing Feature Mr Jess mare Jess Send Me.
Steve Burns' Go To Girl broke sharply from the outside post eight before finishing strongly to catch Jess Lyndes Reason. Ridden by Oscar Peinado for trainer Mike Casselman, Go To Girl was picking up her fourth win from 15 starts. The Favorite Cartel filly also earned $6,588.
Gotta Corona Jess, a daughter of Apollitical Jess, second when facing aged mares in the Sound Dash Handicap, finished third for owner Manuel Alvarez and trainer Lindolfo Diaz.
The top three were followed by Political Babbel, Leah Carroll, More Than Looks, Keep Listening and In Deep Thought.
* * * * * * * * * * * * * *
For more info, please contact larace@losalamitos.com. Follow us on Twitter or Instagram at @losalracing or visit us online at www.losalamitos.com.